Feb 4th 10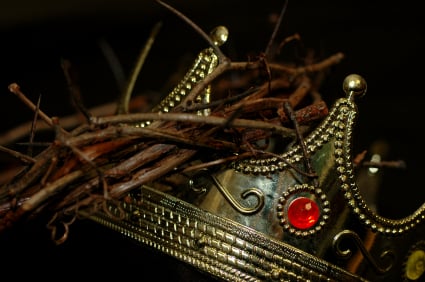 God has given us—His disciples, His people—authority by which we determine the destinies of people, of nations and governments. He expects us to use this authority for His glory and our good. If we fail to do so, we will have to answer for the consequences.
Our Citizenship
Every Christian has dual citizenship. We are a citizen of an earthly nation, subject to its laws and requirements. By spiritual rebirth, we are also a citizen of God's heavenly kingdom.
"Our citizenship is in heaven" (Ph. 3:20).
As a citizen of heaven, we are subject ot the laws of the heavenly kingdom, but also entitle to share in its authority.
"The LORD hath prepared his throne in the heavens; and his kingdom ruleth over all" (Psalm 103:19).
God rules supreme over all. His kingdom is greater than all the forces at work on the earth. God intends to share the authority of His kingdom with His people.  In Luke 12:32, Jesus told His disciples, "Fear not, little flock; for it is your Father's good pleasure to give you the kingdom." 
Our Position: Enthroned with Christ
As Believers, our position in God's kingdom is determined by our relationship to Christ.
"But God, rich in mercy, for the great love he bore us, brought us to life with Christ even when we were dead in our sins; it is by his grace you are saved. And in union with Christ Jesus he raised us up and enthroned us with him in the heavenly realms" (Ephesians 2:4-6).
In this passage we see that we are:
"brought…to life," or made alive in Christ. We share His life.
"raised…up," as Christ was raised from the tomb
"enthroned" in the heavenly kingdom. We share Christ's kingly authority on the throne.
Notice that none of this is in the future. It is all past tense – a fact already accomplished.
Christ has been exalted and rules above every power and authority.
"When he raised him from the dead, when he enthroned him at his right hand in the heavenly realms, far above all government and authority, all power and dominion, and any title of sovereignty that can be named" (Eph. 1:20-21,NEB).
Christ's authority doesn't do away with all other forms of authority or government, but it takes preeminence over them. Jesus Christ is "Lord of lords, and King of kings" (Rev. 17:14; see 19:17).  Christ is the supreme ruler and Governor over all governments. He shares this position on the throne with His believing people.
This is almost impossible to comprehend. In fact, it is impossible apart from the Holy Spirit revealing it to us.
"That the God of our Lord Jesus Christ, the Father of glory, may give you a spirit of wisdom and of revelation in the knowledge of him, having the eyes of your hearts enlightened, that you may know … what is the immeasurable greatness of his power in us who believe, according to the working of his great might which he accomplished in Christ when he raised him from the dead and made him sit at his right hand in the heavenly places" (Eph. 1:17-20, RSV).
The Holy Spirit is the One who opens our spiritual eyes to see that:
Christ's authority is now supreme over the universe
The same power that raised Christ to that position of authority now works also :"in us who believe."
Paul further explains that these truths are revealed to Christians by the Holy Spirit:
"But we impart a secret and hidden wisdom of God, which God decreed before the ages for our glorification. None of the rulers of this age understood this; for if they had, they would not have crucified the Lord of glory" (I Cor. 2:7-8, RSV).
This "secret and hidden wisdom" reveals Christ as "Lord of glory." It is "for our glorification," because it shows us that by being united with Christ, we share in His glory.
Paul continues, "But, as it is written, 'What no eye has seen, nor ear heard, nor the heart of man conceived, what God has prepared for those who love him,' God has revealed to us through the Spirit" (vv.9-10, RSV).
Knowledge of this subject is not imparted through human senses, nor is it derived through human reasoning.
"Now we have received, not the spirit of the world, but the spirit which is of God; that we might know the things that are freely given to us of God" (v.12)
"The spirit which is of God" shows us the kingdom of Christ and our position in it. Through this revelation we understand our rights and responsibilities as citizens of the kingdom of heaven.
If there are times that are position on the throne with Christ seems unrealistic or distant, then we have not received the revelation that the Holy Spirit, through the Word, makes available to us. Apart from this revelation, we cannot understand, nor enjoy, nor exercise the benefits of our heavenly citizenship.
Lost Dominion Restored
It was God's intention from the beginning for man to share His dominion over the earth.
"And God said, Let us make man in our image, after our likeness: and let them have dominion … over all the earth" (Gen. 1:26).
Sin and disobedience cost Adam and his descendants their position of dominion.  We became slaves to Satan rather than reigning as kings.
But there is great news! The dominion that was lost through Adam was restored to the Believer through Christ's death and resurrection. "For if by one man's offense death reigned by one; much more they which receive abundance of grace and of the gift of righteousness shall reign in life by one, Jesus Christ" (Romans 5:17).
God's intent in man's redemption reflects His original intent in man's creation. His redeeming grace and power lifts man from slavery and restores him to his position of dominion.
Kings and Priests
God declared to Israel the purpose for which He redeemed them:
"And ye shall be unto me a kingdom of priests, and an holy nation" (Ex. 19:6).
God gave Israel a double privilege: to minister as priests and to reign as kings. Some of Israel's citizens entered into this high calling. Daniel was one such example. But for the most part, the nation failed to capitalize on God's rich promises.
In the New Testament, to those redeemed by faith in Christ, God restores this calling. In I Peter 2:5, Christians are called "an holy priesthood." As priests of the new covenant, their ministry is "to offer up spiritual sacrifices, acceptable to God by Jesus Christ." The "spiritual sacrifices" offered up by Christians are the various forms of prayer—especially worship and intercession. In I Peter 2:9, Christians are called "a royal [or kingly] priesthood." The phrase "a royal priesthood" corresponds to "a kingdom of priests" in Exodus 19:6.
In the book of Revelation the same phrase is used twice to refer to those redeemed by faith in Jesus Christ:
"Unto him [Christ] that loved us, and washed us from our sins in his own blood, and hath made us kings and priests unto God and his Father" (Rev. 1:5-6).
"[Thou] has redeemed us to God by thy blood … and hast made us unto our God kings and priests" (5:9-10).
God's intent to make His people "a kingdom of priests" is stated four times in Scripture—once in the Old Testament and three times in the New Testament.
Kings and Priests Who Rule by Prayer
David described Christ reigning as both King and Priest with His believing people (see Psalm 110:1-4).
"The LORD said unto my Lord, Sit thou at my right hand, until I make thine enemies thy footstool"
No other verse of the Old Testament is quoted more often in the New Testament. Jesus quoted the words of David and applied them to Himself (Matt. 22:44; Mk 12:36; Lu. 20:42-43). They were applied to Jesus by Peter in his sermon on the Day of Pentecost (Acts 2:34-35).
In Psalm 110, David speaks of Christ's position as Priest: "The LORD hath sworn, and will not repent, Thou art a priest for ever after the order of Melchizedek."
The entire teaching of Hebrews regarding Christ as high priest is based on this verse in psalm 110.  The writer of Hebrews emphasized that in Melchizedek there was a uniting of the two functions—of kingship and priesthood.  Melchizedek was "priest of the most high God." He was, by the meaning of his name, "King of righteousness, and after that also King of Salem, which is, King of peace" (Heb. 7:1-2).
This is the dual ministry that Christ now exercises at the Father's right hand. As King, He rules. As Priest, He intercedes: "He ever liveth to make intercession" (Hebrews 7:25).
Psalm 110:2 describes the way Christ's kingly authority is exercised:
"The LORD shall send the rod of thy strength out of Zion: rule thou in the midst of thine enemies."
This describes the world today. The enemies of Christ have not been ultimately subdued, but are still working actively, opposing His rule and kingdom. But, Christ has been exalted and has authority over them all. Thus He rules now "in the midst of [His] enemies."
David wrote of "the rod of thy strength." This is how Christ rules. The "rod" in Scripture marks a ruler's authority. Moses stretched out his rod and the plagues of God came upon Egypt. Later the Red Sea parted before Israel by the use of his rod. (Ex. 7-14). As high priest and head over the tribe of Levi, Aaron had a rod on which his name was inscribed (Nu. 17:3). It is the same with Christ. His authority is made effective by the use of His name.
In the scene David painted, the rod isn't stretched forth by Christ's hand, but rather is sent forth "out of Zion."  Zion refers to the place of assembly of God's people.
"But ye are come unto mount Sion … to the general assembly and church of the first born, which are [enrolled] in heaven" (Heb. 12:22-23).
Through our heavenly citizenship—and the right it has given us—we take our place in this assembly gathered in Zion.
It is here that we participate in the dual ministry of Christ. As kings, we rule with Him. As priests, we share His ministry of prayer and intercession. We cannot separate these two functions, and should never try. If we are to rule as kings, we must serve as priests. In Shaping History Through Prayer and Fasting, Derek Prince says,
"The practice of our priestly ministry is the key to the exercise of our kingly authority. It is through prayer and intercession that we administer the authority that is ours in the name of Jesus." [i]
David's picture beautifully illustrates the church's ministry of prayer. In the world, evil forces run rampant, rejecting and opposing the authority of Christ and the work of His kingdom. Yet, "in the midst" Christians assemble as kings and priests. The rod of Christ's authority, exercised in His name, is sent out through their prayers. In every direction the rod is extended, evil forces are forced to yield. Christ in turn, is exalted. His kingdom is advanced.
We look forward to the day when Christ's enemies have finally and completely been conquered, and Christ will be openly and universally acknowledged.  But we shouldn't let the promise of the future conceal the reality of Christ's present position at God's right hand. Christ rules even now "in the midst of [His] enemies" (v. 2).  And we rule with Him.
It is our responsibility to exercise this authority that is ours through the name of Jesus Christ, King of kings and Lord of lords.
Ready to Rule
Shades of Grace has the privilege of leading two special events today in which we will exercise our God-given authority as kings and priests: the Concert of Prayer at 6:30 a.m./p.m., and the Night of Miracle Prayer at 6:30 p.m. I am most excited about these two spiritual occasions merging today!
Many preparations are taking place for the Night of Miracle Prayer, but I didn't want to let this day pass without clearly defining the position from which we will pray today.  I am looking forward to exercising our kingly authority through our priestly ministry of intercession.  Most exciting is the opportunity to meet in person tonight with other kings and priests in multiplied anointing, to exercise our authority in Christ and see evil forces submit to the rod of authoritative prayer in His name. I am so grateful that we can all come together from any part of the world and unite in prayer before the Throne of Grace.  We do this every Thursday at 6:30. But I do treasure the times when all denominations unite in person to exercise this authority. Such will be the case tonight and I can hardly wait! This time, we will have been fasting. I know we will leave amazed at the presence and power of the Holy Spirit!
We continue prayer today as we have each Thursday of the fast: praying for revival in our churches, our cities, state and nation.  Pray for pastors and government leaders. Pray that God will draw lost and hurting people to the Night of Miracle Prayer. Pray that God will use this evening to ignite a fire that cannot be extinguished, sending revival into the surrounding communities.
King of kings and Lord of lords. Jesus Christ, we worship you! May we exercise the authority you have given us.
Question: How does this Scriptural reminder change the way you view prayer?
RELATED ARTICLES ON PRAYER:
FASTING DAY TWENTY-ONE FROM THE ARCHIVES
---
[i] Derek Prince, Shaping History Through Prayer and Fasting (New Kensington, PA: Whitaker House, 2002), 44

Follow @shadesofgrace_
Disclosure of Material Connection: Some of the links in the post above are "affiliate links." This means if you click on the link and purchase the item, Shades of Grace will receive an affiliate commission. Regardless, I only recommend products or services I use personally and believe will add value to my readers. I am disclosing this in accordance with the Federal Trade Commission's 16 CFR, Part 255 "Guides Concerning the Use of Endorsements and Testimonials in Advertising."
5 Responses to "Kings and Priests: Praying with Authority"