Dec 8th 11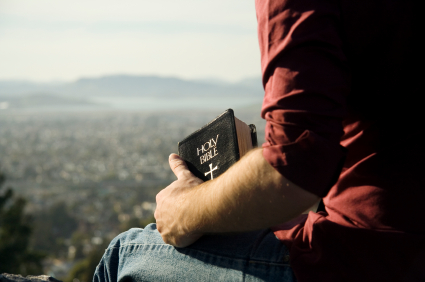 If you were totally honest about your prayer life, would you say that it is difficult for you to spend much time alone with God but you pray continually throughout the day?
This is probably true of most believers. But is one form of prayer better than the other? Can we walk in all that God intends for us if we neglect one form or the other?
I recently watched a question and answer panel about the life of Leonard Ravenhill. At the end of the program, they mentioned books that Ravenhill highly recommended. One book was The Hidden Life of Prayer by David MacIntyre. I immediately purchased a version for my iPhone (via the Kindle app) and began reading it.
Originally published in 1891, this little book is a treasure.  In Chapter two, MacIntyre notes something about prayer that is striking…and convicting. The "equipment" needed for the inner life of prayer is a quiet place, a quiet hour and a quiet heart.
A quiet hour, MacIntyre says, does not mean carving out exactly sixty minutes. It means "a portion of time withdrawn from the engagements of the day, fenced round from the encroachments of business or pleasure, and dedicated to God."[1]
In our modern age of technology, we are constantly tethered – constantly connected – whether through social media, text messages, cell phones or the internet. Add our job, family and responsibilities that crowd each 24 hour span and it seems impossible to pull away for a quiet moment, let alone a quiet hour. MacIntyre continues:
We who live with the clang of machinery and the roar of traffic always in our ears, whose crowding obligations jostle against each other as the hours fly on, are often tempted to withdraw to other uses those moments which we ought to hold sacred to communion with heaven…Certainly, if we are to have a quiet hour set down in the midst of a hurry of duties, and kept sacred, we must exercise both forethought and self-denial. We must be prepared to forgo many things that are pleasant, and some things that are profitable. We shall have to redeem time, it may be from recreation, or from social interaction, or from study, or from works of benevolence, if we are to find leisure daily to enter into our closet, and having shut the door, to pray to our Father who is in secret.[2]
What are you doing with the moments that could be used for sacred communion with heaven? Are you exercising self-denial, forgoing pleasant and seemingly profitable endeavors in order to press into God's presence?
Jesus found time for both secret and continual prayer. Withdrawing Himself, or disconnecting, in order to commune with heaven was a habit.
One sometimes hears it said, "I confess that I do not spend much time in the secret chamber, but I try to cultivate the habit of continual prayer." And it is implied that this is more and better than that. The two things ought not to be set in opposition. Each is necessary to a well-ordered Christian life; and each was perfectly maintained in the practice of the Lord Jesus. He was always enfolded in the Divine love; His communion with the Father was unbroken; He was the Son of Man who is in heaven. But St. Luke tells us that it was His habit to withdraw Himself into the wilderness and pray (Luke 5:16). Our Authorized Version does not at all give us the force of the original in this verse. Dean Vaughan comments on it thus: "It was not one withdrawal, nor one wilderness, nor one prayer, all is plural in the original-the withdrawals were repeated; the wildernesses were more than one, the prayers were habitual" (emphasis added). [3]
In spite of all the demands on Jesus' time, He found time for both secret and continual prayer:
Crowds were thronging and pressing Him; great multitudes came together to hear and to be healed of their infirmities; and He had no leisure so much as to eat. But He found time to pray. And this one who sought retirement with so much solitude was the Son of God, having no sin to confess, no shortcoming to deplore, no unbelief to subdue, no languor of love to overcome. Nor are we to imagine that His prayers were merely peaceful meditations, or rapturous acts of communion. They were strenuous and warlike, from that hour in the wilderness when angels came to minister to the prostrate Man of Sorrows, on to that awful "agony" in which His sweat was, as it were, great drops of blood. His prayers were sacrifices, offered up with strong crying and tears. (Emphasis added.)[4]
And yet we – with sins to confess, shortcomings to deplore, unbelief to subdue and laziness in love to overcome – find it impossible to pull away for secret prayer. Oh that we might be like Jesus!
Question: When today can you disconnect from distractions in order to connect with heaven in secret prayer?
RELATED ARTICLES ON PRAYER:

Follow @shadesofgrace_
Disclosure of Material Connection: Some of the links in the post above are "affiliate links." This means if you click on the link and purchase the item, Shades of Grace will receive an affiliate commission. Regardless, I only recommend products or services I use personally and believe will add value to my readers. I am disclosing this in accordance with the Federal Trade Commission's 16 CFR, Part 255 "Guides Concerning the Use of Endorsements and Testimonials in Advertising."
One Response to "Finding a Quiet Hour to Connect With Heaven"