Dec 4th 11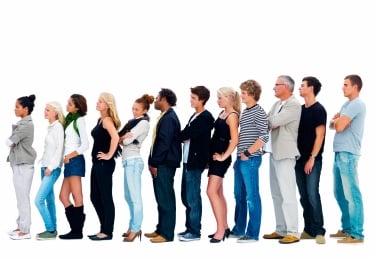 Waiting in line at a local Glenn Beck book signing, we struck up a conversation. She was there with her mom. I was there with mine. We each held our place in line while our mothers went to find seating in the bookstore in which to rest and endure the long wait. With only two seats in the entire bookstore, which were naturally unavailable, they quickly returned.
At first we discussed small things – the use of our cart as a purse caddy…Fox News…the sudden growth of the crowd…her children's beautiful red hair. But as minutes became hours, the subject matter deepened.
As Kristine's manicured nails tapped the screen of her phone, she appeared as if she didn't have a care in the world. From her stylish boots and figure-flattering jeans to her shoulder-length blond hair and flawless makeup, Kristine was the picture of glamour and perfection. How could anything be amiss in her world? (Some names have been changed in this post to protect the privacy of the individuals.)
We spent the bulk of three hours standing (sometimes sitting on the floor) in a narrow aisle of Hasting's bookstore. In those close quarters, we quickly became acquainted.
Kristine has four children…one of whom is autistic. He was developing normally until he became eighteen months old. That sparked a life-changing journey for Kristine and her husband. They've had many obstacles to overcome along the way. Many mysteries to solve. Yet Kristine and her husband have never given up. They've persevered tenaciously in research, in effort…and in time on their knees.
"Kyle's autism has been a blessing to our family – a blessing to me," Kristine said. "It brought me to my knees and has kept me there, dependent upon God. I quickly discovered that it doesn't matter how much money you have, how much security, how perfect your life may seem to me, when something like this happens, God is your only hope."
Kristine detailed a few of the challenges they've faced over the years. Potty training. Communication (Nouns! No adjectives). School. What struck me more was not Kyle's challenges, but the family's positive, God-given perspective. Kyle's two siblings, mom and dad all imitated Kyle's stellar performances in speech class at school – and the comedic introduction (learned from Bugs Bunny's orchestra cartoon) that he begins his speech with each time.  He is a fourteen year-old boy with lots of personality!
"Kyle is a gift to our whole family," Kristine said. "He keeps me on my knees, which is good. I have so much to be thankful for. I'll never have an empty nest. We'll always be together."
What? I know so many people, myself included, who would take the negative approach if we were in that situation. I would probably be complaining, "My husband and I won't get to retire and travel the world. All the plans we had are shattered!" No, Kristine and her husband treasure Kyle and the perfection with which God created him.
For two hours, I'd questioned the wisdom in taking an afternoon to stand in line at a book signing. I treasure my Saturdays at home. I never have enough time in the day as it is…without giving up an entire afternoon. I'm a big Glenn Beck fan, and a HUGE Fox News fan…but spending a few hours in line for a signed book (especially when I wasn't feeling well)…well, I wasn't sure it was the best decision. But after visiting with the Howells, I realized meeting them was the real Divine appointment for the day. The book signing just got me there. In the end, it wasn't Kristine's striking beauty that I remembered. It was God's life and strength shining through her, not in spite of, but because of the difficulties she has endured.
This reminded me of three Biblical truths that are part of God's comfort offered to us in our suffering.
1. We are not alone.
Romans 14:7 tells us, "None of us lives to himself alone and none of us lives to himself alone." Our lives are more intricately woven together with our brothers and sisters in Christ than we often realize or admit.
2 Corinthians 1:6 gives us evidence of this: "If we are distressed, it is for your comfort and salvation; if we are comforted, it is for your comfort which produces in you patient endurance of the same sufferings we suffer" (emphasis added).
The existence of God's work in your life empowers His work in mine. In fact, according to 1 Peter 5:8-9, knowing others are enduring the unavoidable difficulties of life helps us resist Satan and stand firm in our faith:
"Your enemy the devil prowls around like a roaring lion looking for someone to devour. Resist him, standing firm in the faith, because you know that your brothers throughout the world are undergoing the same kind of sufferings" (1 Peter 5:8-9, emphasis added).
Just knowing that others are encountering life's challenges and being made more than conquerors through Christ emboldens us to stand firm and committed to the One who is greater than our enemy. To "resist" in the original language means, "to set oneself against, to withstand, oppose." The existence of others' endurance fuels my resolve to plan my feet, dig my heels in and set myself completely against Satan, determined to withstand — fixed and immovable in my faith.
I cannot count how many times Scott Brodie's candid accounts of God's truth permeating his struggles have silenced my worship of temporal values and enabled me to receive God's eternal perspective of my circumstance.
Your life has the same direct bearing upon someone else. So be candid and let them know about your difficulties and the grace God has given you through them. You never know how someone else is affected just by knowing what you are going through. You never know how deeply they are strengthened merely by the fact that you  were.
2. Hardships are a gift.
"Consider it pure joy, my brothers, whenever you face trials of many kinds, because you know that the testing of your faith develops perseverance. Perseverance must finish its work so that you might be mature and complete, not lacking anything (James 1:2-4).

"It was good for me to be afflicted so that I might learn your decrees. The law form your mouth is more precious to me than thousands of pieces of silver and gold" (Psalm 119:71-72).
"Kyle's autism has given me more time on my knees," Kristine said. "I've often wondered what kind of world we would live in if everyone had at least one tragedy of some sort. There would be more knee bending (kind of like 9/11)."
When life is comfortable and easy, nothing nudges us to the point where God is an indispensable necessity – to the place where experiencing Him and receiving His strength are not options, they're daily requirements.
"Let the hearts of those rejoice who seek and require the Lord [as their indispensable necessity].  Seek, inquire of and for the Lord, and crave Him and His strength…seek and require His face and His presence [continually] evermore" (Psalm 105:3-4, Amplified).
In God is infinite joy and satisfaction. So when He allows sufferings to hollow out more room in us so that He might fill us, this is a good thing! His life living in us, living for us, is our ultimate gift!  Nothing compares to knowing Jesus!
3. Through our difficulties, we gain God's end-of-time perspective.
Our citizenship is in Heaven. That is our real home. What is a little discomfort – or years of indescribable suffering, for that matter – on this temporary journey? We're on the equivalent of an overnight hotel stay on our way home. When I'm in a hotel, the uncomfortable bed, loud noise in the halls and inconvenient parking all make me look forward that much more to my own bed, my own peace and quiet…and my own driveway. I don't expect to linger and convert the hotel to perfection.
So it is with our trials here on this earth. How much more they cause us to long for home – and to view our lives from God's eternal perspective.
"Therefore we do not lose heart. Though outwardly we are wasting away, yet inwardly we are being renewed day by day. For our light and momentary troubles are achieving for us an eternal glory that far outweighs them all. So we fix our eyes not on what is seen, but on what is unseen. For what is seen is temporary, but what is unseen is eternal" (2 Corinthians 4:16-18).
"In this you greatly rejoice, though now for a little while you may have had to suffer grief in all kinds of trials. These have come so that your faith—of greater worth than gold, which perishes even though refined by fire—may be proved genuine and may result in praise, glory and honor when Jesus Christ is revealed" (1 Peter 1:6-7).

The Message says: "Pure gold put in the fire comes out of it proved pure; genuine faith put through this suffering comes out proved genuine. When Jesus wraps this all up, it's your faith, not your gold, that God will have on display as evidence of his victory."
One phrase Kristine said yesterday really stuck with me: "It doesn't matter how much money you have, how much success, something like this will level you and send you to your knees before God."
It's not our gold, our possessions or our successes that God will display as evidence of His victory – it's our faith! Faith that has been refined by fire. (See also Psalm 66:10-12; Romans 8:37-38; Malachi 3:3.)
Our real life is hidden in Christ. He is our real life. For me, it has been only through difficulties and sufferings that I've come to grips with this reality. As something from my life here on this earth has been removed (my agenda, my health, my abilities, my expectations), I embrace more fully my life in Christ.
Otherwise, I fall prey to the subtle illusion that I am my own god – that this temporary life trumps all and I can be in control of it. Hogwash! I thank God for allowing trials to strip me bare that I might see this world and my place in it from His eternal perspective.
1-2 So if you're serious about living this new resurrection life with Christ, act like it. Pursue the things over which Christ presides. Don't shuffle along, eyes to the ground, absorbed with the things right in front of you. Look up, and be alert to what is going on around Christ—that's where the action is. See things from his perspective. 3-4Your old life is dead. Your new life, which is your real life—even though invisible to spectators—is with Christ in God. He is your life. When Christ (your real life, remember) shows up again on this earth, you'll show up, too—the real you, the glorious you" (Colossians 3:1-4, The Message).
Whatever your trial is today, allow it to humble you in prayer before God. Let it cause you to look up to Christ, your real life, and see what is going on around Him. For He is our supreme happiness and joy – our true life!
Question: Which of these three truths most comforts you in your difficulty today?

Follow @shadesofgrace_
Disclosure of Material Connection: Some of the links in the post above are "affiliate links." This means if you click on the link and purchase the item, Shades of Grace will receive an affiliate commission. Regardless, I only recommend products or services I use personally and believe will add value to my readers. I am disclosing this in accordance with the Federal Trade Commission's 16 CFR, Part 255 "Guides Concerning the Use of Endorsements and Testimonials in Advertising."