Nov 22nd 11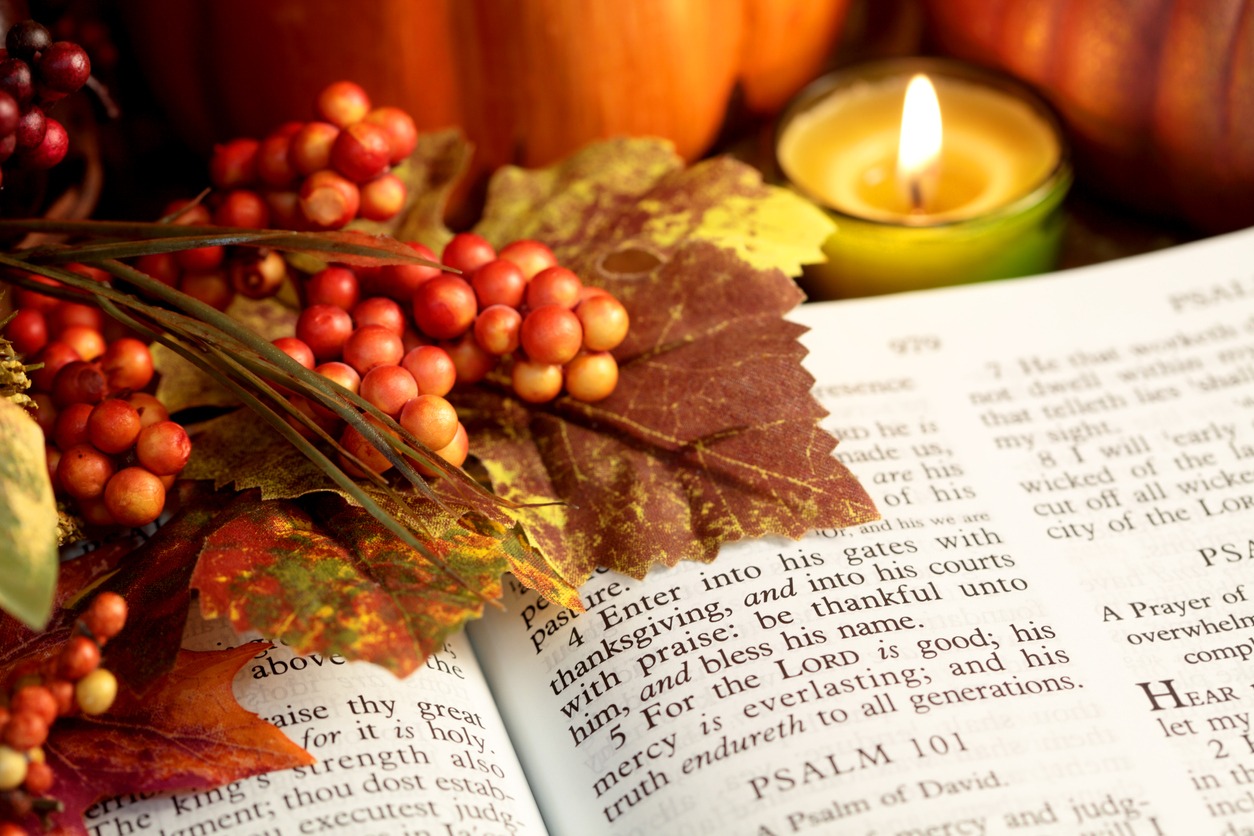 Do you want to be near to God—aware of His presence? As we draw near to Him, there is one thing we are instructed to do: enter His gates with thanksgiving!
"Enter his gates with thanksgiving
   and his courts with praise;
   give thanks to him and praise his name.
For the LORD is good and his love endures forever;
   his faithfulness continues through all generations."
Psalm 100:4-5
I have days when I'm awestruck at the goodness of God. With every breath I cannot help but express my deep gratitude to God—for eyes that see, hands that feel, a nose that smells, ears that hear all of nature worship Him! Every now and then, I stumble on an entire day when I can do nothing but continually thank God for His faithfulness and His blessings.
However, this is the exception. I'm a type A perfectionist. By nature, my mind zeroes in on the flaws in life. I may have worked tirelessly on a project and completed it with excellence — 99.9% perfect. But all I can see is the .1% that's imperfect. It doesn't matter what I'm viewing—a work of art or a freshly made up bed. My mind's eye immediately (and only) sees the flaws! So when I wake up every morning, my fleshly nature zeroes in on all that is wrong with my world. This makes me, by nature, a complainer. It takes discipline for me to give thanks.
I imagine even non-perfectionists struggle to offer God a sacrifice of thanks and praise. Doing so is contrary to our natural man. Yet it is the means by which we draw near to God.
Scripture doesn't say, "Enter his courts with complaining." (Ouch!) No, we enter His presence giving Him thanks and praise! This is something we are instructed to do continually. Why?
Old Testament Sacrifice
Under the Old Covenant, Israel held an annual day of atonement. On this day, the people were cleansed from all the sins that had accumulated during the past year. The atonement was accomplished through a priestly sacrifice.
Two young goats (often called "calves") were taken to the gate of the tabernacle and presented to the high priest as a sacrifice. One of the goats, chosen by lot, was to be the blood sacrifice. A scarlet cloth was wrapped around its neck to mark it for sacrificing. The other goat was designated as a scapegoat and kept outside the holy place.
The first goat was taken to the altar and slain. Its blood was collected in a bowl. The priest took the blood into the holy of holies. There he presented it with incense. As the incense burned, it filled the holy of holies with smoke representing the presence of God. Then the priest sprinkled the blood on the mercy seat once, and in front of it seven times.
Outside, every person in the camp lay prostrate. No one saw this as it happened. Yet the ritual meant that atonement was being made for their sins. Their transgressions for the whole year were being forgiven.
The next part of the ceremony was visible—an illustrated sermon for every Israelite to see.
The high priest emerged from the holy place and laid both his hands on the head of the remaining scapegoat. (The Hebrew word for "scapegoat" means "removal.") The priest's act of laying hands on the scapegoat symbolized the transferring of all the people's sins to the head of the animal:
"He will lay both of his hands on the goat's head and confess over it all the wickedness, rebellion, and sins of the people of Israel. In this way, he will transfer the people's sins to the head of the goat. Then a man specially chosen for the task will drive the goat into the wilderness. (Leviticus 16:21-22, NLT).
As the priest laid hands on the scapegoat, he confessed the sins of the whole camp. He essentially prayed: "Lord, place my sins and the sins of the people on the head of this goat. Now, depart!"
The specially chosen man then put a leash on the scapegoat and led him out of the camp. The people of Israel stood watching and rejoicing as the scapegoat was led away. It was an illustrated sermon that everyone could understand: "Not only are our sins forgiven—but they are taken away from our midst!"
The people knew that as that goat was led out of their midst, he would never be seen again. And neither would the Lord remember their sins. A mighty shout went up from the camp!
New Testament Sacrifice
This is a beautiful picture of what Jesus Christ does for us. Both of the goats represent Jesus—the lamb who was slain for us, and the one who took away the sins of the world:
"Surely he has borne our griefs and carried our sorrows; yet we esteemed him stricken, smitten by God, and afflicted." (Isaiah 53:4, ESV).
"He personally carried our sins in His body on the cross [willingly offering Himself on it, as on an altar of sacrifice], so that we might die to sin… and live for righteousness; for by His wounds you [who believe] have been healed." (1 Peter 2:24, AMP).
Like the specially chosen man who led away the goats, Jesus has buried our sins in a place "not inhabited" — "You will cast all our sins into the depths of the sea." (Micah 7:19, ESV).
We live in a day when our high priest, Jesus, has already presented the sacrifice of his own blood to the father, to make atonement for our sins. Christ has wiped out all our transgressions, never to be remembered against us. So, for us, the work of atonement is finished.
The Sacrifice of Praise and Thanksgiving
Like the Israelites, we are also to come into the Lord's courts with thanksgiving and praise, as Psalm 100 says. And we are to bring two "goats" with us:
"Take with you words, and turn to the Lord: say unto him,' Take away all iniquity, and receive us graciously: so will we render the calves of our lips'" (Hosea 14:2, KJV).
The word "calves" symbolizes our lips—our words. The full meaning of this phrase in Hebrew is: "We will offer young bullocks, even our lips."
Our offering of thanksgiving is to be made with the two goats we bring—an offering of our lips, or voices.
When we come into God's presence, we are to bring words of thanksgiving. We are to speak and sing out our praises to Him.
We no longer bring God sacrifices of blood for atonement. Instead, we are to bring him a sacrifice of praise and thanksgiving from our lips. "Therefore by Him let us continually offer the sacrifice of praise to God, that is,
the fruit of our lips, giving thanks to His name" (Hebrews 13:15, NKJV).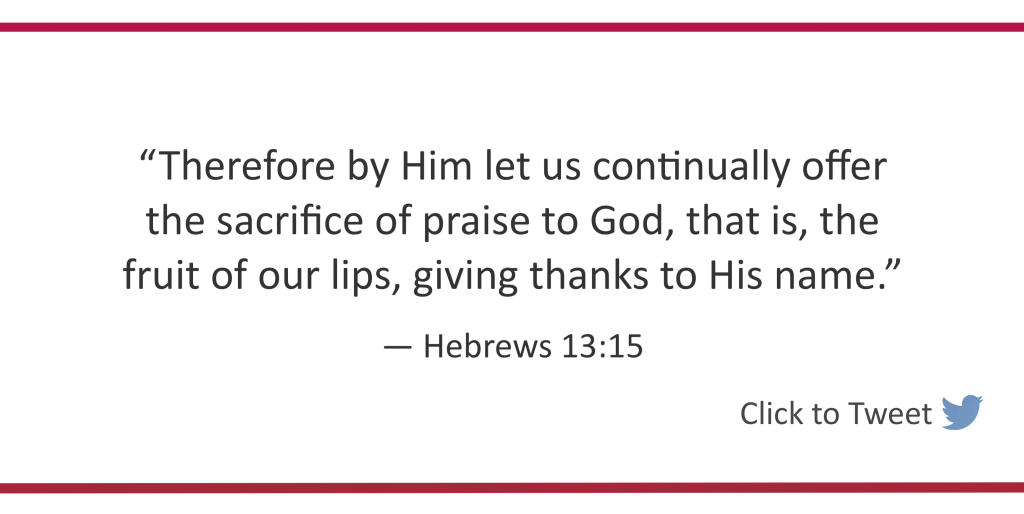 What more fitting season to put this into practice than
Thanksgiving
! Let's bring him sacrifices of thanksgiving today and shout triumphantly to Him in song!
"Let them offer sacrifices of thanksgiving and sing
joyfully about his glorious acts."
Psalm 107:22, NLT
______
"Let us enter His presence with thanksgiving;
let us shout triumphantly to Him in song."
Psalm 95:2, HCSB
_______

"I will offer to You the sacrifice of thanksgiving
and will call on the name of the Lord."
Psalm 116:17, NKJV
–

More Tweetables

–
Questions: Have you offered God a sacrifice of praise today? If not, will you do so right now?

Follow @shadesofgrace_
Disclosure of Material Connection: Some of the links in the post above are "affiliate links." This means if you click on the link and purchase the item, Shades of Grace will receive an affiliate commission. Regardless, I only recommend products or services I use personally and believe will add value to my readers. I am disclosing this in accordance with the Federal Trade Commission's 16 CFR, Part 255 "Guides Concerning the Use of Endorsements and Testimonials in Advertising."
2 Responses to "Daily Thanksgiving: A Sacrifice of Praise"