Oct 15th 09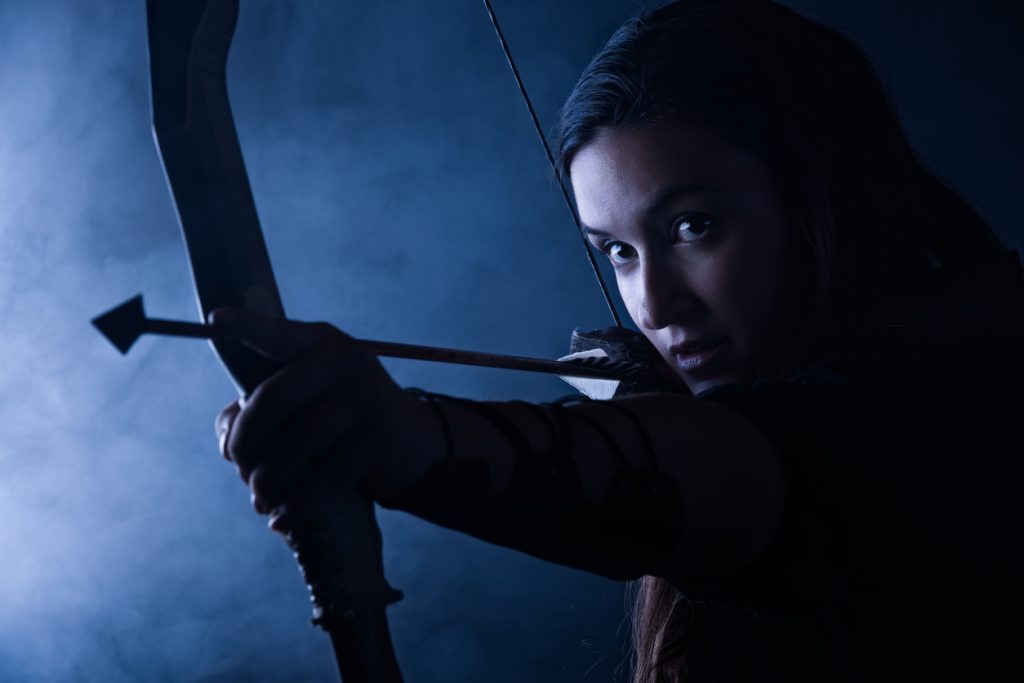 As we join together at 6:30 today to pray in concert, I would like to share a passage of scripture that has encouraged and motivated me in my prayer life.
Victory Occurs From What Happens in the
Bed Chamber Not on the Battlefield
14 Elisha had become sick with the illness of which he would die. Then Joash the king of Israel came down to him, and wept over his face, and said, "O my father, my father, the chariots of Israel and their horsemen!"  15 And Elisha said to him, "Take a bow and some arrows." So he took himself a bow and some arrows. 16 Then he said to the king of Israel, "Put your hand on the bow." So he put his hand on it, and Elisha put his hands on the king's hands.  17 And he said, "Open the east window"; and he opened it. Then Elisha said, "Shoot"; and he shot. And he said, "The arrow of the LORD's deliverance and the arrow of deliverance from Syria; for you must strike the Syrians at Aphek till you have destroyed them."  18 Then he said, "Take the arrows"; so he took them. And he said to the king of Israel, "Strike the ground"; so he struck three times, and stopped. 19 And the man of God was angry with him, and said, "You should have struck five or six times; then you would have struck Syria till you had destroyed it! But now you will strike Syria only three times."

–2 Kings 13:14-19
The real victory in this scene was not won on the battlefield; it was won behind the scenes. Similarly, real victory is won in our private life—in the "bed chamber" of our prayer life.
Elisha was aging and ill, so Joash came to him in his bedchamber. Elisha told Joash, "Take a bow and arrows." Joash took them privately – the same way we take our weapons of prayer every morning in private.  What we do with our weapons, in this time of prayer, is important. It determines what God does publicly – in our lives, the lives of those for whom we are praying; in our businesses, our careers, our families, our churches. What happens publicly merely manifests what has taken place privately in prayer.
"When you pray, go into your room, close the door and pray to your Father, who is unseen. Then your Father, who sees what is done in secret, will reward you" Matthew 6:6)
Take Up Your Weapons
Elisha had the king pick up his weapon, even though he was only in Elisha's room, and not on the battlefield fighting against Syria. God does exactly the same with us. He asks us to take up our weapons in private prayer. No one is watching. The enemy seems miles away, unaffected. It's just us and God. This is where the real transaction occurs spiritually. This is where the final outcome is determined. This is the place where our weapons are to be first engaged.
Joash picked up his bow and arrow and shot once out the window, as Elisha had told him to do. The devil would have loved for Elisha to dismiss it all as foolishness, an embarrassing waste of time. Instead Joash did as Elisha instructed—he opened his eyes, focused outside the window and shot an arrow out into the open air.
The Holy Spirit asks us to pray and believe God for things that are as invisible in the natural as the enemy was outside Elisha's bedchamber window. It seems as if we're shooting arrows into thin air. Yet, when we obey, and believe that our authority exercised in prayer—our worship, our petition, our faith and  confession—is accomplishing what God intends, victory is the outcome.
Look Outside, Not Inside
Joash had to open the window and focus his vision outside. As long as we remain inwardly focused, defeat awaits us. God wants to open our perception to the things of the Spirit. He wants to open our hearts to the needs of the world around us.  But we must first fling open the window of spiritual opportunity by a decision of our will. In return, the Holy Spirit will give us the very burden and prayers of God's heart and focus our vision beyond the immediate.
It's Your Responsibility

Notice also that Elisha could not do any of this for Joash. It was a responsibility God entrusted to Joash through the prophet Elisha. In the same way, God has entrusted to you—through the revelation of scripture and the enabling of His Holy Spirit—a responsibility, an instruction, to discharge your weapons in private prayer. He has not asked your pastor to do it for you—not your spouse, your Bible study leader or accountability partner. Not the prayer team at church or the leaders who seem so much more qualified and capable than you. The Lord is asking YOU to release your arrows through private worship, confession, and prayer.
Let Your Arrows Soar
We need to let our arrows soar out of us, sending them in the direction God instructs.  We need to start praying victory when we're staring down the barrel of defeat. We need to start laboring in prayer and expecting the salvation of loved ones who are on their way to hell. We need to pray through to the point of victory for the complacency of the church – for the complacency in our own lives. We need to begin exercising our authority in prayer, and doing so with perseverance.
Your Arrows Are the Words of Authority
Spoken in Prayer
Our arrows are the words of authority spoken in prayer. John wrote:
"But as many as received Him, to them He gave the right to become children of God, even to those who believe in His name" (John 1:12).
The word "right" is the Greek word for "authority," which is delegated power. A person in authority demonstrates his power through words: commands, requests, messages, etc.
As Christians we need to use our God-given authority in the war in which we're engaged. You may feel that you're not on a spiritual battlefield; it's only the more spiritual people around you. But your mere presence in the kingdom of the god of this age has set him at war against you. Take up your weapons, your words of authority, and let them fly out of your mouth:
the Word of Truth (Ephesians 6:17)
the word of your praise (Psalm 96:1-4)
the Name and blood of the Lord Jesus (John 14:13-14; Philippians 2:9,10; Revelation 12:11)
the word of your testimony and total commitment (Revelation 12:11; 2 Corinthians 4:13)
the word of faith (Mark 11:22-24; Romans 4:17)
the word of importunity (Luke 18:1; Matthew 7:7-8)
Strike the Ground Until Victory is Obtained
After the king shot an arrow, Elisha told him to take the rest of the arrows and start striking the ground. The previous phrase is enlightening: Joash was instructed to "strike the Syrians at Aphek till you have destroyed them." In other words, don't stop till total victory is obtained (i.e. perseverance will be necessary in order to achieve victory.) Then Elisha instructed King Joash to strike the ground.  The word "till" means "up to the time of; until: to fight till death." Don't stop till you have prayed through, so to speak—till the matter is settled. 
We want to pray five or ten minutes and be done, never revisiting the topic or laboring in prayer in any way.  If we were Joash, we might consider striking the ground three whole times a major feat—a major labor in prayer and exercise of faith! And yet we are not to stop until we sense that the matter has been settled in the heavenlies, until we have received the victory that we seek—no matter how foolish, how senseless, how sacrificial or tiring it seems.
This made no more sense than shooting an arrow out of the open window, but King Joash did it. He hit the ground hard with his arrows three times. "There! That took care of those Syrians!" But Elisha was angry. If Joash had only struck the ground just two or three more times he would've been assured complete victory. Instead, he had stopped dreadfully short! Now he would win some battles, but he would lose the war.
Don't we do this ourselves? We stop short of God's best? Short of God's perfect will for our personal walk, our families, our businesses, our ministries, our churches, our communities?
God has a battle plan for you to exercise in your "bedchamber" of prayer today. Don't judge its merit by the temporal world or any experience you may have had in prayer in the past. Three strikes might have assured victory yesterday, but today God is doing a new thing.
Don't determine your course in prayer by what feels good, or seems a tremendous effort. Judge it only by what the Spirit is calling you to pray today. Don't confer with what your natural eyes see, your natural ears hear, or your reasoning dictates. [1]
Waiting For You Today: Spiritual Ground and An Unopened Window
Before you today is an unopened window and spiritual ground that is waiting to be struck.  In your hand—in the pages of the Bible—are arrows God intends to be utilized in achieving complete victory.  Follow His leading and don't stop short! For the results will surely be seen!!  Take up your arrows and take the kingdom of heaven by violence today. For God has so instructed.
"If the Holy Spirit is power, we need to learn how to operate the throttle. And if the Holy Spirit is a Person (and He is), then we really need to learn how to let Him operate us. I admit to being resentful when some soul, uninstructed in the Spirit, suddenly closes a prayer meeting that very obviously the Spirit has in control. How can shrinking flesh be so stupid? We cannot turn the Holy Spirit on and off with the lights of the sanctuary…I feel deeply that we trifle with the Holy Ghost even in prayer. What a trivial round of petitions we get in the average prayer meeting! …

In prayer we need holy men; for holy men are bold, reaching out in the Spirit and feeling the tug of divine yearnings. Like their Master, holy men also know strong crying and tears. …

Satan fears prayer and offsets it at every angle. At every opportunity he stalls the impulse to take part in it, for he has felt the smart of men who pray in the Holy Ghost. Again and again hell has shuddered because of the onslaughts of men who have taken the kingdom of heaven by violence."  — Leonard Ravenhill [2]
–

Tweetables

Satan fears prayer and offsets it at every angle. At every opportunity he stalls the impulse to take part in it… ~ Leonard Ravenhill  Tweet
We need to start praying victory when we're staring down the barrel of defeat.  Tweet
Victory isn't won on the battlefield but in the bed chamber of your prayer life.   Tweet

–
Questions: What are you going to do with your arrows? Are you going to start praying victory while staring down the barrel of defeat? Are you going to exercise God's battle plan in your bed chamber today?
RELATED ARTICLES ON PRAYER
________________
Idea from Jentezen Franklin, Believe That You Can (Lake Mary, FL: Charisma House, 2008), 194-196
Leonard Ravenhill, Revival Praying (Bloomington,Minnesota: Bethany House, 1962, 2005), 58

Follow @shadesofgrace_
Disclosure of Material Connection: Some of the links in the post above are "affiliate links." This means if you click on the link and purchase the item, Shades of Grace will receive an affiliate commission. Regardless, I only recommend products or services I use personally and believe will add value to my readers. I am disclosing this in accordance with the Federal Trade Commission's 16 CFR, Part 255 "Guides Concerning the Use of Endorsements and Testimonials in Advertising."
One Response to "What Will You Do With Your Arrows?"