Jan 15th 15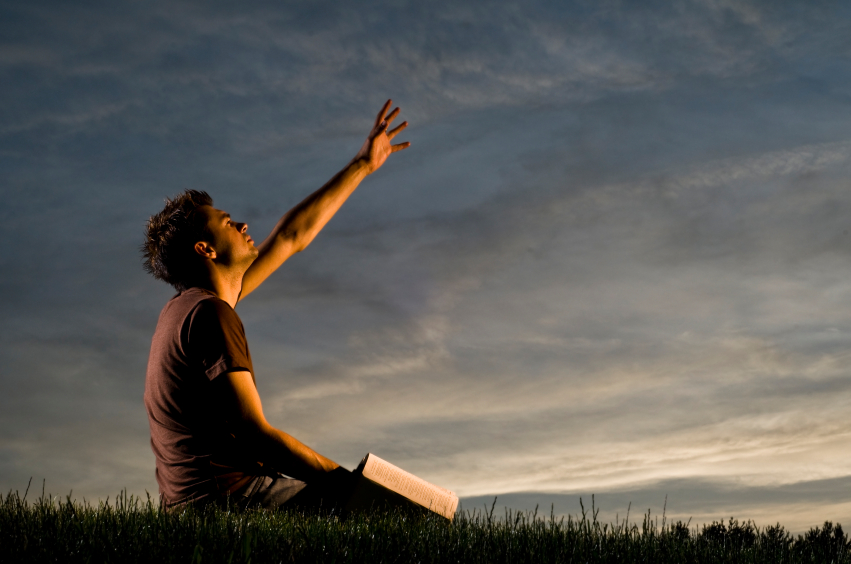 Does it seem you can never find time to pray? In our busy, always-plugged-in world, it can be hard to pull aside for prayer.
What's more, the constant barrage of media, tweets, texts, emails, news, and entertainment—and the attention deficit disorder it has given us—is causing us to be unable to tolerate solitude.
Difficulty Separating Ourselves for Prayer
In a recent study, participants experienced anxiety when separated from their cell phones. Without their phones, participants' heart rate and blood pressure increased and their cognition decreased.
When separation from a mere phone causes such negative physiological and psychological effects, what a shock it must be to our system when we consider separating ourselves from everything and everyone else—shutting out all other voices—in order to shut ourselves in with God!
We literally don't know how to spend half an hour in prayer any more it seems.
When You Don't Know How To Spend Time in Prayer
In The Prayer Life, Andrew Murray tells us what to do when we don't know how to spend time in prayer:
If you do not know how to spend half an hour in prayer, take up the subject of God's holiness. Bow before Him. Give yourself time, and give God also time, that He and you may come into touch with one another. . . .

If you wish to strengthen yourself in the presence of this Holy Presence, take up the Holy Word. 1
Murray then directs us to scripture, where God says:
"You must be holy because I am holy." (See Leviticus 11:44-45; 19:2; 20:7, 26; 21:8; 22:23.) And "I am the Lord, who makes you holy" (Exodus 31:13, NIV).
This thought continued into the New Testament, where Peter said:
"But as the One who called you is holy, you also are to be holy in all your conduct; 16 for it is written, Be holy, because I am holy" (1 Peter 1:15-16, HCSB)
. . . And where Paul wrote:
"May he strengthen your hearts so that you will be blameless and holy. . . .God did. . . call us to live a holy life. . . . The one who calls you is faithful, and he will do it" (1 Thess. 3:13, 4:7, 5:24).
Prayerlessness Prevents God from Imparting His Holiness
Murray continues:
Nothing but the knowledge of God, as the Holy One, will make us holy. And how are we to obtain that knowledge of God, except in the inner chamber, our private place of prayer? It is a thing utterly impossible unless we take time and allow the holiness of God to shine on us. How can any man on earth obtain intimate knowledge of another man of remarkable wisdom, if he does not associate with him and place himself under his influence? And how can God Himself sanctify us, if we do not take time to be brought under the power of the glory of His holiness? Nowhere can we get to know the holiness of God, and come under its influence and power, except in the inner chamber. It has been well said: "No man can expect to make progress in holiness who is not often and long alone with God." ( Tweet this)

And what now is this holiness of God? It is the highest and most glorious and most all-embracing of all the attributes of God. Holiness is the most profound word in the Bible. It is a word that is at home in heaven. Both the Old and New Testaments tell us this. Isaiah heard the seraphs with veiled faces cry out, "Holy, holy, holy is the LORD of hosts" (Isa. 6:3). John heard the four living creatures say, "Holy, holy, holy, Lord God Almighty" (Rev. 4:8). This is the highest expression of God's glory in heaven by beings who live in His immediate presence and bow low before Him. And dare we imagine that we, by thinking and reading and hearing, can understand or become partakers of the holiness of God? What folly! Oh that we might begin to thank God that we have a place in the inner chamber, a place where we can be alone with Him, and take time for the prayer: "let Your holiness, O Lord, shine more and more into our hearts, that they may become holy."

And let our hearts be deeply ashamed of our prayerlessness, through which we have made it impossible for God to impart His holiness to us. . . . No one can expect to understand and receive the holiness of God who is not often and long alone with God. (Emphasis added) 2
–

Tweetables

–
Questions: Are you making progress in holiness? Are you often and long alone with God?
OTHER ARTICLES WITH ANDREW MURRAY EXCERPTS:
OTHER ARTICLES ON PRAYER:
FASTING DAY 4 FROM THE ARCHIVES:
______________________
Andrew Murray,  Andrew Murray on Prayer (New Kensington, PA: Whitaker House, 1998), 186-187
Ibid., 187-188
Note: Andrew Murray on Prayer is a work containing six books of Andrew Murray's. The excerpts above were taken from the book The Prayer Life (Also available on Kindle for $.99).

Follow @shadesofgrace_
Disclosure of Material Connection: Some of the links in the post above are "affiliate links." This means if you click on the link and purchase the item, Shades of Grace will receive an affiliate commission. Regardless, I only recommend products or services I use personally and believe will add value to my readers. I am disclosing this in accordance with the Federal Trade Commission's 16 CFR, Part 255 "Guides Concerning the Use of Endorsements and Testimonials in Advertising."