Jan 10th 12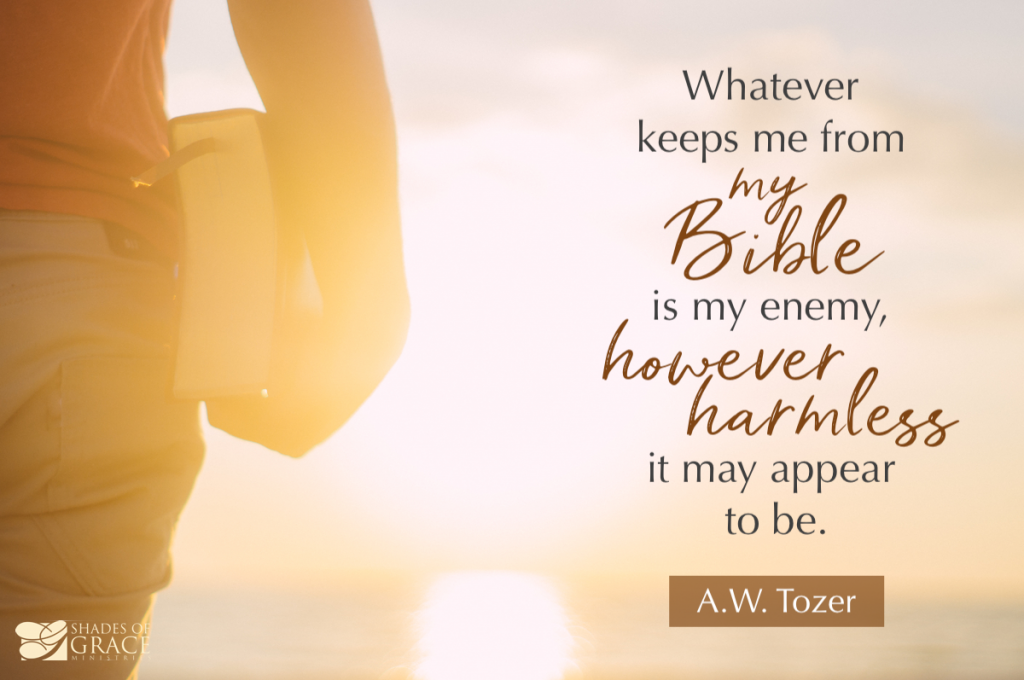 This is a guest post by Angela Morgan. Please see below for more about Angela.
Have we become so desensitized by this world that the Word of God has of no effect on us anymore?
How can it? We have no room in our lives for His Word. We read it … but it doesn't stick.
How can you fill a container that's already full of something else?
How do we expect to ever let the Word of God fill our minds when they're full of television, news, internet sites, school activities, shopping, playing sports, going to the movies — having more pleasure in what the world offers than what our Father in heaven offers?
As I sit here, I'm in tears because the Lord has revealed to me how desensitized we have become to the things of the God.
My heart is breaking because the Holy Spirit is breaking it. We must break. We must realize that He is coming soon. Oh God, forgive us … Forgive me.
"For the time has come for judgment to begin at the house of God; and if it begins with us first, what will be the end of those who do not obey the gospel of God?" (1 Peter 4:17).
I believe that God is calling His People to humble themselves and turn from there wicked ways and seek His holy face! He is calling us to obedience.
Oh That We Would Love God More
We talk about change and wanting to serve God — wanting "more" of Him — but are we willing to seek Him the way He desires that we seek Him?
"I love them that love me; and those that seek me early shall find me" (Proverbs 8:17). ( Tweet this)
Loving God and seeking Him early in the morning are in the same verse. That should tell us something.
Oh that we would love Him more than sleep!
"I have esteemed the words of His mouth more than my necessary food" (Job 23:12). ( Tweet this)
Oh that we would love God more than food!
"Your words were found, and I ate them,
And Your word was to me the joy and rejoicing of my heart;
For I am called by Your name,
O LORD God of hosts" (Jeremiah 15:16).
Oh that we would love God more than anything in the world! 
"15 Do not love the world or the things in the world. If anyone loves the world, the love of the Father is not in him. 16 For all that is in the world—the lust of the flesh, the lust of the eyes, and the pride of life—is not of the Father but is of the world. 17 And the world is passing away, and the lust of it; but he who does the will of God abides forever" (1 John 2:15-17).
I cannot believe that we can wander so far away from His truth — so far from what it really means to love God.
I too am guilty. We say we love God … but we don't do any of these things. We don't love God more than sleep, more than food, more than the world. Who do we think we are?!
Called to be Holy
God has not called us to be happy. He has called us to be holy.
"Sanctify yourselves therefore, and be ye holy: for I am the Lord your God" (Leviticus 20:7).

"But as He which hath called you is holy, so be ye holy in all manner of conversation" (1 Peter 1:15 ).
Holy … in everything you talk about.
Do you want to be moved by the Spirit — feeling His presence? Be Holy!
"For the Prophecy came not in old time by the will of man: but holy men of God spake as they were moved by the Holy Ghost" (2 Peter 1:21).
I want to be used by God, so I must present my body as holy and blameless!
I have never felt such a sense of urgency. I feel it more now than ever.
We are living in a modern day Babylon. God is calling us out! He is seeking those who will worship Him in Spirit and in truth!
We sing in church, "We welcome You Lord Jesus into this place" — speaking of welcoming Him into the church building itself. We need to also be singing His praises and welcoming Him into our homes, into our everyday lives.
"Lord we welcome You here in this place!"
But how can He be welcome if the television is constantly on … or the Internet … or the radio?
How can He be welcome when we have ungodly movies (with wicked, blasphemous words and vile sexual acts) streaming through the television filling our homes?
We have "talked" ourselves out of doing what's right, what's holy. Why? Because we have become stagnant. Nothing fazes us anymore.
"Oh Lord God, forgive us. Forgive me."
A.W. Tozer said, "Whatever keeps me from my Bible is my enemy, however harmless it may appear to be. Whatever engages my attention when I should be meditating on God and things eternal does injury to my soul."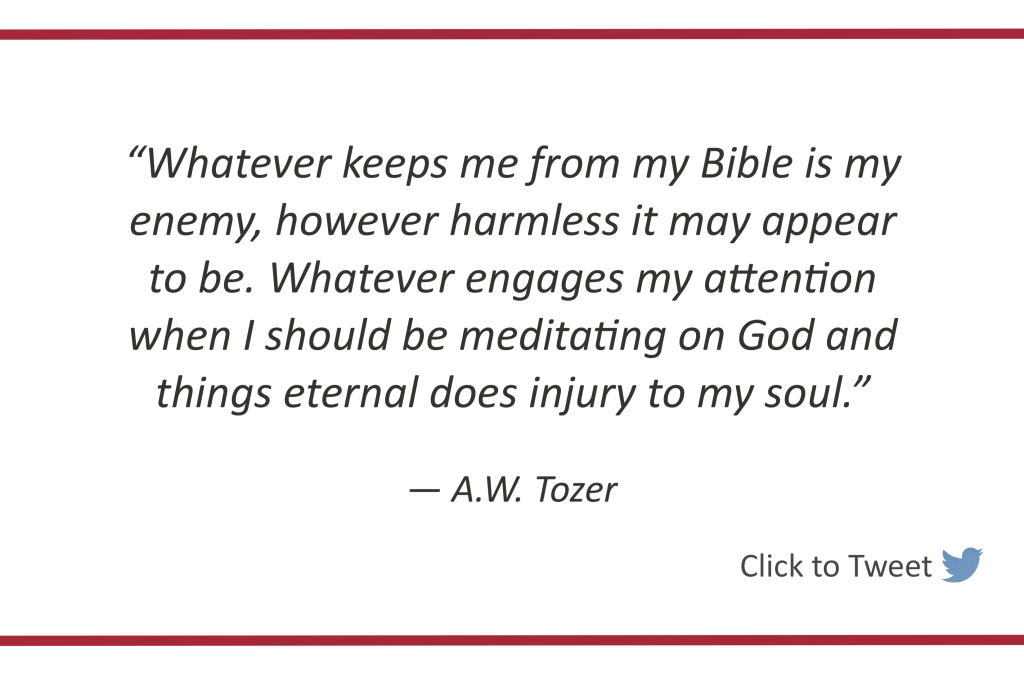 My prayer today is, "Lord, may my life mirror who You are! And When I die, may the life you gave me only bring You fame in Jesus name!"
We were not called to be happy or entertained. We were called to be holy.
A Moment of Worship: "Holy"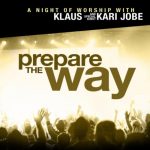 Holy (featuring Kari Jobe), led by Klaus Kuehn
Words & Music by Matt Gilman, Seth Yates & Mindy Hurdselbrink
From Prepare the Way by Klaus Music
Listen on Apple Music | Buy on iTunes
Listen on Prime Music | Buy on Amazon
space
Prayer Focus:
How is your love for God?
Do you love Him more than food, entertainment, sleep and the world?
What fills your mind and your time?
What enemy is keeping you from your Bible?
Commit wholly to God today. Demonstrate your love for Him by letting nothing keep you from Him.
From Natalie: This is a guest post by Angela Morgan. Angela's deep faith and undying passion for Jesus are a personal inspiration to me. She co-led the Concert of Prayer event as part of the Harmony Hill Church worship team. You can read her blog and follow her on Facebook and Twitter.
–

Tweetables

"I love them that love me; and those that seek me early shall find me." ~ Proverbs 8:17  Tweet
"I have esteemed the words of His mouth more than my necessary food." ~ Job 23:12 Tweet
"Whatever keeps me from my Bible is my enemy, however harmless it may appear to be. Whatever engages my attention when I should be meditating on God and things eternal does injury to my soul." ~ Tozer  Tweet

–
space
From the Fasting Archives:

Follow @shadesofgrace_
Disclosure of Material Connection: Some of the links in the post above are "affiliate links." This means if you click on the link and purchase the item, Shades of Grace will receive an affiliate commission. Regardless, I only recommend products or services I use personally and believe will add value to my readers. I am disclosing this in accordance with the Federal Trade Commission's 16 CFR, Part 255 "Guides Concerning the Use of Endorsements and Testimonials in Advertising."