Jan 22nd 19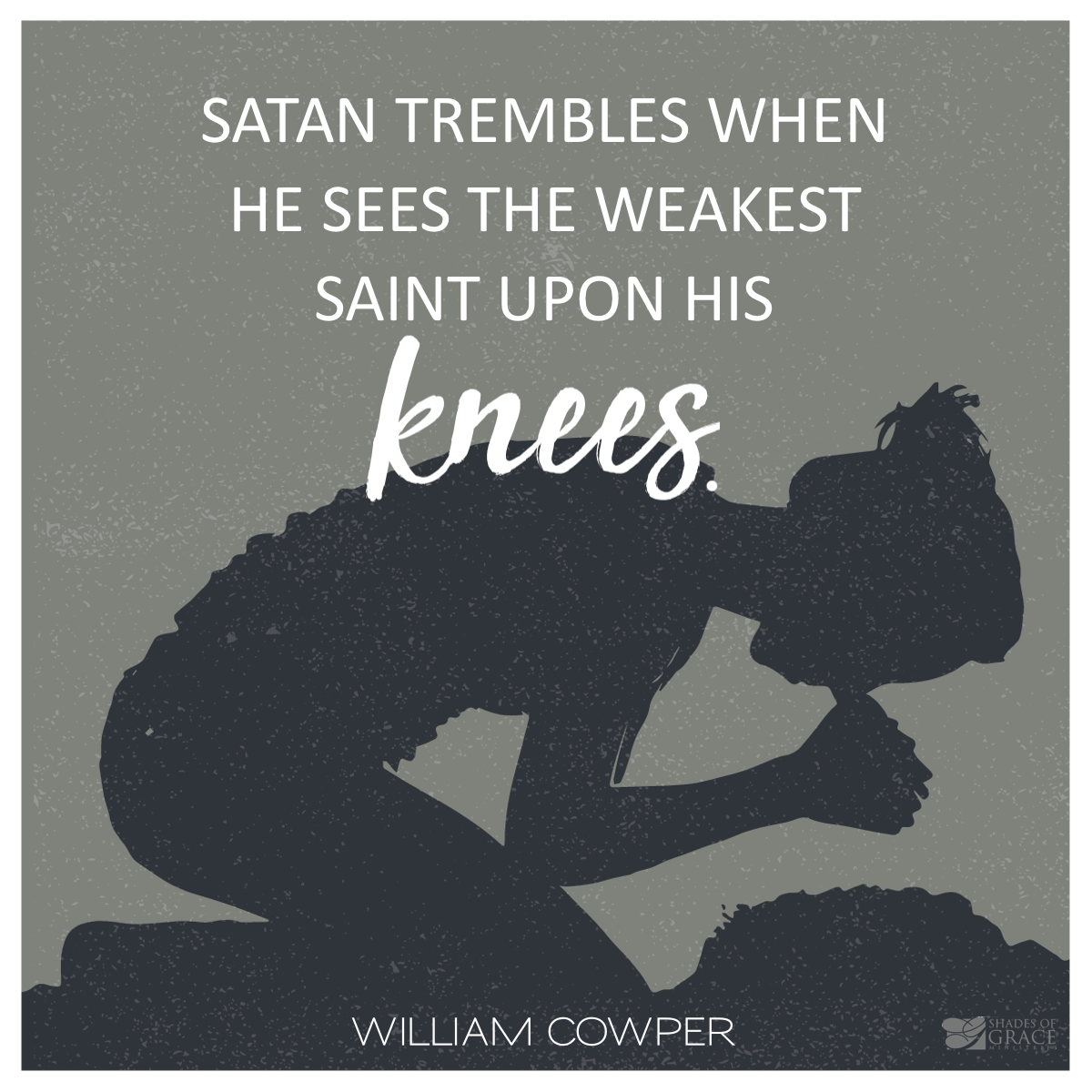 Do you feel inadequate in prayer? Do you look at godly men and women in history and feel small—microscopic—in comparison? Are you hesitant to pray because you feel you're no Andrew Murray or E.M. Bounds? Satan trembles when he sees even the weakest saint upon his or her knees! Why? Because what God can do, prayer can do! The power of prayer is not in the one who prays but the One who answers.
This phrase of William Cowper's is taken from "What Various Hindrances We Meet," a hymn he wrote the lyrics to in 1779:
What Various Hindrances We Meet

What various hindrances we meet
In coming to a mercy seat;
Yet who that knows the worth of prayer,
But wishes to be often there.

Prayer makes the darkened cloud withdraw,
Prayer climbs the ladder Jacob saw;
Gives exercise to faith and love,
Brings every blessing from above.

Restraining prayer, we cease to fight;
Prayer makes the Christian's armor bright;
And Satan trembles, when he sees
The weakest saint upon his knees.

While Moses stood with arms spread wide,
Success was found on Israel's side;
But when through weariness they failed,
That moment Amalek prevailed.

Have you no words? Ah, think again,
Words flow apace when you complain;
And fill your fellow creature's ear
With the sad tale of all your care.

Were half the breath thus vainly spent,
To Heav'n in supplication sent;
Your cheerful song would oft'ner be,
Hear what the Lord has done for me.
Prayer Brings Every Blessing
If you know the worth of prayer, you wish to often be there! Prayer brings every blessing from above. When we restrain prayer, we cease to fight.
So no matter how weak we may feel in prayer, Satan trembles at the sight of us praying. He fights prayer with everything in His arsenal. He unleashes a conspiracy of interruptions in order to keep us from the prayer closet—because what God can do, prayer can do.
Do we feel we have no words in prayer? Do we not know what to say? Ah, but words are plenty when we complain of our woes and worries. We have no trouble finding words then! If we spent a fraction of the amount of breath in prayer that we spend complaining, we'd be singing a cheerful song of praise to God for what He has done in return!
The Spirit Helps Us in Our Weakness
It does not matter how weak you feel in prayer. Just pray! The Holy Spirit will help you in your weakness. He will pray through you!
"So too the [Holy] Spirit comes to our aid and bears us up in our weakness; for we do not know what prayer to offer nor how to offer it worthily as we ought, but the Spirit Himself goes to meet our supplication and pleads in our behalf with unspeakable yearnings and groanings too deep for utterance" (Romans 8:26, AMPC)
Or as The Message so plainly states,
"God's Spirit is right alongside helping us along. If we don't know how or what to pray, it doesn't matter. He does our praying in and for us, making prayer out of our wordless sighs, our aching groans" (Romans 8:26, MSG).
Pray, no matter how weak and helpless you feel in prayer. Pray—and shake the foundations of hell!
Question: Do you feel weak in prayer today? Will you pray anyway and let the Holy Spirit help you in your weakness? Will you pray and shake the foundations of hell?
RELATED ARTICLES ON PRAYER:
FASTING DAY 17 FROM THE ARCHIVES:

Follow @shadesofgrace_
Disclosure of Material Connection: Some of the links in the post above are "affiliate links." This means if you click on the link and purchase the item, Shades of Grace will receive an affiliate commission. Regardless, I only recommend products or services I use personally and believe will add value to my readers. I am disclosing this in accordance with the Federal Trade Commission's 16 CFR, Part 255 "Guides Concerning the Use of Endorsements and Testimonials in Advertising."