Jan 29th 13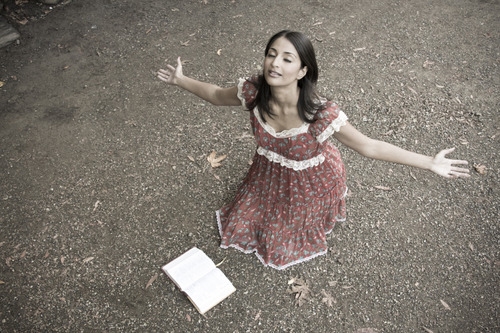 First, A Note of Thanks
Thank you for giving me the privilege of walking through this season of fasting with you. It has been a sweet blessing to pray for you and your needs daily.
Thank you also for your gracious feedback and words of appreciation. You may not know it, but you encouraged me in a moment when I needed it most.
Some have also prayed for me in a comment or sent a message saying you're praying for me. Thank you!  Shades of Grace and I need your prayers. Pray that my hunger for God and His Word will continually increase. Please also pray for ministry funding and for my health. Thank you!
From Isaiah 58, the Faster's Chapter:
"6 Is not this the kind of fasting I have chosen: to loose the chains of injustice and untie the cords of the yoke, to set the oppressed free and break every yoke? 7 Is it not to share your food with the hungry and to provide the poor wanderer with shelter — when you see the naked, to clothe him, and not to turn away from your own flesh and blood?

"8 Then your light will break forth like the dawn, and your healing will quickly appear; then your righteousness will go before you, and the glory of the Lord will be your rear guard. 9 Then you will call, and the Lord will answer; you will cry for help, and he will say: Here am I.

"If you do away with the yoke of oppression, with the pointing finger and malicious talk, 10 and if you spend yourselves in behalf of the hungry and satisfy the needs of the oppressed, then your light will rise in the darkness, and your night will become like the noonday.

"11 The Lord will guide you always; he will satisfy your needs in a sun-scorched land and will strengthen your frame. You will be like a well-watered garden, like a spring whose waters never fail.

"12 Your people will rebuild the ancient ruins and will raise up the age-old foundations; you will be called Repairer of Broken Walls, Restorer of Streets with Dwellings."
Prayer:
Father, thank you for the blood of Jesus that purchased our salvation. Thank you that we're able to fast for the fun of it, not for the "earn" of it. Thanks to the spotless Lamb and His blood shed for us, we don't have to do anything to earn our salvation! We didn't have to fast to punish ourselves and earn something with You. But we have the privilege of fasting so that we can feast on You! Wow, Lord! We get to simply dine — to come to the table and feast, no fee, no prerequisite other than accepting your free gift of grace.
We enjoyed our time with You these twenty-one days! Now help us resume eating without losing an ounce of our intimacy with You. Without losing a shred of our sensitivity and obedience to Your Spirit.
"To set the oppressed free and break every yoke" (v.6)
Father, you know our causes for fasting. May our voices be heard on High. Hear from heaven and revive spiritually, increase faith, give a breakthrough, saved loved ones, heal bodies, provide financially, rescue businesses, give anointing and provision for ministries, restore marriages, give wisdom and direction, loose bonds of wickedness, undo heavy burdens, set the oppressed free, and break every yoke of slavery!
"Is it not to share your food with the hungry…" (v.7)
We know that Jesus expected us to fast, but He also expected us to pray and to give too (Matthew 6). Help us be generous with everything we have — to not only give our tithes but offerings too. Show us how to meet the needs of others, for this is what is mentioned in the faster's chapter, Isaiah 58. Start by showing us someone this week whose needs we can help meet.
Lord, You promised that when we engaged in the chosen fast our light would break forth like the dawn and Your glory would be our rear guard. Our dark night of confusion would become like the noon day. So Father, for those fasting for guidance, I claim wisdom and direction as clear as the noon day. For those praying for protection for loved ones, I claim your glory and presence as their very protection.
"Your people will rebuild the ancient ruins…" (v.12)

I speak blessing and anointing and the authority of Your Holy Spirit over every home represented in this fast. Isaiah 58:12 promises that when we enter Your chosen fast, "Your people will rebuild the ancient ruins and will raise up the age-old foundations."
Where families and relationships are in ruin and desolation, restore, Lord! The meanings of the words in this passage are full of promise for families. "Rebuilding ancient ruins" means:
To rebuild, or establish, restored exiles. [Restore captive marriages and relationships, Lord.]
To build and establish something new [and many faster's are building new families, some from waste places, Lord, as you know.]
To "cause to continue" and to be made permanent. [Father, in each faster's life, build a godly home and heritage that will last and continue for generations.]
In the phrase, "You will raise up a foundation for many generations," the word "up" means:
to arise, stand up
become powerful
to come on the scene – [Lord, if there are unsaved children and grandchildren, parents, or spouses, cause them to come on the scene spiritually! We claim them for Your kingdom!]
to be established, to endure, to be fixed, to be proven, to set up, erect, to raise up, rouse, stir up, to station
to make binding
Wow! What implications for us, God!
"Foundation" has the idea of fixing something firmly: "to found, to be settled, to ordain."
May Your stone in Zion, a tested stone, a precious cornerstone, be our sure foundation … for our families, for our businesses, for our ministries, for our careers, for every step that we take this year.
"He will satisfy your needs in a sun-scorched land…" (v.11)

Father, this same chapter contains Your promise to satisfy our needs in drought and strengthen our frame. Even now, You will make us like a well-watered garden, like a spring whose waters never fail. Some of us are worn out physically, drained dry spiritually compared to previous years, and some of us are in a drought financially. Make us like a well-watered garden, Lord! Like a spring whose waters never fail.
"Then you will call, and the Lord will answer…" (v.9)

Thank you in advance for hearing our prayers and answering.
But Father, as much as we want needs met and prayers answered, we want YOU! Fill us — satisfy us with Your presence. Holy Spirit, breathe fresh upon the Word each day. Give us an undying passion for Jesus. Help us tarry before the throne in secret prayer. Baptize us in the fire of Your holiness! Break our hearts over what breaks Yours. May the things that delight You, delight us. For then…we will have the desires of our heart.
Holy Spirit, fall! Fall on my brother. Fall on my sister. Breathe on us afresh. Like a mighty wind, light the fire again!  Come magnify the Son in us — today, tomorrow, next month, all year! Show the Savior to the world through our lives! We want to take Your Truth in Your power to a lost and dying world.
In Jesus' mighty, precious, holy name, Amen! So be it!
A Moment of Worship: Spirit Fall

Spirit Fall by Chris Tomlin
From the Album Here for You

Bible Reading: Isaiah 58:6-12
Focus Questions: What promise in Isaiah 58 are you claiming today? What is your closing prayer?

FROM THE ARCHIVES

Follow @shadesofgrace_
Disclosure of Material Connection: Some of the links in the post above are "affiliate links." This means if you click on the link and purchase the item, Shades of Grace will receive an affiliate commission. Regardless, I only recommend products or services I use personally and believe will add value to my readers. I am disclosing this in accordance with the Federal Trade Commission's 16 CFR, Part 255 "Guides Concerning the Use of Endorsements and Testimonials in Advertising."
6 Responses to "Fasting Day 21: A Closing Prayer"