Feb 1st 11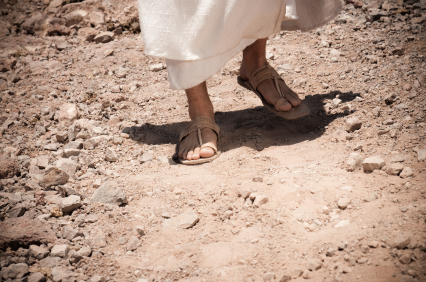 Are you in a crisis, in need of God's help? Do you need supernatural intervention on your job or in your business? Are you in a financial crisis? Do you need poverty to be broken in your life? Isaiah 58 contains amazing promises for those who fast and pray:
"Then your light shall break forth like the morning…
The glory of the LORD shall be your rear guard.
11 The LORD will guide you continually,
And satisfy your soul in drought,
And strengthen your bones;
You shall be like a watered garden,
And like a spring of water, whose waters do not fail."
Isaiah 58: 8, 11
1. The glory of the LORD shall be your rear guard (v.8).
One translation says, "The glory of the Lord will be your backer up." Your influence grows after a fast and God comes behind you as your backer up. God says, "I'm backing this family. I'm backing this business.  I'm backing this ministry because they have sought me in fasting and prayer.
When the enemy comes against you, God will say, "I've got your back and no weapon formed against you shall prosper" (see also Is. 54:17).
Esther
The Jews were on the verge of annihilation because of the evil plot of Haman, one of the king's advisers. Haman was "enraged" because a Jew named Mordecai "would not kneel down or pay him honor" (Esther 3:5).
"Having learned who Mordecai's people were, he scorned the idea of killing only Mordecai. Instead Haman looked for a way to destroy all Mordecai's people, the Jews, throughout the whole kingdom of Xerxes" (Esther 3:6).
Haman succeeded in issuing a decree that called for the annihilation of the Jews.
Mordecai went to Queen Esther, his niece, for help. His request meant that she would have to risk her life. It was dangerous for her to approach the king unless she had been summoned.  So Esther called a fast:
"Go, gather together all the Jews who are in Susa, and fast for me. Do not eat or drink for three days, night or day. I and my maids will fast as you do. When this is done, I will go to the king, even though it is against the law. And if I perish, I perish" (Esther 3:16).
Those three days – a mere 72 hours – of fasting changed the history of the world! When Esther approached the king she received favor.  She obtained favor not only for herself, but for her people.  Because of their fasting and prayer, God turned it all around. Hamen was hanged on the gallows built for Mordecai.
Instead of destruction and death they received but honor and promotion – because of three days of fasting and prayer.
The glory of the Lord was their rear guard – their backer up.
2. The LORD will…satisfy your soul in drought, and strengthen your bones; You will be like a watered garden, and like a spring of water, whose waters do not fail (v.11).
God breaks poverty when we fast and pray. Are you in a dry season financially?
In the book of Joel, the people experienced a famine caused by an invasion of locusts. Their fields were ruined and the ground was dried up. Poverty ran so deep that not only did they lose their current crop, they lost the seeds – the potential for the next season's harvest as well.
"The seeds are shriveled beneath the clods. The storehouses are in ruins, the granaries have been broken down for the grain has dried up" (Joel 1:17).
Is this you? Has the economy wreaked havoc in your business this year? Did you lose 2009 income…and not only that, but you don't have seed – investment dollars – to invest in your business in order to generate income in 2010?
God said to "blow the trumpet in Zion, declare a holy fast, call a sacred assembly" (Joel 2:15). After the fast, the threshing floors were full of new grain and the vats overflowed with new wine and oil. God repaid the years the locusts had eaten. The people had "plenty to eat" (see Joel 2:24-26). God gave them autumn and spring rains – He saw their crops through to abundant harvest. Is this what you desire for your life, your family, your business, your ministry?
Perhaps your "seed" that is lacking is the offering you desire to give to God. Perhaps you want sow into others lives.
God brought great financial blessing to people who fasted and prayed.
A Pursuit 21 Miracle
One of the women who fasted with us locally committed the first day of the fast to be her day to go on a full fast. After that, she converted to a partial fast. One of her chief causes for fasting was financial provision. She wanted her family to have their needs met and pay down debt from a salary decrease they had taken.
The first day of her fast was the middle of the month. Her husband went to pick up his check from work…and he had been given a raise! It was such a miracle that he took a picture of the check and sent it to her via text message! This woman keeps a child in their home for extra income. She had only been keeping this child two days a week, and even then, for just a few hours. The same day, the child's mother came by and due to increased demands, needed her child to be kept five days a week. This was extra income. Not only will this family now have their needs met, but they have extra income to pay down accrued debt!
Extra Meaning
The LORD will…satisfy your soul in drought, and strengthen your bones; You will be like a watered garden, and like a spring of water, whose waters do not fail (v.11).
"Satisfy" means to "be fulfilled, enrich." God will fulfill and enrich you as a result of your fasting and prayer.
"Strengthen" your bones, means:
draw out [your own strength],
draw off [of His strength]
equip  [for your job, your path, your calling…]
rescue, be rescued
to make strong, brace up, to invigorate
to be delivered ,to be saved
to pull out, tear out, withdraw [ He will pull you out of overwhelming circumstances]
to rescue, deliver, set free
to take away, plunder
God will rescue you from the battle and you will take away plunder!
Message Audio
Audio Segment from the message Returning in Power
Question: Do you need God to be your backer-up? Are you in need of a financial miracle like the woman on our fast received? How do these promises affect your faith and expectation in God?
FROM THIS SERIES:

Follow @shadesofgrace_
Disclosure of Material Connection: Some of the links in the post above are "affiliate links." This means if you click on the link and purchase the item, Shades of Grace will receive an affiliate commission. Regardless, I only recommend products or services I use personally and believe will add value to my readers. I am disclosing this in accordance with the Federal Trade Commission's 16 CFR, Part 255 "Guides Concerning the Use of Endorsements and Testimonials in Advertising."
One Response to "Fasting Day 20: Returning in Power, Part 5"