Jan 31st 11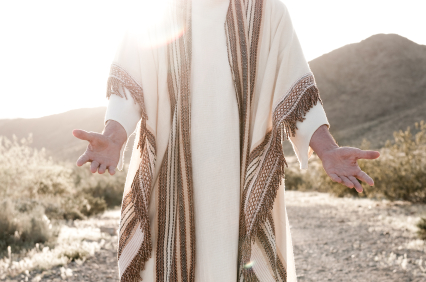 How has your sacrifice of food helped others while you are fasting? Do you need insight and direction concerning decisions or problems? Isaiah 58 contains powerful instruction and promise:
"Is this not the fast that I have chosen…
7 to share your bread with the hungry,
And that you bring to your house the poor who are cast out;
When you see the naked, that you cover him,
And not hide yourself from your own flesh?
8 Then your light shall break forth like the morning…"
Isaiah 58:6-8
When we enter God's chosen fast, He asks us to:
1. Share your bread with the hungry (Isaiah 58:7)
Is this not the fast I have chosen…to share your food with the hungry, and to provide the poor wanderer with shelter, when you see the naked, to clothe him (v.7).
I Kings 17 tells the story of a widow who fasted. During the years in which there was no rain, God told Elijah, "Go at once to Zarephath … and stay there. I have commanded a widow in that place to supply you with food" (I Kings 17:9).
When Elijah arrived in Zarephath, a widow was there gathering sticks. He asked her to bring him water and a piece of bread.
"'As surely as the LORD your God lives,' she replied, 'I don't have any bread – only a handful of flour in a jar and a little oil in a jug. I am gathering a few sticks to take home and make a meal for myself and my son, that we may eat it — and die" (I Kings 17:12)
Elijah told her not to fear, but to go home and do as she said – but to first make him a small cake of bread from what she had, then make something for herself and her son.
"For this is what the LORD, the God of Israel, says: 'The jar of flour will not be used up and the jug of oil will not run dry until the day the LORD gives rain on the land'" (v.14).
In expressing a willingness to deny herself to meet the needs of Elijah, the widow modeled a unique approach to the discipline of fasting. She fasted her meal so that Elijah could have one … then God provided for her.
"She went away and did as Elijah had told her. So there was food every day for Elijah and for the woman and her family. For the jar of flour was not used up and the jug of oil did not run dry, in keeping with the word of the LORD …" (v. 15-16).
In the same way, a young boy was willing to give up his lunch of five loaves and two fish so that 5000 people could be fed (see John 6:9).
What was the result? A miracle!! Five thousand people were fed! When we trust God enough to give Him our meals in fasting and prayer, He equips us with spiritual food for others. He works wonders we could never imagine. He meets our needs and others' in supernatural ways! He moves from Heaven to earth and defies the laws of nature. We encounter His merciful heart and miraculous hand.
Can you imagine the little boy's thoughts. He didn't offer his food mindlessly. He must have been thinking with childlike faith, "Boy! Jesus and I are going to work a miracle today!" Who ended up the most fed? The little boy! He must have been brimming with excitement all the way home.
This principle of sacrifice would have also applied when Jesus fed the 4,000 people who had been fasting for three days (see Mark 8:1-9).
The Bible consistently emphasizes that God's people should be concerned about the physical needs of those around them. This concern is also an important aspect of fasting. Israel's need for reform prompted God's question:
"Is this not the fast that I have chosen…to share your bread with the hungry, and that you bring to your house the poor who are cast out; when you see the naked, that you cover him, and not hide yourself from your own flesh? (Isaiah 58:6-7)
Allow your fast to cause you to become oriented around others. Be sensitive to their needs. Use the money you saved by fasting to provide food for the hungry or to meet someone's need.
The widow of Zarephath gave her food to Elijah before she fed herself and her son. The widow who gave two mites in the Temple and the boy who provided his lunch to feed 5,000 hungry people also gave before concluding their fasts. Giving before you conclude your fast will help you identify the priority of your fast.
When we enter God's chosen fast, He promises:
2. Your light will break forth like the dawn (v.8).
Are you facing decisions this month, this year – things for which you need wisdom and direction? Life presents major decisions that are crucial to our future. Are you caught in a quandary, wondering what you should do?
God promises that when we enter the chosen fast, He will cause His "light [to] break forth like the morning" (Isa. 58:8). If we focus on God's will and not our own when we are facing major decisions, He will give us the wisdom, perspective and insight we need to make the right choice. One way we focus on Him and His will is through fasting.
Saul
As a persecutor of Christ and His followers, Saul was confronted with a life-changing decision, revelation of God's light, and a fast while traveling the Damascus road. After being struck down by God, Saul was blind for three days. He "neither ate nor drank" for three days (Acts 9:9). (See Fasting Day 16: Targeting Decisions, The St. Paul Fast.)
Can you imagine how Saul felt in those moments? He had dedicated his life to persecuting Christians. He must have been shocked and confused about Christ…and what all of this meant for his future. It was only after he went without eating and drinking that he saw the light. God sent a man named Ananias to the house where Saul was. Ananias came with a message from God for Saul. He laid his hands on Saul and Saul the persecutor became Paul the apostle.
Paul previously had a misconception about God. He saw a narrow, Jewish God. He didn't understand God's love for the world. He was going down the wrong highway to Damascus. Everything changed when he met Jesus. And the change took place through three days of fasting. During this time Paul rethought his views of God and Jesus. God gave him the foundation and theology of the New Testament.
When we fast and pray, like Paul, we gain insight and wisdom. We may feel in the dark, confused and uncertain, but God's light and direction will burst forth even the darkest of situations.
"Light" in the original language means:
"light of day, dawn, morning, lamp (path)." God will light your path and give you clarity.
"light of instruction." The Holy Spirit will give you specific step-by-step instructions of what to do.
"light of face." You cannot fast and stay hidden; God will honor you in your work, your ministry, you calling.
"Jehovah as Israel's light." You will see God all year long because you gave Him the first through fasting and prayer!
"Forth" means:
to be ripped open, burst open …

break through

, rip up, tear
to penetrate or pass through (air, water, etc.)…as if by cutting
Friend, like an airplane cuts through the air or a boat cuts through the water, God will send wisdom and insight cutting through your darkness and confusion.
"Your light will rise in the darkness and your night will become like the noonday" (v. 10)
Light from God will shine in situations where you don't know what to do – when you can't see the way.
"The LORD will guide you always" (Is. 58:11).
Jehovah, the covenant keeping God, will guide you continually – in the split second decisions, when don't have time to sit and figure out what to do.
Message Audio
Audio Segment from Returning in Power
Questions:
What decisions are you facing?
What insight and direction do you need?
How can you share your food with the hungry?
To whom do you plan to give the money that you saved while fasting?
FROM THIS SERIES:

Follow @shadesofgrace_
Disclosure of Material Connection: Some of the links in the post above are "affiliate links." This means if you click on the link and purchase the item, Shades of Grace will receive an affiliate commission. Regardless, I only recommend products or services I use personally and believe will add value to my readers. I am disclosing this in accordance with the Federal Trade Commission's 16 CFR, Part 255 "Guides Concerning the Use of Endorsements and Testimonials in Advertising."