Feb 3rd 10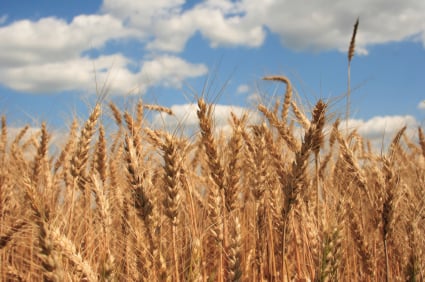 Do you desire a fresh touch from God? Do you want your children to be anointed men and women of God? Are you suffering financially? The book of Joel holds three key insights for you.
Fasting Breaks Poverty
In the book of Joel, the people experienced a famine caused by an invasion of locusts. Their fields were ruined and the ground was dried up. Poverty ran so deep that not only did they lose their current crop, they lost the seeds – the potential for the next season's harvest as well.
"The seeds are shriveled beneath the clods. The storehouses are in ruins, the granaries have been broken down for the grain has dried up" (Joel 1:17).
Is this you? Has the economy wreaked havoc in your business this year? Did you lose income last year…and not only that, but you don't have seed – investment dollars – to invest in your business in order to generate income this year?
God said to "blow the trumpet in Zion, declare a holy fast, call a sacred assembly" (Joel 2:15). After the fast, the threshing floors were full of new grain and the vats overflowed with new wine and oil. God repaid the years the locusts had eaten. The people had "plenty to eat" (see Joel 2:24-26). God gave them autumn and spring rains – He saw their crops through to abundant harvest. Is this what you desire for your life, your family, your business, your ministry?
Perhaps your "seed" that is lacking is the offering you desire to give to God. Perhaps you want sow into others lives.
God brought great financial blessing to people who fasted and prayed.
When fasting is a lifestyle, poverty will not be.That doesn't mean that we can fast chocolate one day and be millionaires the next. But it does mean that when you begin to honor God with fasting, prayer and giving, you will be rewarded openly (See Matt. 6). You will be able to look back and see a correlation between fasting and the removal of poverty from your life.
Fasting Frees Your Children

"And afterward, [after the fast] I will pour out my Spirit on all people. Your sons and daughters will prophesy, your old men will dream dreams, your young men will see visions" (Joel 2:28).
In a message on fasting, Jentezen Franklin tells of a man who always fasted one day a week. When this man's son asked him why he fasted once a week, the father answered, "Because I don't want you to ever experience divorce." The father fasted faithfully for the marriage of his children.
Maybe your children are in bondage to drugs, alcohol or perversion. God targets your children when you fast and pray. Hezekiah's son, Manasseh, became King of Judah (2 Chron. 33:1-13). Manasseh was wicked and God warned him many times, but Manasseh never stopped his evil actions. The Assyrian army captured Hezekiah's son, put a hook in his nose, bound him in chains and took him to Babylon. In his distress, Manasseh cried out to God and humbled himself with fasting. God heard his plea and "brought him back to Jerusalem into his kingdom. Then Manasseh knew that the LORD was God" (v. 13).
Are your children rebelling against God? Has the enemy led them away with a hook in their nose? Maybe they are bound to pornography, drugs, alcohol and all kinds of addictions. Fasting and praying will break these spirits off of their lives.
According to Joel 2, God not only breaks evil bondage through fasting, He pours out His Holy Spirit upon you and your children. Do you want your children to be sold out to Jesus Christ? Do you want them to be more than lukewarm, pew-filling Christians? Do you want them to have a holy walk, full God's power? Then fast. Make fasting part of your lifestyle this year.
Fasting Makes God Recognizable

As you can tell, the Holy Spirit put Joel chapter 2 in my heart today. As I knelt to pray this afternoon, the Lord took me here and spoke one sentence in particular.
Yes, God fills the threshing floor as the result of fasting. He gives plenty to eat – He reverses poverty (v.24-26a). And I want this. I want provision for Shades of Grace so that we can change lives for Christ this year.
Yes, because of the fast God will work such miracles for me, the ministry and my spiritual "children" that I will "praise the name of the LORD your God, who has worked wonders for you" (v. 26b). I want this too – I want tangible manifestation of God's miracle working power as a result of the fast. But here is the sentence that momentarily made my heart stop.
"Then you will know that I am in Israel, that I am the LORD your God, and that there is no other" (v. 27).
"Then you will know that I am in Israel."
Oh how I want people to see me and know that God is in me! I want there to be such power of the Holy Spirit, such consecration, such purity, such fruit that it is immediately obvious that Jehovah God dwells and controls me. I want Him to consume me!
I want there to be revival in me – true revival. Such a fresh, overcoming, ruling, consuming fire of God that I can't help but be aware there is a new measure of God's Spirit in me and upon me!
I want there to be such power, anointing, Truth and fruit emanating from Shades of Grace that when people encounter this ministry, immediately they know the Almighty God is within it. I want every person who encounters Shades of Grace to see the redeeming blood, unfailing love and resurrection power of Jesus Christ! I want them to feel the contagious, life-changing, unmistakable power of the Holy Spirit.
Is this what you want for your life? For your family? For your children? For your calling? For the business God has entrusted to you? Everything we are and have is for the glory of God. It is all on loan and it should be immediately recognizable – in a contagious way – that God is within us and all we are exists for Him!
Beloved, that happens when we fast! Thank you, Lord, that all who see us will know that You are in us! May they crave more of You because of the way they see You in us!
Question: Which of these promised results of fasting most excites you? Why?

FROM THE FASTING ARCHIVES:

Follow @shadesofgrace_
Disclosure of Material Connection: Some of the links in the post above are "affiliate links." This means if you click on the link and purchase the item, Shades of Grace will receive an affiliate commission. Regardless, I only recommend products or services I use personally and believe will add value to my readers. I am disclosing this in accordance with the Federal Trade Commission's 16 CFR, Part 255 "Guides Concerning the Use of Endorsements and Testimonials in Advertising."