Jan 28th 13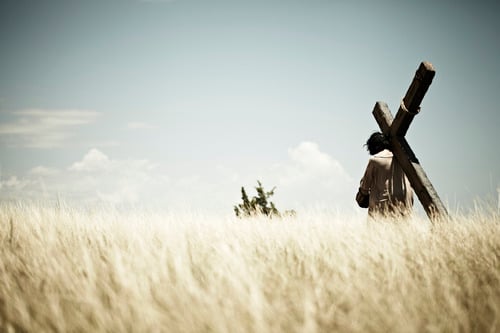 What we need above all else is to see and savor the glory of God in Christ Jesus. More than financial provision, more than physical healing, more than mended relationships, more than success on our job, more than success in our ministries – we need to see and treasure God's glory in Christ.
After all, it was as we beheld the glory of God in the gospel that we were saved (2 Cor. 4:4,6). Beholding the glory of God in His promises, we are being sanctified (2 Cor. 3:18). By "fixing our eyes on Jesus" and "looking not at the things which are seen, but at the things which are not seen" and setting "our minds on things that are above" we will finish our course, keep the faith and persevere to the end (Heb 12:2; 3:1; 2 Cor. 4:18; Col. 3:1). This is God's will for us and His work in us:
"May the God of peace, who through the blood of the eternal covenant brought back from the dead our Lord Jesus, that great Shepherd of the sheep, equip you with everything good for doing his will, and may he work in us what is pleasing to him, through Jesus Christ, to whom be glory for ever and ever" (Hebrews 13:20-21).
If this is God's will and work for us, why is fasting necessary?
We are so constituted as fallen human beings, Jesus says, that "the deceitfulness of riches, and the desires for other things [even innocent things like food] enter in and choke the word," which is meant to reveal to us the glory of God (Mark 4:19). Therefore the fight of faith and the battle to behold the glory of the Lord day by day is fought not only by feeding the soul on truth, but fasting, to put our appetites to the test, if necessary to death. [i]
Dietrich Bonhoeffer wrestled with "The cost of Discipleship." He earnestly considered the cost of the Cavalry Road. Ultimately, it cost him his life. He resisted Adolf Hitler, for which he was hanged at thirty-nine years of age. He understood the deceptiveness of our flesh and the need to daily fight the fight of faith:
The flesh resists this daily humiliation, first by a frontal attack, and later by hiding itself under the words of the Spirit (i.e., in the name of "evangelical liberty"). We claim liberty from all legal compulsion, from self-martyrdom and mortification and play this off against the proper evangelical use of discipline and asceticism; we thus excuse our self-indulgence and irregularity in prayer, in meditation and in our bodily life. But the contrast between our behavior and the word of Jesus is all too painfully evident. We forget that discipleship means estrangement from the world, and we forget the real joy and freedom which are the outcome of a devout rule of life. As soon as a Christian recognizes that he has failed in his service, that his readiness has become feeble, and that he has sinned against another's life and become guilty of another's guilt, that all his joy in God has vanished and that his capacity for prayer has quite gone, it is high time for him to launch an assault upon the flesh, and prepare for better service by fasting and prayer (Luke 2:37; 42; Mark 9:29; 1 Cor. 7:5). Any objection that asceticism is wrong, and that all we need is faith, is quite beside the point; it is cruel to suggest such a thing, and it is no help to us at all. When all is said and done, the life of faith is nothing if not an unending struggle of the spirit with every available weapon against the flesh. How is it possible to live the life of faith when we grow weary of prayer, when we lose our taste for reading the Bible, and when sleep, food and sensuality deprive us of the joy of communion with God? [ii]
John Piper sums it up this way:
Joy in God is the strength to walk with Jesus from the wilderness to the cross and into eternal life. But maintaining that joy against its most subtle and innocent rivals is a lifelong struggle. And in that struggle, fasting—the humble, hungry handmaid of faith—is an emissary of grace.
Question: Have you found fasting to be an emissary of grace? How so?
OTHER POSTS IN THIS SERIES:
FASTING DAY 20 FROM THE ARCHIVES:
________________________
[i] John Piper, A Hunger for God (Wheaton, IL: Crossway Books, 1997), 63
[ii] Dietrich Bonhoeffer, The Cost of Discipleship (New York, NY: Touchstone, 1995), 170-171

Follow @shadesofgrace_
Disclosure of Material Connection: Some of the links in the post above are "affiliate links." This means if you click on the link and purchase the item, Shades of Grace will receive an affiliate commission. Regardless, I only recommend products or services I use personally and believe will add value to my readers. I am disclosing this in accordance with the Federal Trade Commission's 16 CFR, Part 255 "Guides Concerning the Use of Endorsements and Testimonials in Advertising."