May 6th 20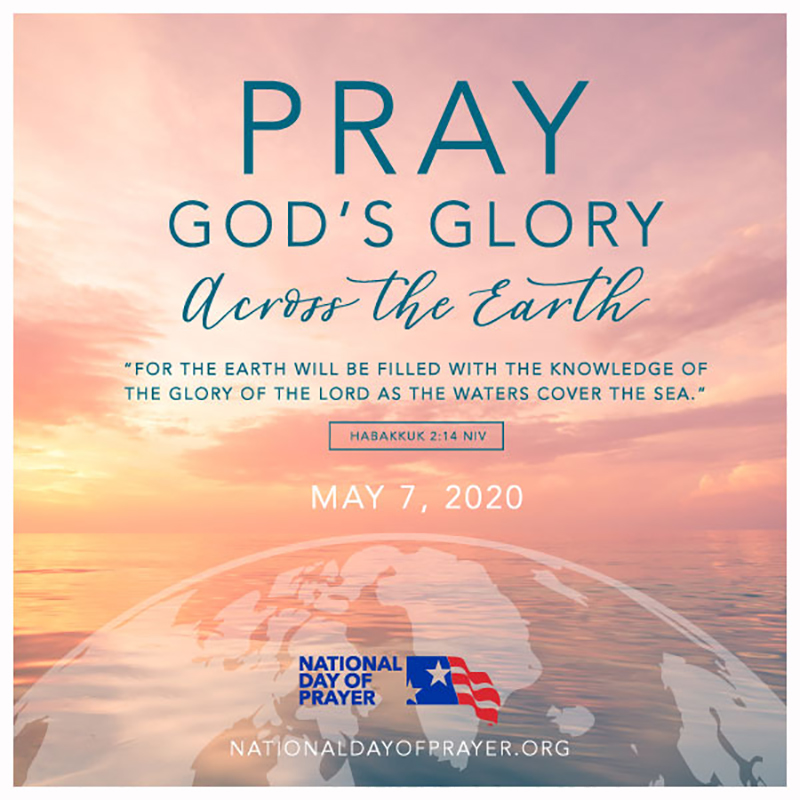 Although the Coronavirus may keep us apart, it cannot keep us from PRAYER! If ever we needed a day of prayer for the nation, it's now.
"If I shut up the heavens so that there is no rain, or if I command the locust swarms to eat up all of your crops, or if I send an epidemic among you, then if my people will humble themselves and pray, and search for me, and turn from their wicked ways, I will hear them from heaven and forgive their sins and heal their land."

2 Chronicles 7:13-14, TLB
National Day of Prayer Observance
Tomorrow is the annual observance of the National Day of Prayer, which we observe on the first Thursday in May. The following is a video about this year's observance.
Theme Song: Santus Real – Pray
This Year's Prayer for America 
Lord, we exist to give You glory. We exist because of Your glory, and in Your glory, as our Creator, Redeemer, and Sustainer. We give you thanks and praise for every breath and moment You have given to us. We repent of our sin; for the shameful things we have done against You and for our silence when we did not speak up to proclaim Your Name, profess Your Word, or protect and practice Your will.

We ask Your forgiveness. We pray that the knowledge of the glory of the Lord will spread across our nation and the entire earth as we seek Your Kingdom and righteousness; as we walk in obedience to You, and in humble unity, love one another.

Jesus, the Bible says that You are "the knowledge of the glory of the Lord." You have taught us to pray, commanded us to love, and commissioned us to share Your gospel of grace. Your glory fills our hearts and families, it overflows into our neighborhoods, workplaces, campuses, churches, entertainment, and media.

We give thanks for our military and ask that Your glory would spread to, and through them as they preserve freedom around the world.

We pray for our government, that all of our leaders and laws would be filled with Your glory, that they would magnify Your Holy Word and honor Your will and ways.

We pray that Your grace and glory would spread to bring hope to the hopeless, and love where there is hurt and hate. God, use us as we pray your promise, that "the earth will be filled with the knowledge of the glory of the Lord as the waters cover the sea."

In Jesus Name, Amen!

— Kathy Branzell, President, National Day of Prayer Task Force
For more, see the National Day of Prayer's page How to Pray for America.
Evening Broadcast
Usually there are prayer events in each community on this day, followed by a national, televised gathering in Washington D.C. in the evening. With the pandemic, most community events this year will be held online. The evening national observance broadcast can be viewed live here as well as on the channels and links listed below.
Leading the night at the national observance will be Kathy Branzell (President of the National Day of Prayer Task Force) and Will Graham (The Billy Graham Evangelistic Association), with help from Rick Warren (Saddleback Church); Bishop Harry Jackson (Hope Christian Church); Michael W. Smith (Nashville); Nick Hall (Pulse); Robert Morris (Gateway Church); Senators Lankford, Chris Coons, Tim Scott, and Representative Emanuel Cleaver; Luis and Andrew Palau (the Luis Palau Evangelistic Association); Billy Wilson (Oral Roberts University); Pat Robertson (CBN) and many more.
The broadcast live-stream can be viewed below from 8-10 p.m. ET, as well as on the National Day of Prayer website and National Day of Prayer Facebook page. It can also be viewed on television on GodTV and Daystar.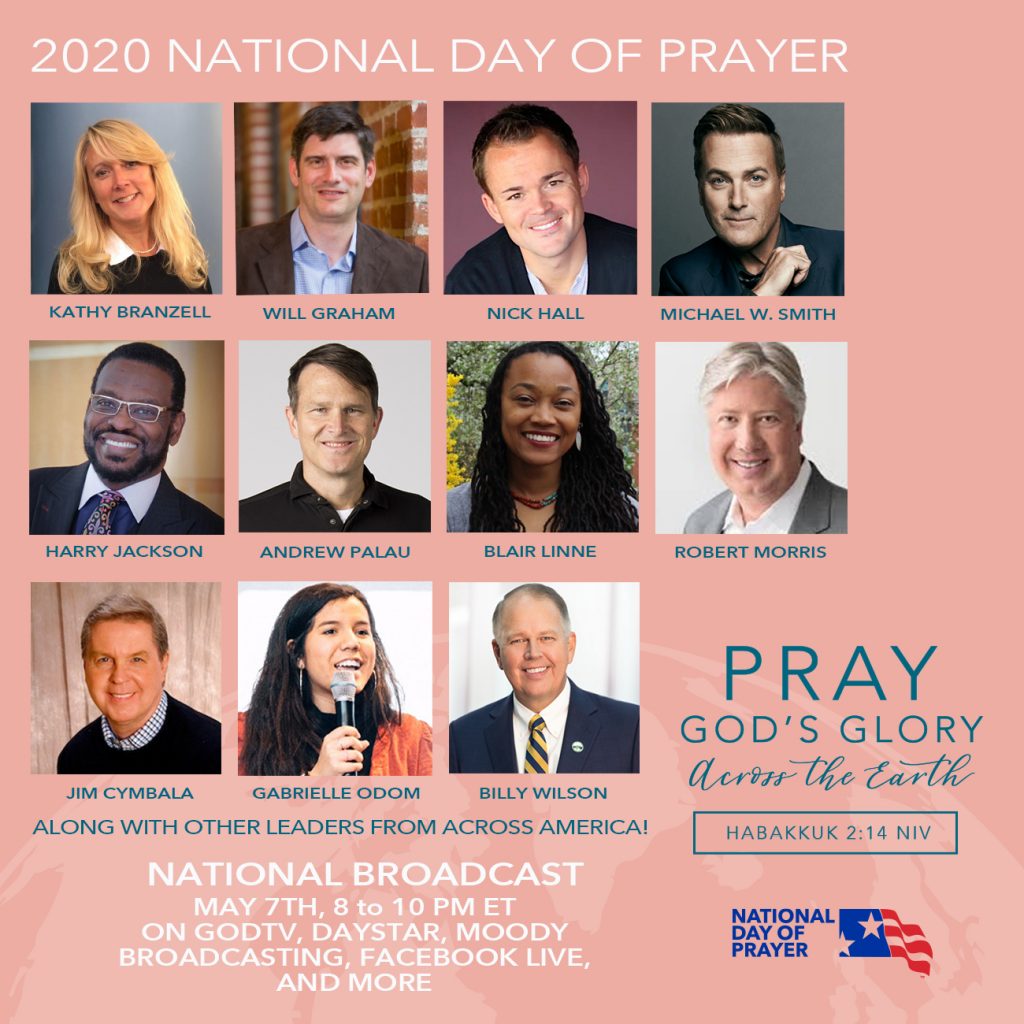 Evening Broadcast Live Stream
Watch the live stream below from 8:00 – 10:00 p.m. ET. If you live in another country, you can still join us and pray for your nation as well.
"The earth will be filled with the knowledge of the glory of the Lord as the waters cover the sea."
Habakkuk 2:14
Question: What is your prayer for America today? Or, if you are a citizen of another country, what is your prayer for your nation? What is your prayer for your state/province/region? For your city? For your government? For the body of Christ in your country?
RELATED POSTS — PRAYING FOR AMERICA
RELATED POSTS — PRAYER

Follow @shadesofgrace_
Disclosure of Material Connection: Some of the links in the post above are "affiliate links." This means if you click on the link and purchase the item, Shades of Grace will receive an affiliate commission. Regardless, I only recommend products or services I use personally and believe will add value to my readers. I am disclosing this in accordance with the Federal Trade Commission's 16 CFR, Part 255 "Guides Concerning the Use of Endorsements and Testimonials in Advertising."
One Response to "National Day of Prayer Observance"