Mar 21st 20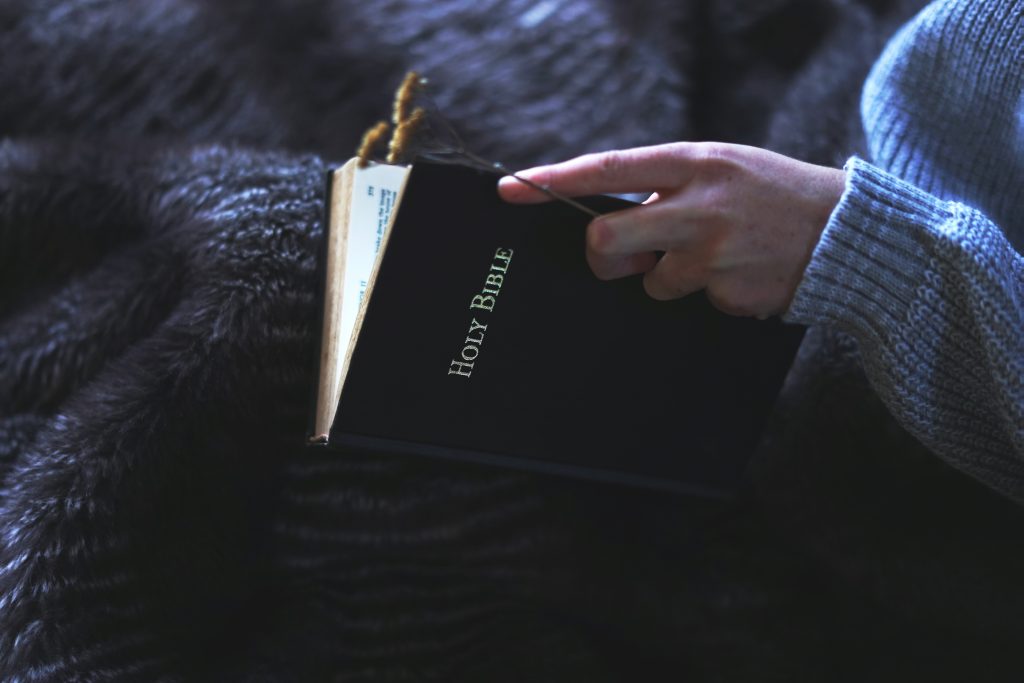 During the Coronavirus Pandemic, I have been sharing articles, scriptures, and quotes on social media, as well as links to other ministries' videos — content that I feel holds encouragement, truth, hope, and comfort for us as we walk through this pandemic season.
I will also be posting new content here on the website in the days to come, but in case you missed what has been shared on social media thus far, I thought I would share some of it here…
–
His Throne Rules Over All
God is the supreme ruler of the universe with ultimate control over all its details. He is the greatest in rank, authority, and power. No one and no thing outrank Him, not even Coronavirus.
He rules independent of the control of any other being, even Satan. Absolutely no one has more control over the events of this world—over the events in your life—than God.
"The Lord has established his throne in heaven, and his kingdom [his sovereignty] rules over all." — Psalm 103:19
If we're going to know any measure of peace amid this deluge of #Coronavirus turmoil, chaos, risk, and financial devastation, we must view our lives in the light of God's loving, sovereign rule…
Read More: http://bit.ly/2Hdg7nX
#GodIsInControl #TrustHim #RestinHisRule #Peace #COVID19US #CoronavirusPandemic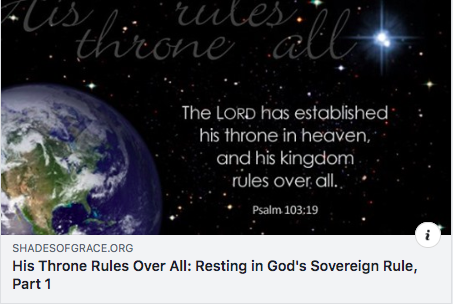 –
Filtered Through His Fingers of Love
God holds our lives the palm of His hand. Nothing is allowed to touch us unless it is filtered through his fingers of love. Only the circumstances that will benefit us and reveal His character are allowed to seep through His protective fingers.
One day, looking back from Heaven, through the end-of-time lens of a Holy God, we will see all the good that came from our afflictions, and we'll thank Him for every discomfort we endured.
Read More: http://bit.ly/2Dd8ECT
#GodIsInControl #HasYourBestInMind #TrustHim #Coronavirus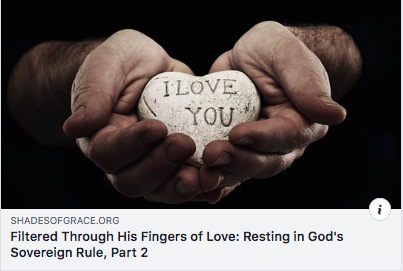 –
The Apple and the Alien
You can do more than barely survive this COVID-19 trial by the skin of your teeth! You can thrive! You can harvest the good things — the good fruit — that can come from this adversity and the ways it is impacting your life.
You see, God has reasons for allowing our afflictions. Even in the midst of this world-wide pandemic, God has allowed specific difficulties and challenges to touch your life as an individual. He did this for a reason.
There is fruit He wants to give you and me, fruit borne only in our seasons of suffering. But much of the time, we miss that fruit, or postpone its harvest, because we don't know Biblical truth. We don't know the whole counsel of God's word.
Step one to reaping the fruit from your trial is understanding what the Bible teaches about God's sovereign rule. It's absolutely vital that you grasp this truth. If you miss it, you'll miss the fruit-bearing part of your situation.
Enter, the apple and the alien…
Read More: http://bit.ly/2HC8WWK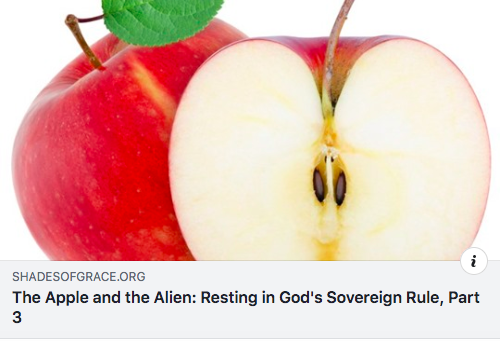 –
His Purpose Prevails
"You saw me before I was born. Every day of my life was recorded in your book. Every moment was laid out before a single day had passed" (Psalm 139:16, NLT).
God writes in His book the days and events ordained for us. It's not as if He has vision to see the future but no power with which to change it. No, He has authority over every moment of our lives. He writes the events of our lives in His book. He ordains and appoints them in advance.
In other words, He sees our full, eternal potential and appoints the experiences necessary to cause us to reach it.
Ephesians 1:11 says that God "works out everything in conformity with the purpose of his will" (NIV). This passage does not say "some things," or "only the good things." It says "everything."
God works everything—even the bad, tragic things—in conformity with the good and loving purpose of His will.
"I'll see to it that everything works out for the best" (Isaiah 54:17, MSG).
"And we know that God causes everything to work together for the good of those who love God and are called according to his purpose for them" (Romans 8:28, NLT).
Read More: http://bit.ly/2S6kjvA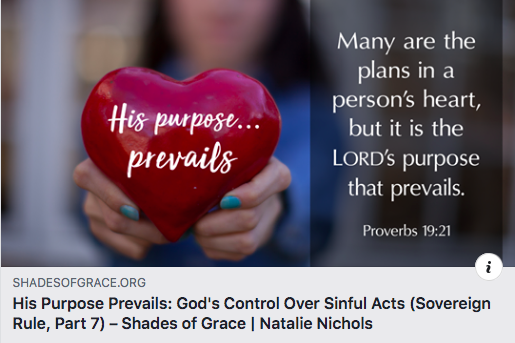 –
Biblical Evidence: Scriptures About God's Sovereign Rule
God is the ultimate authority over all the things that cause us hardship and suffering. This article is a rich resource of scriptures demonstrating that:
God is Sovereign Over People
God is Sovereign Over What People Do, Even "Accidentally"
God is Sovereign Over People's Good Deeds
God is Sovereign Over People's Wicked Actions
God is Sovereign Over Satan and Demons
God Is Sovereign Over Animals and Plants
God is Sovereign Over the Weather
God is Sovereign Over Man-Made Objects, Tools, and Machines
God is Sovereign Over Our Physical Suffering and Afflictions (Including disease and things such as a pandemic)
God Is Sovereign Over Our Emotional and Spiritual Afflictions
God is Sovereign Over Life and Death
God is Sovereign Over Prosperity and Poverty
We can rest in God's sovereign rule over our circumstances…
Read More: http://bit.ly/2BWHNwp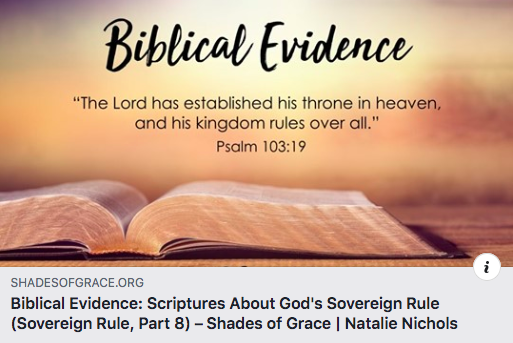 –
The Problem of Pain
Before God restored anything back to him, Job made two key statements.
1. You are Sovereign
2. Because of my suffering, I now know You in unparalleled ways.
We often forget that Job came to these life-changing realizations before God restored him. Job was completely satisfied before God gave anything material or physical back to him. He was satisfied because He had seen God. He had experienced, what Peter Kreeft refers to as "humanity's supreme happiness."
Kreeft says:
"God didn't let Job suffer because he lacked love, but because he did love, in order to bring Job to the point of encountering God face to face, which is humanity's supreme happiness.
As we look at human relationships, what we see is that lovers don't want explanations, but presence. And what God is, essentially, is presence—the doctrine of the Trinity says God is three persons who are present to each other in perfect knowledge and perfect love. That's why God is infinite joy. And insofar as we can participate in that presence, we too have infinity joy. So that's what Job has—even on his dung heap, even before he gets any of his worldly goods back—once he sees God face to face."
God has not let you suffer because he lacks love, but because he does love you—in order to bring you to the point of encountering God face to face, which is humanity's supreme happiness.
Read More: http://bit.ly/2VNACzN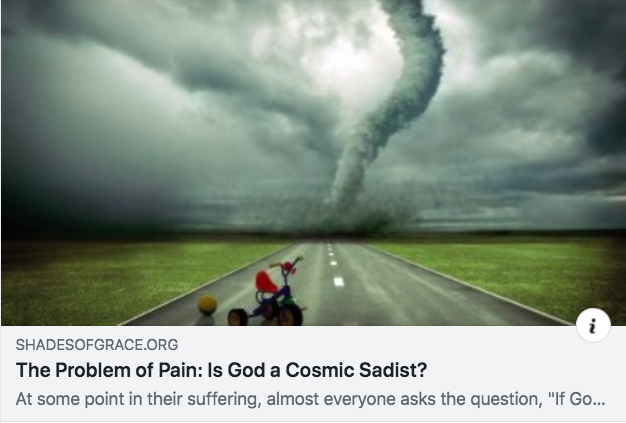 –
God Has Made Both the Good Times and the Bad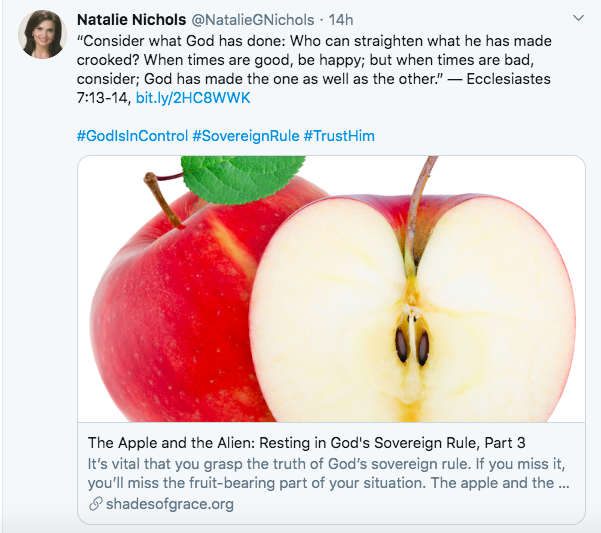 –
 More Than Conquerors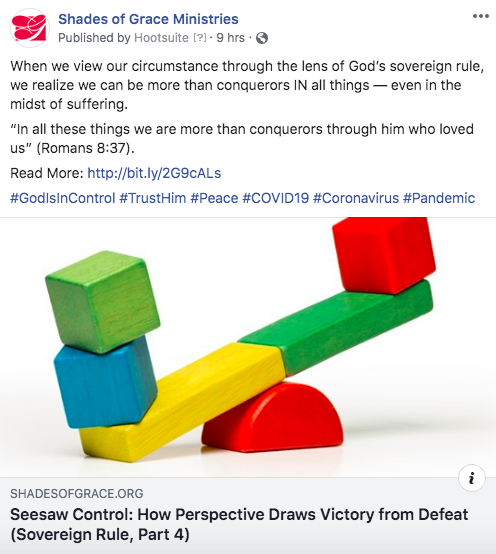 –
Not Our Planet's Absent Landlord
As we face the #CoronavirusPandemic, it's comforting to remember that God is not our planet's absent landlord:
"He doesn't say, 'Into each life a little rain must fall,' then aim a hose in earth's general direction and see who gets the wettest. He doesn't reach for a key, wind up nature with its sunny days and hurricanes, then sit back and watch the show. He doesn't let Satan prowl about totally unrestricted. He doesn't believe in a hands-off policy of governing. He's not our planet's absent landlord. Rather, he screens the trials that come to each of us—allowing only those that accomplish his good plan, because he takes no joy in human agony."
— Steve Estes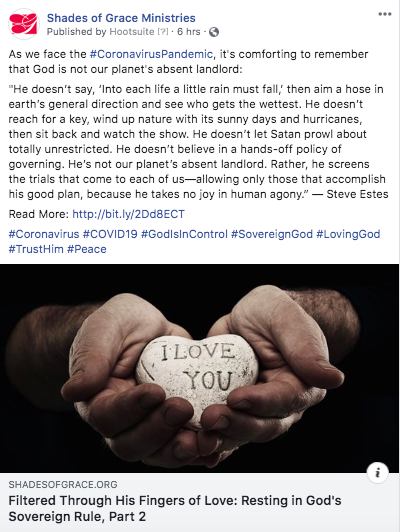 –
A Must-Watch Service
This was an incredible service streamed live at Free Chapel on the National Day of Prayer for the Coronavirus Pandemic. If you missed it, I highly recommend watching it! You will be blessed by the music, prayer, and preaching no matter what day you watch it.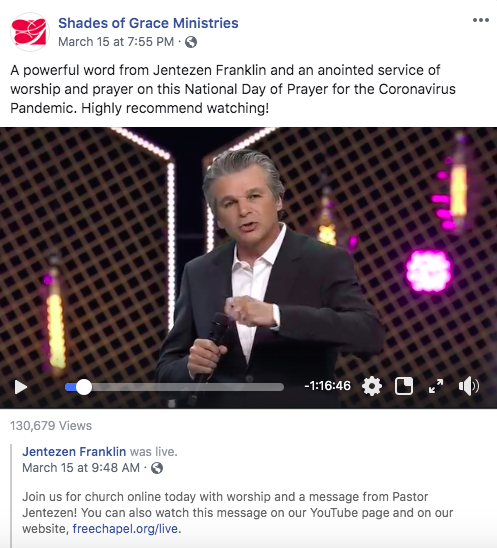 –
Brooklyn Tabernacle
Jim Cymbala, pastor of Brooklyn Tabernacle, is posting daily devotions online at 10:00 a.m. EDT. He is also streaming video on Tuesday evenings during the church's normal Tuesday night prayer meeting time at 7:00 p.m. EDT.
I encourage you to check BrooklynTabenernacle.org for their live streamed events, prayer meetings or special messages.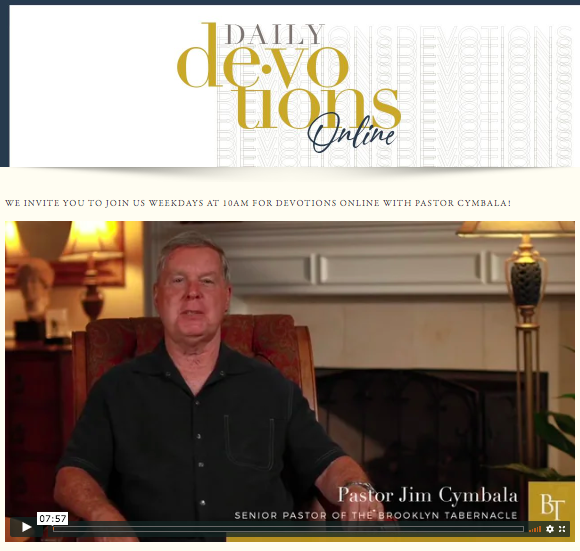 –
Times Square Church
Carter Conlon, of Times Square Church, began posting daily video devotionals as well, called "I Am Not Afraid." These are posted on Times Square Church's YouTube channel.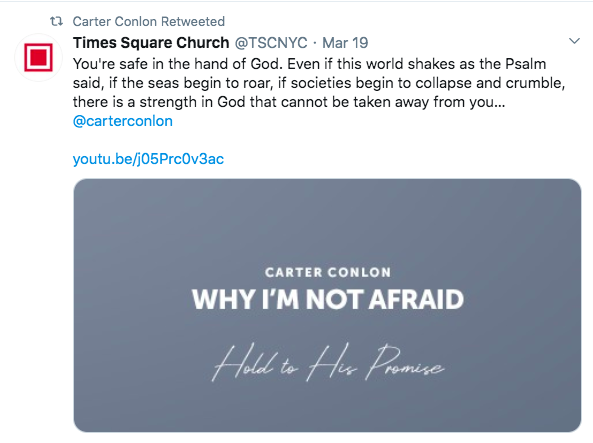 Follow @shadesofgrace_
Disclosure of Material Connection: Some of the links in the post above are "affiliate links." This means if you click on the link and purchase the item, Shades of Grace will receive an affiliate commission. Regardless, I only recommend products or services I use personally and believe will add value to my readers. I am disclosing this in accordance with the Federal Trade Commission's 16 CFR, Part 255 "Guides Concerning the Use of Endorsements and Testimonials in Advertising."