Jan 20th 15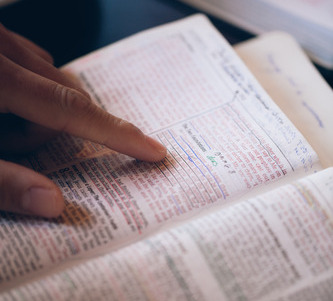 When George Mueller prayed, he would pray with His finger on a promise from God to plead. In The Power of Prayer and the Prayer of Power R.A. Torrey said of Mueller:
When it was laid upon George Mueller's heart to pray for anything, he would search the Scriptures to find if there was some promise that covered the case. Sometimes he would search the scriptures for days before he presented his petition to God. And then when he found the promise, with his open Bible before him, and his finger upon that promise, he would plead that promise, and so he received what he asked. He always prayed with an open Bible before him.
Question: As you fast, are you praying with an open Bible and your finger upon a promise to plead?
FROM THE ARCHIVES:

Follow @shadesofgrace_
Disclosure of Material Connection: Some of the links in the post above are "affiliate links." This means if you click on the link and purchase the item, Shades of Grace will receive an affiliate commission. Regardless, I only recommend products or services I use personally and believe will add value to my readers. I am disclosing this in accordance with the Federal Trade Commission's 16 CFR, Part 255 "Guides Concerning the Use of Endorsements and Testimonials in Advertising."