Jan 15th 12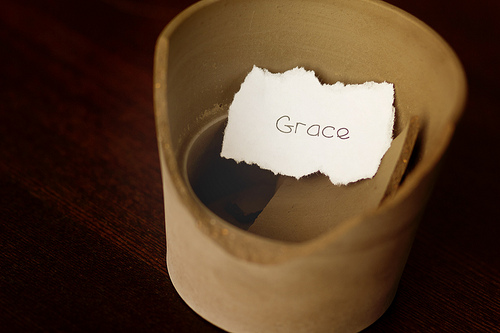 In yesterday's post, I said that fasting leads to brokenness. When we fast, our appetites aren't satisfied. Our desires are left unfulfilled – broken. In other words, there is a natural element of "brokenness." However, if we don't combine fasting with prayer, we are merely on a diet! The brokenness is contained to the temporal, horizontal plane. It is kept from our spiritual, vertical relationship with God. 

Combining fasting with prayer leads to brokenness on the inside – to awareness of sin and repentance. This is the point of fasting – self-humbling, repentance, allowing God to cleanse us. Joel 2 shows us the connection between fasting and brokenness:
12 "Even now," declares the LORD,
"return to me with all your heart,
with fasting and weeping and mourning."

13 Rend your heart
and not your garments.
Return to the LORD your God,
for he is gracious and compassionate,
slow to anger and abounding in love…

15 Blow the trumpet in Zion,
declare a holy fast,
call a sacred assembly.
16 Gather the people,
consecrate the assembly;
bring together the elders,
gather the children,
those nursing at the breast.
Let the bridegroom leave his room
and the bride her chamber.
17 Let the priests, who minister before the LORD,
weep between the temple porch and the altar.

– Joel 2:12-13, 15-17
There is a connection between fasting, repenting and brokenness: "Rend your heart…return to God." In other words, no more empty religious exercise! It's easy to rend garments and fake sincere obedience to God, but He looks on the heart! "Rend your heart," God says. "Allow Me to break your heart with the things that break Mine."
Cultivating Brokenness
The practice of fasting began with the loss of appetite and inability to eat during times of great stress. Hannah was so distressed about her barrenness that "she wept and did not eat" (I Sam. 1:7). Fasting began as a natural expression of grief. David fasted to demonstrate his grief over Abner's death (2 Sam 3:35). Many places in scripture fasting is described as "afflicting" one's soul or body (Is. 58:3,5 KJV). Over time, the cause and effect were intentionally reversed. Fasting came to be practiced as an external means of demonstrating and encouraging an internal feeling of grief for sin and for cultivating earnest prayer.
The original cause (deep grief and stress) drove people to the effect (not eating). Later, when people desperately needed answers from God, they turned to the effect (not eating) so they could afflict their souls to the point they would pray to God with all their hearts (cause).
We must allow fasting and prayer to bring about grief over personal sin. We must allow the effect (abstaining from food) to bring about the cause (grief, remorse and sincere prayer).
The Real Deal
Fasting isn't just another religious exercise. If you read Isaiah 58, you see that the chapter begins with God rebuking the people who were fasting because their fasting was merely an outward display of religiosity.
Is such a fast as yours what I have chosen, a day for a man to humble himself with sorrow in his soul? [Is true fasting merely mechanical?] Is it only to bow down his head like a bulrush and to spread sackcloth and ashes under him [to indicate a condition of heart that he does not have]? Will you call this a fast and an acceptable day to the Lord?

– Isaiah 58:5, AMP
God saw through their fast. It was just another routine to them. Fasting is supposed to break the routine, not become another heartless performance.
In this verse, the Amplified Bible uses the term "bulrush," referring to a tall, grassy reed that grew along rivers. It was hollow on the inside, so it would easily bow down with its own weight, similar in appearance to someone bowing down in hollow humility.
Jentezen Franklin illustrates this hollow activity in The Fasting Edge,
It reminds me of the mechanical bulls that became popular in the 1980s. They were originally designed for rodeo riders to use for practice, but they quickly caught on as a form of entertainment for "wannabe" cowboys and cowgirls everywhere. Even though those things can be engineered to imitate nearly all the moves of a real bucking bull–they are only mechanical. They go through the motions, but they're not the real deal.

God is looking for the real deal! If we are not careful, every one of us can grow hardened to the Spirit of God and indifferent in our worship, mechanically going through the motions with no brokenness, no passion. It is easy for Christians to cruise along through life in a dull routine. [i]
Breaking a Cold, Passionless Routine
It is not good for things to get bigger and better on the outside while our passion for God is growing cold on the inside. Maybe you got that job promotion and raise…but you remember the time when you had nothing and tears flowed from your eyes when you worshiped.
The more God does for us, the closer, more passionate for Him we should be. If we are going along in a cold routine, it's time to break the routine and get out of what's mechanical. This is true fasting. It opens up a way for us to refocus and hear the heart of God.
"Fasting is a short-term discipline that yields long-term effects." – Jentezen Franklin
Blog Candor
Since this is a "blog," and people on blogs reveal personal details about themselves, I will be candid. This fast was the first time I haven't looked forward to fasting. The first week was hard – craving coffee, chocolate and sweets, not really savoring prayer. But as the week went on, I could sense the Holy Spirit more and more. He convicted me of seemingly 'little' things. They may not seem like gross sins, but they were disobedience and rebellion nonetheless.
By the end of last year, I'd gotten in the habit of having television news on in the background at night as I made preparations for the next day. I don't have time to sit and watch TV, so having it on in the background kept me up-to-date on events. I'm not saying there's anything wrong with clean TV. It had just become something I didn't want to give up during the fast.
At the same time, I was growing dry spiritually and didn't feel Heaven responding. This was frustrating! I ached to feel God's presence like I used to – longed to feel His breath fresh on the Word again. I used to have such passion for Jesus…could spend hours on my knees in prayer. But now, prayer had become a struggle. In spite of repeatedly asking God to restore my passion, He hadn't. So I was beginning to buy the lie from the enemy that God wasn't going to respond…not even to prayer and fasting.
In addition, an overcrowded schedule in recent years finally caught up with me. I experienced severe physical and mental exhaustion and exacerbated illness this past year. Therefore, part of me was so tired, weary and drained that I didn't want to fast. I felt I had nothing left with which to exercise discipline, effort, restraint. I just wanted my comforts – my food and my TV.
How wrong I was! That was the enemy and my flesh lying to me! I fasted anyway, begrudgingly at first, but God began rewarding my fast by giving me a sincere, passion-filled heart for Him. I began to sense God's displeasure with some of my choices.
I felt convicted about having the television on in the background. It's hard to hear God unless we silence other voices. Instead of listening to the TV at night, God led me to remain in an attitude of continual prayer – in the quiet or with worship music playing. He is restoring my prayer life in the mornings as I pray over each of you and your causes for fasting.
Many idolatries in my life have been exposed, just on the first week of the fast. From food, television, internet to work…God is speaking, shining light on my sins and idolatries, breaking my self-will. If I were not fasting, my natural man would be too in tact, too in control to hear God, too resistant to obey. This is what a weary, exhausted, physically sick, spiritually dry soul needed. Not television, food and temporal comforts. My passion is renewed! He is my everything!
No Dieting
Fasting is not only doing without food, it's abstaining from anything that hinders your prayer life. That includes TV…movies…video games…Facebook…Twitter…shopping…etc.
Make time to pray and meditate on Scripture while you are fasting. There are only twelve fasting days left. They'll pass quickly! When it's all said and done, you do not want to have merely been on a diet. Turn aside from other temptations, comforts and cravings in order to pray and get in touch with God.
Fasting is giving up a craving of the body, or some other need, because of a greater need of the spirit. It's forgoing the gift in order to get in touch with the Giver. What's the point of fasting if we don't give God a chance to meet the need of our spirit?!
Take time today to elevate the Giver above His gifts. Listen to His convicting voice. Let Him kindle afresh in you a holy fire!
Be thou my passion Lord my one desire,
Kindle afresh in me oh holy fire
Consume to ashes all plans save thy own
King of creation come reign here alone

Be Thou My Passion by David Ravenhill
Worship: "Be Thou My Passion"

Be Thou My Passion by Christ for the Nations Music
Written by: David Ravenhill (words), Gabriel Allred (music)
From the CD: 37 | Download from iTunes or Amazon
Bible Reading: Joel 2:12-13, 15-17; Isaiah 58:5; Matthew 5:6

Prayer Focus: Has your passion for God been growing colder? Have you merely been going through the motions? Pull away for time in prayer and in the Word. Let God kindle afresh in you a holy fire!
FROM THE FASTING ARCHIVES:
______________________
[i] Jentezen Franklin, The Fasting Edge (Lake Mary, FL: Charisma House, 2011), 60

Follow @shadesofgrace_
Disclosure of Material Connection: Some of the links in the post above are "affiliate links." This means if you click on the link and purchase the item, Shades of Grace will receive an affiliate commission. Regardless, I only recommend products or services I use personally and believe will add value to my readers. I am disclosing this in accordance with the Federal Trade Commission's 16 CFR, Part 255 "Guides Concerning the Use of Endorsements and Testimonials in Advertising."
One Response to "Fasting Day 9: Brokenness, Part 2"