Jan 14th 12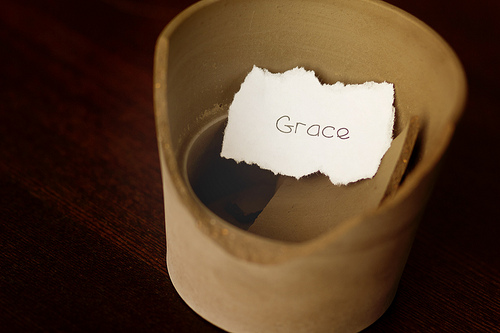 In yesterday's post, missionary and guest author Hannah Dillon described the containers Ghanians use to store their treasures. Since the clay jars they use are too narrow at the top for a hand to reach down inside, the jar must be broken in order to retrieve the treasured possession.
The Bible speaks of you and me as earthen vessels, jars of clay, who contain the treasure of Jesus Christ. When we submit ourselves to God in seasons of brokenness—in suffering—Jesus is put on display to others. God gets glory!
My Own Breaking
As you may know, I've been through a season of intense brokenness (at times it felt like the pot was not only broken, it had been ground to fine dust!). As a result of undiagnosed Lyme disease, I spent ten years in a wheelchair, seven of those years confined to bed and three years in severe mental and physical torture.
The agony was extreme. Undeniable. Ever-present. Yet rising from the dust of my shattered jar was the Spirit of Jesus Christ. I came to know Him in a deeper, fuller way. He became my existence. My everything. My treasure. Oh how I came to love Him and require Him.
My body and mind were suffering, but my spirit had never before known such joy, such contentment, such peace. I finally reached a point in my illness that I told God, "I don't care if you ever change anything. It doesn't matter if I ever improve. Experiencing you like this is better than anything this world offers. I'm happy. I'm satisfied. I just want you."
Beauty in Brokenness
This was the greatest miracle—not health improvements. It was the miracle of God's grace lived out day after day, minute after minute. The miracle of Jesus Christ not only living in me, but living for me—being my peace, my joy, my strength, my perspective, my thoughts, my hope, my life! If we're never broken, we never get down to where the real treasure is inside of us. We never get down to the point of truly letting Jesus fill us and fulfill us.
The breaking of my jar – the crucifixion of my flesh—revealed riches of Himself that God had deposited in me. Once I began to glimpse the value of this treasure, it changed how I viewed my illness. I no longer despised my jar-smashing. How could I? Without it I'd never have known such depths of Jesus!
After a while, my health began gradually improving. After several years, I no longer needed a wheelchair. I could drive and function like a 'normal' person. I could get out of bed in the morning and live a day totally absent His enabling. If I wanted to, I didn't have to yield my life and my time to Him or my desires to His. I could do my own thing. I had much of my flesh back – enough to live apart from this precious treasure…if I chose.
But apart from Jesus, we can do nothing (see John 15:5). "It is the Spirit who gives life; the flesh profits nothing" (John 6:63). Everything we do without Him is worthless – wasted!
The real joy in living my brief journey here on earth is not found in the single fact that I'll have eternal life. It's not that I've gained Jesus in my heart. It's that each day, as my flesh is crucified, He gains a little more of me!
Today, I can say without doubt that no level of health, no measure of wealth, and no amount of self-reliance could ever compare to knowing Him intimately—and living by the life of His Spirit in me.
When we've given our trials—our broken seasons—to God and submitted to the control of His Holy Spirit, we experience the great exchange of the cross. The riches of Jesus Christ that we receive in return for our old self far exceed the spiritual poverty in which we lived before. Once we ever experience them, we're changed. We'll follow Jesus anywhere—even to the cross, even through a fast—if it means that more of His Resurrection power will inhabit us.
Although I've been grateful to live with improved health, I miss the closeness with God and the submission to Him that occurred when I was so ill—when involuntary brokenness ushered me into His courts.
Fasting: Voluntary Seasons Of Breaking
This is why I value fasting. God once enforced a crucifixion of my flesh. Albeit involuntary on my part, I came to appreciate the end-result it afforded. Now, fasting is a way that I voluntarily choose brokenness. It's a way I allow God to break this clay jar of my flesh, so that I can have the same result – a life yielded and sensitive to Jesus, a heart given above all to Him.
No, fasting isn't always pleasant or fun. But there is a joy set before me—a joy set before you—as we fast. The long-term reward far outweighs the short-term cost.
Fasting and prayer help us become sensitive to the voice of God. How quickly we become aware of areas of compromise and sin—of ways that we've ignored His convicting voice. Fasting and prayer take us deeper into God's presence where we're broken and poured out in worship.
In The Fasting Edge, Jentezen Franklin writes:
Most of us struggle with the concept that it is our own strength that draws God's attention, when our strength is the very last thing God notices. God responds to brokenness, but not so He can rush in and save the day like some kind of cartoon hero. Brokenness makes room for Him to release His strength through our weakness in order to accomplish His plans.
Example: David
When God sent Samuel to anoint the new king of Israel to replace Saul, He led Samuel past all the older, stronger sons of Jesse—young men who seemed from outer appearances perfectly suited to be king. God told Samuel not to look at the boys' exterior looks or physical strength.
"The LORD does not see as man sees; for man looks at the outward appearance, but the LORD looks at the heart (1 Sam. 16:7).
God didn't require strength, ability or stature. He required brokenness.
None of David's brothers spent hours alone with God, worshiping and singing to Him like David did. They didn't have a heart for God—a brokenness that God could fill.
Example: Paul
Paul was a man who had lived on both sides of the spectrum—like David's brothers, with credentials appealing to men, and (after he met Jesus) like David, a man broken for the things of God.
If we're going take someone's opinion on the matter (brokenness versus remaining in tact; knowing Jesus versus not), let's take Paul's:
"The very credentials these people are waving around as something special, I'm tearing up and throwing out with the trash—along with everything else I used to take credit for. And why? Because of Christ. Yes, all the things I once thought were so important are gone from my life. Compared to the high privilege of knowing Christ Jesus as my Master, firsthand, everything I once thought I had going for me is insignificant—dog dung. I've dumped it all in the trash so that I could embrace Christ and be embraced by him" '(Philippians 3:7-8, The Message).
Nothing compares to the treasure of knowing Jesus. Nothing. Nothing! But knowing Jesus more fully is the last thing our natural man, our flesh, wants.
"The mind of the flesh [with its carnal thoughts and purposes] is hostile to God" (Romans 8:7, Amp).
God Is Looking For Brokenness
If you let it, your flesh will take over and rule your life. But God is not looking for someone whose flesh is strong and in control. He is looking for brokenness. God is attracted to weakness.
This is why times of fasting are so crucial to your walk with God. Fasting helps you establish dominion and authority over your flesh. It breaks the control the flesh has over you. It shuts down the natural man so the spiritual man can rise up.
Let's take an example: when trouble comes during a fast, your flesh doesn't dictate that you pick up that brownie. You may feel the pull, but your flesh is no longer in control. Instead, you sense that drowning your sorrows in the brownie would be a form of idolatry because it's a way of avoiding God, avoiding prayer, avoiding dealing with heart-issues, a way of turning to food in lieu of God. That's idolatry – elevating food above Him. With a flesh broken by fasting, you respond obediently, humbly turning to God…and His presence fills you.
When job stress makes you want to bury yourself in television for the night, God requests that you worship and pray. If your flesh were running the show as usual, you might ignore God's still small voice, but on the fast, you can't. (Believe me, I've had my moments. I've tried. But God stays after you. You may fail one day, but His voice keeps repeating conviction, conviction, conviction till the next day, you give in and obey!) You submit. You pray. You're broken. And here, broken…God can use you.
Only when our natural man is broken can we say, "Jesus, You are my Everything!"
If you did your homework on Fasting Day 6: Following In The Footsteps Of Our Heroes, you know that Paul, the man who declared that Jesus was His everything, was "in fastings often" (2 Cor. 11:27). He knew both involuntary and voluntary seasons of brokenness. Paul was a man of fasting and prayer.
Only when our flesh is broken can we say (and mean it), "God, You're my Everything!" I've lived it – broken, saying it and meaning it; not broken, saying it, yet not meaning it.
Our flesh cannot rationally say, "Jesus, You are all I want! I don't care about success. I don't care about happiness. I don't care about my plans. I Just want You!" Such desire is contrary to the flesh. Our corrupt nature has a hostile attitude toward God.
So … we fast today; we pray and say, God break us and fill us with Yourself. We want You more than anything. You are our everything!
Worship: "My Everything"

My Everything feaeturing by Kari Jobe
From the Gateway Worship album: Great Great God
Bible Reading: 1 Samuel 16:7; John 15:5, 6:63; 2 Corinthians 4:7-10; Philippians 3:7-8

Prayer Focus: Have you considered that fasting is a voluntary breaking of your natural man? In your breaking, is Jesus becoming your everything?
FROM THE FASTING ARCHIVES:

Follow @shadesofgrace_
Disclosure of Material Connection: Some of the links in the post above are "affiliate links." This means if you click on the link and purchase the item, Shades of Grace will receive an affiliate commission. Regardless, I only recommend products or services I use personally and believe will add value to my readers. I am disclosing this in accordance with the Federal Trade Commission's 16 CFR, Part 255 "Guides Concerning the Use of Endorsements and Testimonials in Advertising."