Jan 25th 11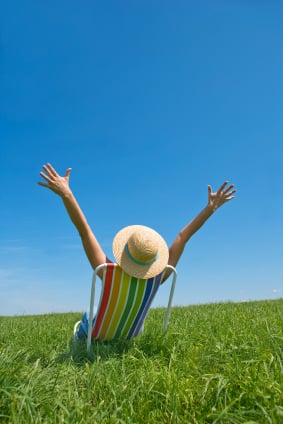 Fasting is resting. Fasting gives our body rest from food and digestion.  Our bodies aren't at their peak when they are involved in digesting food. Our systems were designed to have periodic rest. When we give our body a break from food, it can focus energy on cleanup and removing toxins.
As we give our bodies a break from food and detach from our normal routines in order to spend time with God, we become more alert to His voice. We hear Him more clearly. Disconnecting from the world by fasting and connecting to God through prayer brings us to a place of spiritual rest. Fasting brings both physical and spiritual rest.
Make Every Effort to Enter That Rest
The Old Covenant Sabbath is carried over into the New Covenant in the rest we find in Christ. It is no longer a special day or an outward observance; it is a condition of the heart.
9 There remains, then, a Sabbath-rest for the people of God; 10 for anyone who enters God's rest also rests from his own work, just as God did from his. 11 Let us, therefore, make every effort to enter that rest, so that no one will fall by following their example of disobedience (Hebrews 4:9-11).
The key to rest is faith. It is only when we have the God-given ability to believe that we can rest from our attempts to do something to influence God.
We can turn fasting, like many other things, into another form of our works – a way that we try to manipulate God. This is an expression of our unbelief. As stated many times in these fasting posts, we do not fast to try and change God. When we fast, we are the ones who are changed! And most often, the first thing to change is our unbelief!
Unbelief is a Matter of the Heart
It is the heart that receives from God. The heart is the organ God created in man for holding fellowship with Himself.
If you confess with your mouth, "Jesus is Lord," and believe

in your heart

that God raised him from the dead, you will be saved (Romans 10:9, emphasis added).
"I tell you the truth, if anyone says to this mountain, 'Go, throw yourself into the sea,' and does not doubt

in his heart

but believes [in his heart] that what he says will happen, it will be done for him (Mark 11:23, emphasis added).
Faith and unbelief are acts of the heart. When the word "heart" is used in the Bible, it represents our mind, will and emotions. It symbolizes the seat of our appetites and desires.
I believe this is one reason why fasting and prayer are so closely tied to our ability to believe God. This is why unbelief is one of the first things to go when we fast and pray.
When we fast, we put our heart – our mind, will, emotions and appetites – under the complete authority of the Holy Spirit.
As I have often said, I cannot do much in a tangible way about all my other fleshly appetites and desires, but I can do something about my appetite for food. When I enter a fast and choose to abstain from food, putting that single appetite under the authority of the Spirit, the rest of my appetites follow suit. Rather than my spirit man living subject to the flesh, it is reversed. My flesh comes under the authority of the Spirit. Unbelief cannot thrive in such an environment.
Belief Versus Mental Assent
John Wesley once said that the devil has given to the church a substitute for faith that looks and sounds so much like faith that people cannot tell the difference. This substitute, he asserted, is "mental assent." It is head knowledge only – not full-hearted faith.
Many people say that God's word is true, but it is just with their minds that they are agreeing.  It is the heart that receives from God. The mind is involved, yes, but there must be a decision of the will and a complete surrender of the appetites to the lordship of Christ.
We mentally assent to the reality of the word, but we do not act on it. Mental assent admires the Word; confesses that the Word is true and very desirable, but it does not possess.
Unbelief Is Serious Business
Notice how God describes the Israelites' unbelief.
7Therefore, as the Holy Spirit says: Today, if you will hear His voice, 8Do not harden your hearts, as [happened] in the rebellion [of Israel] and their provocation and embitterment [of Me] in the day of testing in the wilderness,

9Where your fathers tried [My patience] and tested [My forbearance] and found I stood their test, and they saw My works for forty years.

10And so I was provoked (displeased and sorely grieved) with that generation, and said, They always err and are led astray in their hearts… 11Accordingly, I swore in My wrath and indignation, They shall not enter into My rest.

12[Therefore beware] brethren, take care, lest there be in any one of you a wicked, unbelieving heart [which refuses to cleave to, trust in, and rely on Him], leading you to turn away and desert or stand aloof from the living God (Hebrews 3:7-12, Amplified; emphasis added).
Notice four things about this passage:
1. Faith or lack thereof, is an action of the heart.
2. God describes an unbelieving heart as "wicked." Other translations say "evil." Unbelief is called "evil" because it makes us depart from God.
3. Unbelief grieves the heart of the God of love to the extent of wrath. In this passage, God was provoked and embittered by the Israelites' unbelief. He was displeased and sorely grieved with them. Unbelief provokes God to wrath and to a determination to prevent our entering into rest.
4. Unbelief kept them from entering into God's rest. When the Israelites refused to believe God, wrath came. Over one million Jews died in wilderness because of unbelief.
16Who were they who heard and rebelled? Were they not all those Moses led out of Egypt? 17And with whom was he angry for forty years? Was it not with those who sinned, whose bodies fell in the desert? 18And to whom did God swear that they would never enter his rest if not to those who disobeyed? 19So we see that they were not able to enter, because of their unbelief (Hebrews 3: 16-19).
The word "angry" is derived from a word that means "to be vexed with something irksome; to feel indignant at." The word itself means
To be wroth or displeased
To loath.
To spew out.
To be disgusted with
I don't know about you, but I don't want to be guilty of the sin of unbelief.  I don't ever want to provoke God to these kinds of feeling. Yet, every year as I fast, God reveals layers of hidden unbelief in me.
To not take God at His word is to call God a liar. There are many promises God has given to us in the Bible, yet we do not take Him at His word – not when you factor in the fact that faith must include our whole heart, our actions and words (will), feelings (emotions) and thoughts (mind).
Unbelief Limits God
Wherever faith waivers, God is limited.
5 He could not do any miracles there, except lay his hands on a few sick people and heal them. 6 He was amazed at their lack of faith (Mark 6:5).
Jesus was in his hometown of Nazareth. He could do no miracles there because of the unbelief in people's hearts.
The passage does not say an "absence of faith;" it says a "lack of faith." Unbelief is not non-belief. It isn't a total absence of faith; rather, it is insufficient faith. Our insufficient faith limits what God can do in our lives!
The Israelites' unbelief limited God:
41 Yes, again and again they tempted God, and limited the Holy One of Israel (Psalm 78:41).
Entering His Rest
When we believe God, we enter His rest.
Now we who have believed enter that rest, just as God has said, "So I declared on oath in my anger, 'They shall never enter my rest.'" And yet his works have been finished since the creation of the world (Hebrews 4:3).
Fasting is a Work of Faith
When we fast and pray, we are acting up on a basic trust that God will honor us. We expect to meet Him. Most people who began this fast did so based upon God's promises to meet us when we fast and pray. A few of these promises include:
Blessed are those who hunger and thirst for righteousness,
for they will be filled (Matthew 5:6).
When you fast…your Father, who sees what is done in secret, will reward you (Matthew 6:16, 18).
And without faith it is impossible to please God, because anyone who comes to him must believe that he exists and that he rewards those who earnestly seek him (Hebrews 11:6).
You will seek me and find me when you seek me with all your heart (Jeremiah 29:13).
Fasting expresses confidence in nothing around us except God Himself. When we fast, we shift our focus from the temporal, visible securities to the spiritual. We stop clinging to and depending on earthly things. Instead, we put our full weight upon God.
David understood how vital it is to refuse to rely on any other source, expecting everything from God.
1FOR GOD alone my soul waits in silence; from Him comes my salvation.

2He only is my Rock and my Salvation, my Defense and my Fortress, I shall not be greatly moved.

5My soul, wait only upon God and silently submit to Him; for my hope and expectation are from Him.

6He only is my Rock and my Salvation; He is my Defense and my Fortress, I shall not be moved. 7With God rests my salvation and my glory; He is my Rock of unyielding strength and impenetrable hardness, and my refuge is in God! (Psalm 62:1-2, 5-7).
When we fast from food and our regular routine, we are conveying our refusal to depend upon temporal resources. We are not turning to our food, our family, our television or internet, our schedules or any other natural thing. No, our dependence is in God alone! Our expectation is in Him!
When we make fasting a part of our lifestyle, we depart from the rut of our regular eating and tell ourselves that we do not live by bread alone. Abstaining from food in this way reminds us that we live by God's manna — manna that He can and will supply.
Faith is what determines whether a fast is a vehicle for prayer or a means of self-punishment. In a true, Biblical fast, our faith and expectation is upon God rather than upon the fast itself!
We do not fast believing the fast itself is what produces results. That is idolatry.
Beloved, I am praying that you will be able to sit back and enjoy the rest of your fast knowing that you have taken a step of faith and entered into God's rest.
Question: How have you noticed your faith change during the course of the fast?
FROM THE FASTING ARCHIVES:

Follow @shadesofgrace_
Disclosure of Material Connection: Some of the links in the post above are "affiliate links." This means if you click on the link and purchase the item, Shades of Grace will receive an affiliate commission. Regardless, I only recommend products or services I use personally and believe will add value to my readers. I am disclosing this in accordance with the Federal Trade Commission's 16 CFR, Part 255 "Guides Concerning the Use of Endorsements and Testimonials in Advertising."
One Response to "Fasting Day 12: Entering God's Rest"