Jan 26th 11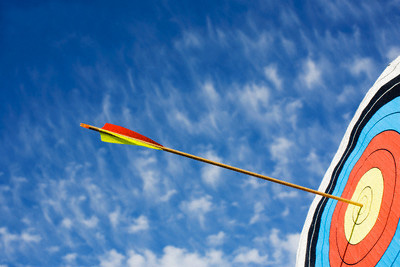 Biblical fasting helps center us in God's will and purpose. Through fasting and prayer, God will center your family, your ministry, your business, your career in His BEST!
Once when our house was being cased, and my family was going to be out of town, my Dad wanted to know that I remembered how to handle a pistol, should the need arise.
My oldest brother, Ed, took me down into the ravine beside my house for target shooting practice. It was an impromptu session, so we improvised with the target. Ed grabbed a box and drew a target on it and placed it on the side of the ravine. That way, as the initial shots missed the box, the bullets would simply go into the dirt.
Sure enough, it had been many years since I had handled a gun of any type, even longer since I had shot a pistol. And at that, I'd never shot a pistol that kicked so strongly. The bullets indeed went into the dirt at first. But as I continued to shoot, I got closer to the box, then on the box, then eventually in the target … and in the bullseye!
This is similar to fasting. Without fasting, we hit the dirt and miss God's will. We may not harm anyone, but we're not in God's best for our lives.
The more we make fasting a part of our lifestyle, the more on target with God's will and purpose for our lives we will be.
Some of us are content to shoot the dirt. Some of us are content to shoot the box. And some of us are content to be on the target … just not in the dead center of the bullseye.
I want to be dead center in the bullseye of God's will for my life, don't you?!
Content with Less
A lot of times, we're content with less than being in the yellow bullseye of God's will.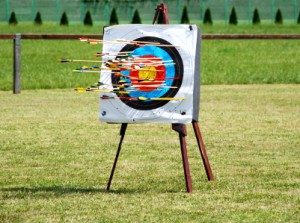 Just as these arrows are all over the target — all over the map, so to speak — we are often surprisingly content with being spiritually anywhere on the target but God's spiritual bullseye.
My niece, Jessica, is a talented girl. She plays the guitar, has a photography business, competes in rodeo (among many things), and she only recently turned eighteen. This deer season was her first year to hunt with a bow.
When you are shooting an arrow, you must always identify your target and what is beyond. An arrow can travel quite a distance if you miss the target.
This seems like common sense, but think about it in terms of spiritual matters, more specifically God's will. Take a look, identify your target, but also identify what is beyond. Because if you miss the target, you are going to travel quite a distance.
That's an uneasy thought! We can travel quite a distance if we miss God's target. We can keep on going, thinking all along we're headed in the right direction in the center of His will.
On Target: Audio Message
Do you want to be in the very center of God's will and purpose for your life? On Target (audio message below) reveals how fasting centers us in God's will and purpose.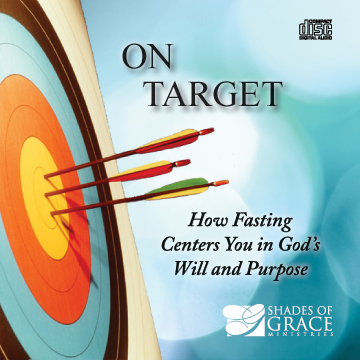 "On Target" was recorded at Passionate Pursuit on January 13, 2011.
Other Fasting Day 13 posts:

Follow @shadesofgrace_
Disclosure of Material Connection: Some of the links in the post above are "affiliate links." This means if you click on the link and purchase the item, Shades of Grace will receive an affiliate commission. Regardless, I only recommend products or services I use personally and believe will add value to my readers. I am disclosing this in accordance with the Federal Trade Commission's 16 CFR, Part 255 "Guides Concerning the Use of Endorsements and Testimonials in Advertising."
One Response to "Fasting Day 13: On Target"