Jan 15th 10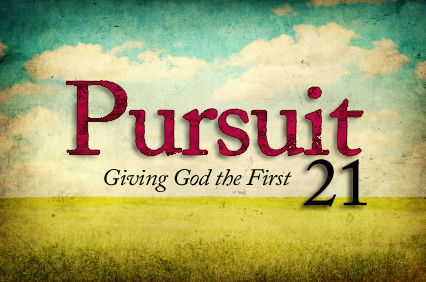 Today is the first day of Pursuit 21 — twenty-one days of fasting and prayer. Last night we officially launched Pursuit21 at our monthly women's event called Passionate Pursuit. I was surprised by the number of women who came hungry to know more about fasting.
In the moments before the event began, someone asked me, "What is the reason for fasting? What does it accomplish spiritually?" If you have the same question, I trust that future blogs and postings of audio messages over the next 21 days will help provide the Biblical answers you're seeking.
In the few quick seconds I had tonight, I shared with this dear lady that to me, my appetite for food represents all other appetites of my natural man. I may not can take literal steps to squelch all other fleshly appetites, but the appetite of my stomach is one thing I can address. When I deny my flesh in this way, by denying food, other fleshly appetites are also affected. My spirit man takes authority over my flesh, instead of my flesh governing my spirit.  When this occurs with my food appetite, it translates over into other appetites of my flesh as well. I long for God and become more hungry for Him than anything in this natural world. I become more sensitive to His voice and more aware of my sin. I become more hungry for His word…and more filled with love and intercession for others.
If you are on this 21-day journey of pursuing Christ through fasting and prayer, you have set yourself up to experience God like never before.  You will come to know Him in a new, fresh way. In my own life, I have experienced His voice, His power, His presence, His favor and His provision (and more!) as a direct result of fasting.
Perhaps you, like me, do not want to go through this year like you did last year. You want more of God this year.  Perhaps you need direction, provision… or a breakthrough. Whatever the reason, you sense you need to prepare for a new season — a new release of God's power in your life. There is nothing else that will prepare you for a new measure of God's presence and power like the discipline of fasting. As you commit by faith to pursue Him through a fast, He will supply the strength you need.  Do not worry how you will make it — know that He will enable you.
When you commit to give God the first of the year, He will give back to you all year long. "Seek first His kingdom and His righteousness and all these things will be given to you" Matthew 6:33. There is no mistaking the fact God has already promised to honor your fast.
Beloved, I am praying for you daily as we walk this twenty-one day journey together. I am filled with anticipation for the unimaginable ways God is going to answer our diligent seeking!! As David said in Psalm 27:14, "Wait for, hope for and expect" God.  I am already expecting God to blow our minds as we look back and see how He met us on this journey, and gave back to us all year long!!
The women at Passionate Pursuit last night are excited about fasting and the spiritual harvest it will bring:
"Hi Natalie…. I just wanted to thank you so very much for the message that you shared with us tonight.  In all my nearly 32 years of being in…church, I have NEVER heard the message that I heard tonight.  I never realized the importance and the need of fasting, what it REALLY means, and how to apply it in my life.   Thank you for sharing these truths with us. I was so excited that I came home and "talked my husband's ear off" telling him of all the things I learned tonight. I can't wait until we all meet again…and learn of the things God is doing and going to do in our lives.  What an awesome thing God has allowed for us to experience with Him!!!" – D.S.
"I went tonight not being convicted about fasting. I left there VERY convicted…. I'm in! It was a great night in the Lord, thanks Natalie! I am truly refreshed." – L.H.
One lady who attended had already begun fasting earlier in the week. The note on her prayer request read:
"We will see a break through with [our son].

We have seen great things since we began our fast on Monday."

– P.C.
There will no doubt be more good news to come about how God moved through the fast!
May God bless you as seek Him diligently,

_______
A few posts that will help you as you begin your fast:

Follow @shadesofgrace_
Disclosure of Material Connection: Some of the links in the post above are "affiliate links." This means if you click on the link and purchase the item, Shades of Grace will receive an affiliate commission. Regardless, I only recommend products or services I use personally and believe will add value to my readers. I am disclosing this in accordance with the Federal Trade Commission's 16 CFR, Part 255 "Guides Concerning the Use of Endorsements and Testimonials in Advertising."
One Response to "Fasting Day 1: Seeking First"