Jun 3rd 13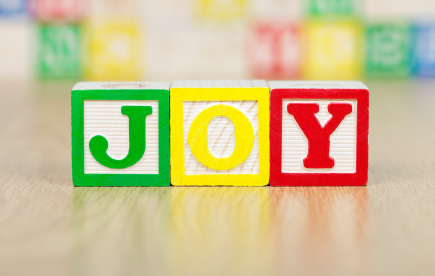 Do you wish you had more joy in life? Are you a glass-half-empty person who can't help but find a reason to be ungrateful in every circumstance?
The Relationship Between Thanksgiving and Joy
In One Thousand Gifts, Ann Voskamp describes her route through pain and loss—her route to joy through thanksgiving. She gives insight into Jesus' sacrifice of thanksgiving at the last supper:
"And he took bread, gave thanks and broke it, and gave it to them …" (Luke 22:19)….

In the original language, "he gave thanks" reads "eucharisteo."

The root word of eucharisteo is charis, meaning "grace." Jesus took the bread and saw it as grace and gave thanks. He took the bread and knew it to be gift and gave thanks….

Eucharisteo, thanksgiving, envelopes the Greek word for grace, charis. But it also holds its derivative, the Greek word chara, meaning "joy"….

Deep chara joy is found only at the table of the euCHARisteo—the table of thanksgiving. [1]
Ann states that chara joy is a result of eucharisteo thanks.
Thanksgiving and Joy in Any Circumstance
Jesus took the bread and gave thanks … even as He was moments away from the incomprehensible suffering of the cross.
Eucharisteo—it's the word Jesus whispered when death prowled close and His anguish trickled down bloody. He took the bread, even the bread of death, and gave thanks.
We tend to make gratitude and joy conditional events, attaching the word "when" to feelings of thankfulness and joy. "When everything in life comes together the way we want it to," we rationalize, "then we'll be grateful and joyful."
When I finally have sufficient income, I'll be joyful.
When my stress on the job improves, I'll be happy.
When my health is great, I'll be joyful.
When I'm not stretched in a thousand directions, I'll have time to be grateful and joyful.
When my children straighten their lives out, I'll be happy.
When my spouse and I are in perfect unity, then I'll be joyful.
We are to give thanks in all things at all times—even in the midst of imperfect circumstances. When we do, we'll have joy. Not just in ideal situations but joy in affliction and difficult days, too.
Thanksgiving: The Door of Entry to Joy
"Enter his gates with thanksgiving, and his courts with praise! Give thanks to him; bless his name!" (Psalm 100:4, ESV)
 "In your presence there is fullness of joy; at your right hand are pleasures forevermore" (Psalm 16:11, ESV).
This is the route to joy: Enter into His courts with thanksgiving … and in His presence is fullness of joy.
–

Tweetables

–
Question: How have you felt the effects of this relationship between thanksgiving and joy?
OTHER POSTS IN THIS SERIES:
RELATED POSTS:
____________
[1] Ann Voskamp, One Thousand Gifts (Grand Rapids, MI: Zondervan, 2010), 32

Follow @shadesofgrace_
Disclosure of Material Connection: Some of the links in the post above are "affiliate links." This means if you click on the link and purchase the item, Shades of Grace will receive an affiliate commission. Regardless, I only recommend products or services I use personally and believe will add value to my readers. I am disclosing this in accordance with the Federal Trade Commission's 16 CFR, Part 255 "Guides Concerning the Use of Endorsements and Testimonials in Advertising."