Jun 5th 13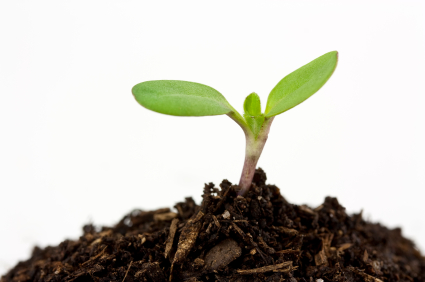 Perhaps you've thought of the act of giving thanks as being God's will and a blessing to Him. But have you thought about how beneficial it is to you when you're thankful? I mentioned one benefit in the last post. Here's another.
Discouragement: An Open Door in the Heart
of the Ungrateful
Discouragement can stem from ingratitude—and it leaves you vulnerable to oppression and attack in other areas. The following story about the devil's seed barn illustrates this:
Did you hear about the man who found the devil's seed barn? It's where the devil keeps the seeds he sows in the hearts and lives of human beings. The man noticed there was a super abundance of one kind of seed. It was the seed of discouragement. When he asked the devil why he had so many of those, the devil said, "Well, if I can sow discouragement into a person's life, then I can get almost anything else I want into his life. The seeds of discouragement will sprout almost anywhere except in the heart of a grateful person." [1]
Have you been discouraged? Ungrateful? Unaware of the door ungratefulness and discouragement open for the devil?
Blessings Never Cease. Therefore, Thanksgiving
Should Never Cease
"Blessed be the Lord, Who daily loads us with benefits, The God of our salvation! Selah" (Psalm 68:19, NKJ).
"The steadfast love of the Lord never ceases; his mercies never come to an end; they are new every morning; great is your faithfulness" (Lam. 3:22-23, ESV).
God has loaded you with benefits. He's been faithful to you with immeasurable faithfulness. Therefore, every day ought to contain a large measure of thanksgiving. And every prayer ought to include thanksgiving.
"If you ask God for more blessings and don't thank Him for what He's already done for you… If you come to God and say, "God, do this, do that, give this, give that"… and you don't thank God, you are wicked and foolish. Most of us need to pull some of the groans out of our prayers and shove in a few hallelujahs." — Adrian Rogers (Click to Tweet)

Rebellion in the Ungrateful
Romans 1:18-21 says:
18 For the wrath of God is revealed from heaven against all ungodliness and unrighteousness of men, who by their unrighteousness suppress the truth. 19 For what can be known about God is plain to them, because God has shown it to them. 20 For his invisible attributes, namely, his eternal power and divine nature, have been clearly perceived, ever since the creation of the world, in the things that have been made. So they are without excuse. 21 For although they knew God, they did not honor him as God or give thanks to him, but they became futile in their thinking, and their foolish hearts were darkened.
Take a look at the passage above and answer the following questions:
What are these people doing with the truth they already know?
Who has revealed this truth to them?
What about God can be seen?
For how long has it been possible for people to understand God's heart and character?
Did they know enough about God to acknowledge Him as creator?
Complete the blanks for verse 21: For although they knew God, they did not ___________ Him as God or ________ _________ to Him.
This passage is speaking of unbelievers, not God's children. How much more sad and pathetic and grievous it is if we do not honor God or give thanks to Him—if we're not thankful to the One Who shed His blood for us.
Ungratefulness to the God who saved you is pathetic—and it opens the door for discouragement, unbelief, and many other seeds of the enemy. We have ample reasons to want to develop an attitude of gratitude! [2]
–

Tweetables

–
Questions: As you look back at your ingratitude, what indications do you see that it leads to discouragement? What other ways do you feel it makes you vulnerable to oppression and attack? To what other "sprouts" do you feel it leads?

OTHER POSTS IN THIS SERIES:
RELATED POSTS:
______________________
Adrian Rogers, "What To Do When You Don't Feel Thankful" newsletter email. Not available online. Similar quotation at: https://www.lwf.org/pdfs/WHAT-TO-DO-WHEN-YOU-DONT-FEEL-THANKFUL-TRANSCRIPT-2446.pdf
Idea for this article from Adrian Rogers What To Do When You Don't Feel Thankful

Follow @shadesofgrace_
Disclosure of Material Connection: Some of the links in the post above are "affiliate links." This means if you click on the link and purchase the item, Shades of Grace will receive an affiliate commission. Regardless, I only recommend products or services I use personally and believe will add value to my readers. I am disclosing this in accordance with the Federal Trade Commission's 16 CFR, Part 255 "Guides Concerning the Use of Endorsements and Testimonials in Advertising."