Apr 21st 13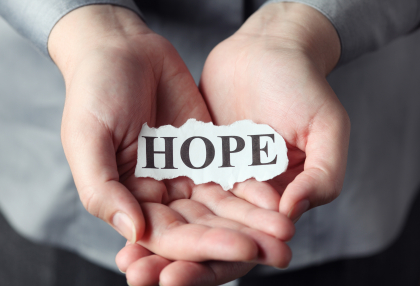 Scripture says "we have the mind of Christ" (1 Corinthians 2:16). When my Lyme encephalitis symptoms were severe, my mind was desperately dysfunctional. When you're confined and unable to do things, your mind is what you use to cope—to occupy yourself and pass time. This is how I got through the first two years of confinement (after anti-depressant medication lifted the dark cloud of clinical depression).
But for the next three years of mental torture, I didn't have the ability to do this – to pass time or add pleasure to the day by reading, watching television or talking with friends. However I was cognizant enough to feel the terrible sensations in my brain. I couldn't feel pleasure in normal ways. My existence was miserable. My thinking was screwed up. I wanted out! I begged God to take my life.
My neuropsychiatric symptoms were unfazed by medication. The terrible feelings, sensations and thoughts never relented. But through His Word, God gave me the mind of Christ.
Dual Platform
A born again believer is a little bit like an Apple computer. We have a dual platform. We're capable of running by the human operating system or our eternal operating system by the Spirit of God who lives within us.
When we put our faith in Jesus Christ as our Savior and Lord, He comes and lives in us (see Gal. 4: 6 and 2 Cor. 1:22). As born again Christians, we dwell on two plains: a temporal, earthly plain—in our 'natural' man—and a spiritual, eternal plain through the Spirit of Christ.
We are citizens of two worlds—this world and heaven. (See Phil. 3:20.) We live here on earth, but we're also seated with Christ in heavenly places (Eph. 2:6). We have the mind of our natural man (intellect, will, emotions) but we also have the mind of Christ.
In the instances where my mind was in total anguish, the Holy Spirit would call up the truths of Scripture and cause me to think, feel and operate by my Spiritual operating system. I could choose by faith the mind of Christ – and before long I would feel it.
"Why are you cast down, O my inner self? And why should you moan over me and be disquieted within me? Hope in God and wait expectantly for Him, for I shall yet praise Him, Who is the help of my countenance, and my God" (Psalm 42: 11).
Taking Refuge
In 1998, God used live-cell therapy to begin turning my health (including my neuropsychiatric symptoms) around. Yet, while my health was improving, I would occasionally have recurrences of mental torture. The raging waves of depression and feelings of electrocution might only last a day or two, or a week or two, before they would recede. But as they pounded the shores of my mind, I took refuge in the Word of God. I remember opening my Bible to a Psalm, clutching it in my arms, pressing the pages tight against my chest, reciting the truth in its pages as I lay on the floor weeping and rocking from the agony.
The physical sensations—depression, electrocution-feeling—didn't necessarily stop. But as a citizen of two worlds concurrently, God enabled me to identify with one location—with one mind, with one reality—more than the other. He enabled me to essentially say, "This is what I feel in my body, but I take refuge in Christ. I choose what is real in Him."
By this time, I knew that the Word of God was the only true refuge in the storm. I knew my hope and expectation came from Him and Him alone (Ps. 62:5).
"He only is my Rock and my Salvation; He is my Defense and my Fortress, I shall not be moved" (Psalm 62:6).
He would protect me, infuse me with His strength, carry me safely through, and keep me from being moved by the moment—He would make the words of scripture become reality in my life. Neither God nor His word had changed. What He had done for the psalmist in his suffering, He would do for me!
"The grass withers and the flowers fade, but the word of our God stands forever" (Isaiah 40:8).
Circumstances and body chemistry that causes depression will come and go, but the word of God stands true, and powerful, and capable of action FOREVER! In addition to that, God remains faithful to fulfill His word!
"God is not man, that he should lie, or a son of man, that he should change his mind. Has he said, and will he not do it? Or has he spoken, and will he not fulfill it?" (Numbers 23:19)
"So shall my word be that goes out from my mouth; it shall not return to me empty, but it shall accomplish that which I purpose, and shall succeed in the thing for which I sent it" (Isaiah 55:11).
"Then the Lord said to me, 'You have seen well, for I am watching over My word to perform it'" (Jeremiah 1:12).
Suffering—Even Depression—Can Be an Occasion for a Heavenly Infusion
Although I had a personal relationship with Jesus since childhood, I never knew how much of Him I was missing until I experienced suffering beyond my ability to endure. On my worst days, it felt like I was literally being crushed by the overwhelming trial I faced. I asked God to take me home, and considered taking my life myself because it seemed the depression and torture was more than I could bear.
This forced me to turn to God's Word and the life of Christ like never before. They became so much more than head knowledge to me. They became my life! My existence! My joy! I had never clung to the truth and life of God's Word so tightly. I had never needed the Spirit of Jesus Christ so desperately.
When I put my trust in Christ as a young girl, His Spirit came to dwell in me. Yet, the years of affliction brought me to a place of needing Him to live for me. There is a big difference between the two. One is me doing my best for Christ and the other is Him living my life for me.
Stripped of my abilities and unable to survive apart from Jesus, I came to exist by His life and the life of God's Word. This is what I mean when I say that my illness was a package of pure gold. It was the best experience of my life! Because of my affliction, I relied on God's Word and the life of Christ. I was infused with His comfort, His peace, His strength, His joy and His eternal perspective. I was infused with grace beyond measure—God's comfort for life's trials.
Suffering impairs our ability to live autonomous of God—to survive by the abilities of our natural man. Suffering pushes us to the end of ourselves. And that's actually a good thing—a blessing in disguise. Because nothing satisfies us like God does—nothing! Nothing compares to knowing Him. But when life is easy and comfortable, we don't pursue Him. We don't require Him as an indispensable necessity. We feel we're managing things on our own quite well. We may not say it with our words, but our actions shout the following:
"Jesus? Scripture? Nah, I don't need them right now. I did the God-thing this morning for a few minutes. I'll give Him more time tomorrow morning. Right now I'm managing okay handling things myself. Morning is His time of the day; the rest is mine."
But suffering and depression and illness and stresses that we can't handle come along. And suddenly we realize we have to have Him or we'll be consumed. Suddenly we're taking refuge in the Word all day long—just to survive.
That's when we truly get to know Him—when we're finally desperate for Him. When everything we've held onto more tightly than Him is taken away. When we realize we're incapable of being our own god. When we relinquish every thing—our agenda, our goals, our plans, our desires, our dreams, our health, our possessions, our loved ones—to His control. When we realize the true inadequacy of our human operating system and understand intellectually and in practice that we must have Him living through us every moment of the day.
And here—in His presence—is the only place we find true joy.
"In your presence there is fullness of joy; at your right hand are pleasures forevermore" (Psalm 16:11).
In His presence we're truly joyful… and satisfied. That's why it doesn't matter what ushers into His courts. Better is one day there than a thousand elsewhere. It's better to be in His presence because of imperfect brain chemistry, or job loss, or illness, or stress, or whatever trial ushered us there than to be without Him in a life of ease. Nothing compares to knowing Jesus and experiencing Him!
Questions: Are you relying on your human operating system or God's divine operating system? How have you discovered fullness of joy in His presence?

OTHER POSTS IN THIS SERIES:

Follow @shadesofgrace_
Disclosure of Material Connection: Some of the links in the post above are "affiliate links." This means if you click on the link and purchase the item, Shades of Grace will receive an affiliate commission. Regardless, I only recommend products or services I use personally and believe will add value to my readers. I am disclosing this in accordance with the Federal Trade Commission's 16 CFR, Part 255 "Guides Concerning the Use of Endorsements and Testimonials in Advertising."
One Response to "Depression (3): There is Hope and Joy in God"