Apr 24th 13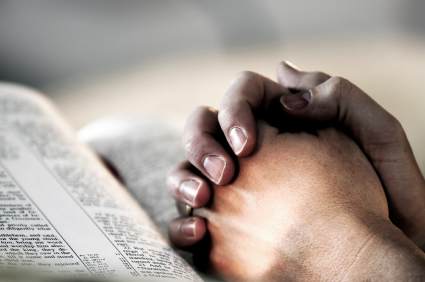 As I mentioned in the first post of this series, I wholeheartedly support treating clinical depression with medication. Yet I also know that life is plagued with constant imperfections that can rob us of our joy.
We can have the most healthy brain chemistry in the world and still be joyless and hopeless apart from Christ. Therefore, the life of Jesus and God's Word should be a vital part of any treatment regimen.
The Word of God – An Indispensable Prescription
"The word of God is living and active," Hebrews 4:12 says.
The Greek word for "active" is energes. It was a word used in secular society to describe a medicine that was effectively engaged in the work it was designed to do. God designed His Word—the Living Word, Jesus Christ, and the written word, the Bible—to do a work in all of our lives. We must all remember to take this vital prescription!
If you have healthy brain chemistry and do not need anti-depressant medication, you still need to fill God's prescription: Abide in Him, in His Word.
If you have a medical condition that causes you to need medication for brain chemistry, be sure you also take the medicine of God's word. It's just as vital!
A Few Scriptures to Pray
Over the years, I've prayed the following verses when I've been downcast (sad, but not a medical condition) or depressed (clinical depression)…and God has always faithfully fulfilled them. (See also this post on praying God's word.) I've added emphasis to some of the verses to help show the relationship of the verse to depression and sadness.
In every instance of the following Psalms, the entire chapter was an enormous refuge and source of God's supply for me. I could  fill this post with entire chapters of scripture, but it would be LONG. So I've shared a few verses from each chapter. I encourage you to look up the references and see how God might speak to you through the context.
Psalm 46
God is our refuge and strength, a very present help in trouble. … There is a river whose streams make glad the city of God, the holy habitation of the Most High. God is in the midst of her; she shall not be moved; God will help her when morning dawns. (v.1,4-5)
Psalm 16:11
You make known to me the path of life; in your presence there is fullness of joy; at your right hand are pleasures forevermore.
Psalm 21:6
O Lord, in your strength the king rejoices, and in your salvation how greatly he exults! For you make him most blessed forever; you make him glad with the joy of your presence. (v. 1,6)
Psalm 36:7-9
7 How precious is Your lovingkindness, O God! Therefore the children of men put their trust under the shadow of Your wings. 8 They are abundantly satisfied with the fullness of Your house, And You give them drink from the river of Your pleasures. 9 For with You is the fountain of life; In Your light we see light.
Psalm 30:5, 11-12
5 Weeping may tarry for the night, but joy comes with the morning. … 11 You have turned for me my mourning into dancing; you have loosed my sackcloth and clothed me with gladness, 12 that my glory may sing your praise and not be silent. [NIV 1984: "that my heart may sing to you and not be silent."] O Lord my God, I will give thanks to you forever!
Psalm 116: 1-9
1 I love the Lord, because he has heard my voice and my pleas for mercy. 2 Because he inclined his ear to me, therefore I will call on him as long as I live.

3 The snares of death encompassed me; the pangs of Sheol laid hold on me; I suffered distress and anguish. 4 Then I called on the name of the Lord: "O Lord, I pray, deliver my soul!"

5 Gracious is the Lord, and righteous; our God is merciful. 6 The Lord preserves the simple; when I was brought low, he saved me. 7 Return, O my soul, to your rest; for the Lord has dealt bountifully with you. [NIV 1984: "Be at rest once more, O my soul, for the LORD has been good to you."] 8 For you have delivered my soul from death, my eyes from tears, my feet from stumbling; 9 I will walk before the Lord in the land of the living.
It is important to note that the psalmist wrote this in advance of God answering Him. He spoke it as a declaration of what God would do. We are to speak as God speaks about our situation. God "speaks of the nonexistent things that He has foretold and promised as if they already existed" (Romans 4:17). That is how we are to speak about our situation too. We are to speak of the things He has promised as if they already existed.
This Psalm can be turned into a prayer, asking God to fulfill each phrase. (For example: "God, hear my voice. I plead with you for mercy. Incline your ear to me. The snares of death encompass me. The pains of hell have laid hold of me. I'm suffering distress and anguish. I'm calling on you, Lord. Deliver my soul! Preserve me. I'm brought low; save me. Deliver my soul from death, my eyes from tears and my feet from stumbling…")
But I also encourage you to speak it just as the psalmist did: as if God already answered you and delivered you—because in God's eyes, it is already done. It is past tense with Him.
Lamentations 3
19 Remember my affliction and my wanderings, the wormwood and the gall! 20 My soul continually remembers it and is bowed down within me. 21 But this I call to mind, and therefore I have hope:

22 The steadfast love of the Lord never ceases; his mercies never come to an end; 23 they are new every morning; great is your faithfulness. 24 "The Lord is my portion," says my soul, "therefore I will hope in him." 25 The Lord is good to those who wait for him, to the soul who seeks him.
Isaiah 61
1 The Spirit of the Lord God is upon me, because the Lord has anointed me to bring good news to the poor; he has sent me to bind up the brokenhearted, to proclaim liberty to the captives, and the opening of the prison to those who are bound; 2 to proclaim the year of the Lord's favor, and the day of vengeance of our God; to comfort all who mourn; 3 to grant to those who mourn in Zion—to give them a beautiful headdress instead of ashes, the oil of gladness instead of mourning, the garment of praise instead of a faint spirit; that they may be called oaks of righteousness, the planting of the Lord, that he may be glorified.
Habakkuk 3:17-19
17 Though the fig tree does not blossom and there is no fruit on the vines, [though] the product of the olive fails and the fields yield no food, though the flock is cut off from the fold and there are no cattle in the stalls,

18 Yet I will rejoice in the Lord; I will exult in the [victorious] God of my salvation!

19 The Lord God is my Strength, my personal bravery, and my invincible army; He makes my feet like hinds' feet and will make me to walk [not to stand still in terror, but to walk] and make [spiritual] progress upon my high places [of trouble, suffering, or responsibility]!

(from the Amplified Bible)
Psalm 27
1 The Lord is my light and my salvation; Whom shall I fear? The Lord is the strength of my life; Of whom shall I be afraid?

2 When the wicked came against me To eat up my flesh, My enemies and foes, They stumbled and fell.

3 Though an army may encamp against me, My heart shall not fear; Though war may rise against me, In this I will be confident.

4 One thing I have desired of the Lord, That will I seek: That I may dwell in the house of the Lord All the days of my life, To behold the beauty of the Lord, And to inquire in His temple.

5 For in the time of trouble He shall hide me in His pavilion; In the secret place of His tabernacle He shall hide me; He shall set me high upon a rock.

6 And now my head shall be lifted up above my enemies all around me; Therefore I will offer sacrifices of joy in His tabernacle; I will sing, yes, I will sing praises to the Lord.

13 I would have lost heart, unless I had believed That I would see the goodness of the Lord In the land of the living.

14 Wait on the Lord; Be of good courage, And He shall strengthen your heart; Wait, I say, on the Lord!
Psalm 62
5 My soul, wait only upon God and silently submit to Him; for my hope and expectation are from Him. 6 He only is my Rock and my Salvation; He is my Defense and my Fortress, I shall not be moved. 7 With God rests my salvation and my glory; He is my Rock of unyielding strength and impenetrable hardness, and my refuge is in God!

8 Trust in, lean on, rely on, and have confidence in Him at all times, you people; pour out your hearts before Him. God is a refuge for us (a fortress and a high tower).
Psalm 34
I will bless the Lord at all times; his praise shall continually be in my mouth. …

4 I sought the Lord, and he answered me and delivered me from all my fears. …6 This poor man cried, and the Lord heard him and saved him out of all his troubles. 7 The angel of the Lord encamps around those who fear him, and delivers them. …

15 The eyes of the Lord are toward the righteous and his ears toward their cry. …

17 When the righteous cry for help, the Lord hears and delivers them out of all their troubles. 18 The Lord is near to the brokenhearted and saves the crushed in spirit.

19 Many are the afflictions of the righteous, but the Lord delivers him out of them all. 20 He keeps all his bones; not one of them is broken.

22 The Lord redeems the life of his servants;  none of those who take refuge in him will be condemned.
Psalm 22:24
For he has not despised or abhorred the affliction of the afflicted, and he has not hidden his face from him, but has heard, when he cried to him.
Psalm 18
I love you, O Lord, my strength. 2 The Lord is my rock and my fortress and my deliverer, my God, my rock, in whom I take refuge, my shield, and the horn of my salvation, my stronghold. 3 I call upon the Lord, who is worthy to be praised, and I am saved from my enemies.

4 The cords of death encompassed me; the torrents of destruction assailed me; 5 the cords of Sheol entangled me; the snares of death confronted me.

6 In my distress I called upon the Lord; to my God I cried for help. From his temple he heard my voice, and my cry to him reached his ears.

16 He sent from on high, he took me; he drew me out of many waters. 17 He rescued me from my strong enemy and from those who hated me, for they were too mighty for me. 18 They confronted me in the day of my calamity, but the Lord was my support. 19 He brought me out into a broad place; he rescued me, because he delighted in me.

28 For it is you who light my lamp; the Lord my God lightens my darkness. 29 For by you I can run against a troop, and by my God I can leap over a wall. 30 This God—his way is perfect; the word of the Lord proves true; he is a shield for all those who take refuge in him.

31 For who is God, but the Lord? And who is a rock, except our God?—32 the God who equipped me with strength and made my way blameless. 33 He made my feet like the feet of a deer and set me secure on the heights.
Psalm 55
Give ear to my prayer, O God, and hide not yourself from my plea for mercy! 2 Attend to me, and answer me; I am restless in my complaint and I moan, [NIV 1984: "My thoughts trouble me and I am distraught"] 3 because of the noise of the enemy, because of the oppression of the wicked. For they drop trouble upon me…

4 My heart is in anguish within me; the terrors of death have fallen upon me. 5 Fear and trembling come upon me, and horror overwhelms me. 6 And I say, "Oh, that I had wings like a dove! I would fly away and be at rest …"

But I call to God, and the Lord will save me. 17 Evening and morning and at noon I utter my complaint and moan, and he hears my voice. 18 He redeems my soul in safety from the battle that I wage, for many are arrayed against me. 19 God will give ear and humble them, he who is enthroned from of old,

22 Cast your burden on the Lord, and he will sustain you; he will never permit the righteous to be moved.
Psalm 41:1-3
1 Blessed (happy, fortunate, to be envied) is he who considers the weak and the poor; the Lord will deliver him in the time of evil and trouble.  2 The Lord will protect him and keep him alive; he shall be called blessed in the land; and You will not deliver him to the will of his enemies.  3 The Lord will sustain, refresh, and strengthen him on his bed of languishing; all his bed You [O Lord] will turn, change, and transform in his illness" (Psalm 41:1-3, AMP).
Psalm 42
A passage God always seems to work through when I'm downcast or depressed is Psalm 42. Just last month I walked through two weeks of dark depression. It seemed to be brought on by circumstances, but I couldn't break out of it. It loomed so large I could hardly function. I've taken refuge in this Psalm so often for depression and sadness over the years (and always, God faithfully fulfills it) that I know much of it by heart. In this recent dark season, it was first nature to take refuge in its truth and promise.
The psalmist was candid about his suffering:
"My tears have been my food day and night … deep calls to deep in the roar of your waterfalls; all your waves and breakers have swept over me … I say to God my Rock, 'Why have you forgotten me? Why must I go about mourning, oppressed by the enemy?" (vv. 3, 7, 9)
It's okay for us to be candid with God about our sadness—our tears and pain.
In the midst of suffering, the psalmist craved one thing. One thing was an indispensable necessity:
"As the deer pants for streams of water, so my soul pants for you, O God. My soul thirsts for God, for the living God. When can I go and meet with God?" (v. 1)
He wasn't grabbing the television remote … his cell phone to call a friend and sob … or heading to Facebook to read the home feed. He knew he needed a feed direct from Heaven. All else was pointless!
He pours his heart out to God, then closes with a powerful statement:
"Why are you cast down, O my inner self? And why should you moan over me and be disquieted within me? Hope in God and wait expectantly for Him, for I shall yet praise Him, Who is the help of my countenance, and my God" (v. 11, AMP).
Any time I am the slightest bit downcast, I begin meditating on this verse. I take my thoughts captive and rather than rehearse my lament endlessly, feeding my despair, I declare this scripture over my life: "Why are you downcast, O my soul. Put your hope in God and wait expectantly for Him, for you shall yet praise Him! Yes, I shall yet praise God—the one who helps my countenance! He will lift my depression!" And He always does! He will do the same for you.
There have been times when my depression has been so overwhelming that even during the night I needed the word right beside me for immediate refuge. So in those kinds of times, I leave my Bible open to Psalm 42 either beside my head in bed or on my nightstand. That way when I wake up, it is the first thing I see—the ground upon which I immediately stake my thoughts—before I become overcome by my feelings. I encourage you to consider what strategic places you can put one or more of these scriptures in order to keep you meditating on the word, taking every thought captive.
Question: Through which of these passages did God most speak to you today?
OTHER POSTS IN THIS SERIES

Follow @shadesofgrace_
Disclosure of Material Connection: Some of the links in the post above are "affiliate links." This means if you click on the link and purchase the item, Shades of Grace will receive an affiliate commission. Regardless, I only recommend products or services I use personally and believe will add value to my readers. I am disclosing this in accordance with the Federal Trade Commission's 16 CFR, Part 255 "Guides Concerning the Use of Endorsements and Testimonials in Advertising."
One Response to "Depression (4): A Few Scriptures to Pray"