Jan 28th 20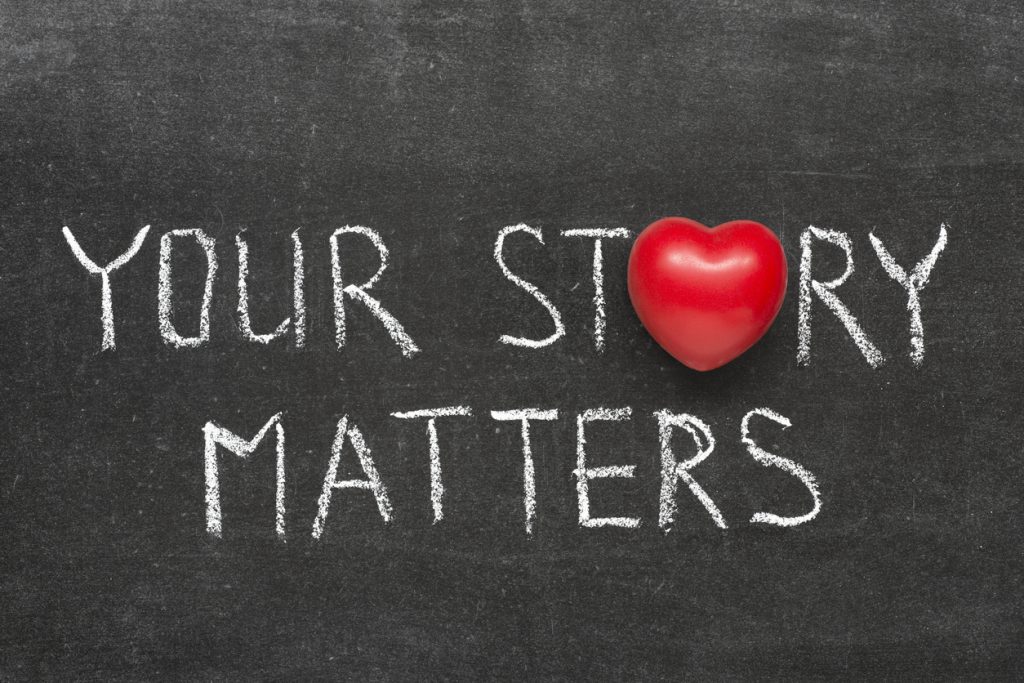 What did God do in your life during your season of prayer and fasting? If He worked in your life in any way, take a moment to share your story. Why? Because your story matters!
You may think that your experience is insignificant and of no consequence to anyone else. But that's not true! When you tell your story, it puts God on display—and blesses and encourages others! It shows them what God can and will do in their lives also. Yes, your story matters!
Any aspect of your story is worth sharing. Anything God did during your fast is testimony-worthy. Although dramatic accounts are wonderful, they're not the only kind that demonstrate God's goodness and faithfulness.
Anything God did in your life—large or small—is worth telling others about and expressing praise and thanks to God!
What Did God Do During Your Fast?
What did God do during your fast? …
For example:
Did He help you be more motivated and disciplined in setting apart time for prayer?
Did you hear His voice more clearly?
Did you sense His presence more strongly?
Did He give you a hunger to spend time with Him in prayer and the Word?
Were you convicted of sins and areas of compromise, prompting you to stop sinning?
Did God speak to you through His word?
Did you experience God's sustaining power during the fast—enabling you to persevere and keep your fast?
Did you realize what bottom line desires have been controlling you? Perhaps desires for food, or television, or technology, or sports, or entertainment?
Did you discover what you previously submitted to time and again in order to cover up the weakness of your hunger for God?
Were you reminded afresh that your real home is not here; it's hidden with Christ in God? Was your perspective aligned with God's eternal end-of-time view?
Did you receive an answer to prayer as a result of your fast?
This list is just the beginning. So as you can tell, there are a host of ways God could have worked through your fast.
We expect God to respond to our prayer and fasting. So when He does, we tend to dismiss it as nothing extraordinary—nothing worth telling anyone about.
Friend, this is not the case! Your story matters! And when you share it, it glorifies God and helps your Christian brothers and sisters see what God can and will do in their lives. It might also help them seek God through prayer and fasting—and experience the life-changing results.
Telling Others What God Has Done Is Scriptural
Throughout scripture, we see people telling others what God had done in their lives. The Bible exhorts us to tell others about God's wonderful deeds. Here are a few examples:
Psalm 73:28
"But as for me, how good it is to be near God! I have made the Sovereign Lord my shelter, and I will tell everyone about the wonderful things you do." (NLT)
Psalm 105:1-3
"Give thanks to the Lord and proclaim his greatness.
Let the whole world know what he has done.
2 Sing to him; yes, sing his praises.
Tell everyone about his wonderful deeds.
3 Exult in his holy name;
rejoice, you who worship the Lord." (NLT)
Psalm 78:4-6
"We will not hide these truths from our children;
we will tell the next generation
about the glorious deeds of the Lord,
about his power and his mighty wonders.
5 For he issued his laws to Jacob;
he gave his instructions to Israel.
He commanded our ancestors
to teach them to their children,
6 so the next generation might know them—
even the children not yet born—
and they in turn will teach their own children." (NLT)
Psalm 145:4-12
"Let each generation tell its children of your mighty acts;
let them proclaim your power.
5 I will meditate on your majestic, glorious splendor
and your wonderful miracles.
6 Your awe-inspiring deeds will be on every tongue;
I will proclaim your greatness.
7 Everyone will share the story of your wonderful goodness;
they will sing with joy about your righteousness.
10 All of your works will thank you, Lord,
and your faithful followers will praise you.
11 They will speak of the glory of your kingdom;
they will give examples of your power.
12 They will tell about your mighty deeds
and about the majesty and glory of your reign. (NLT)
Psalm 22:25
"In the full assembly I will praise you for what you have done; in the presence of those who worship you I will offer the sacrifices I promised. (GNT)
Psalm 71:15-16
"I will tell everyone about your righteousness.
All day long I will proclaim your saving power,
though I am not skilled with words.
16 I will praise your mighty deeds, O Sovereign Lord.
I will tell everyone that you alone are just." (NLT)
Psalm 118:17
"I will live to tell what the Lord has done." (NLT)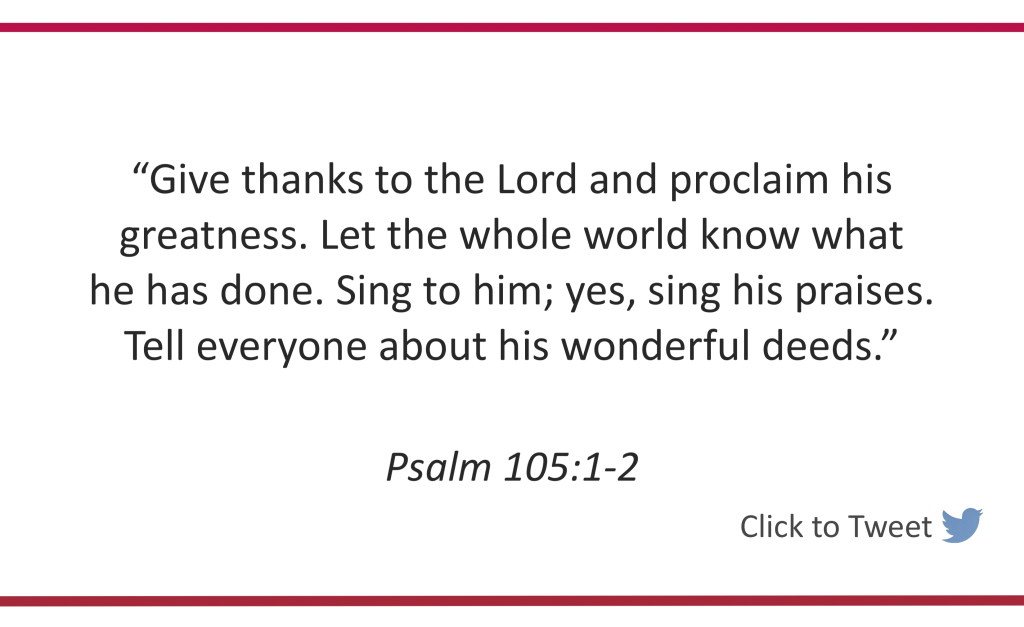 Your Testimony Exalts God
When you share your testimony and tell others what God has done, you exalt God. That's why it is important to not keep your testimony to yourself, but to share it.
David said:
"I have told all your people about your justice. I have not been afraid to speak out, as you, O Lord, well know. I have not kept the good news of your justice hidden in my heart; I have talked about your faithfulness and saving power. I have told everyone in the great assembly of your unfailing love and faithfulness" (Psalm 40:9-10, NLT).
David talked about what God had done for him, and he did so in the "great assembly." He was thankful and spoke openly about it. It was inconceivable to David to not speak up and tell about God's wonderful deeds. He was not afraid to speak out.
Verse 10 in the ESV says, "I have not concealed your steadfast love and your faithfulness from the great congregation." 
Are you concealing God's steadfast love and faithfulness from your local body of believers? From us here at Pursuit 21 who fasted with you?
When we speak of God's faithfulness and praise Him for providing and answering prayer, we give credit where credit is due. We honor Him, magnify Him, and give Him glory.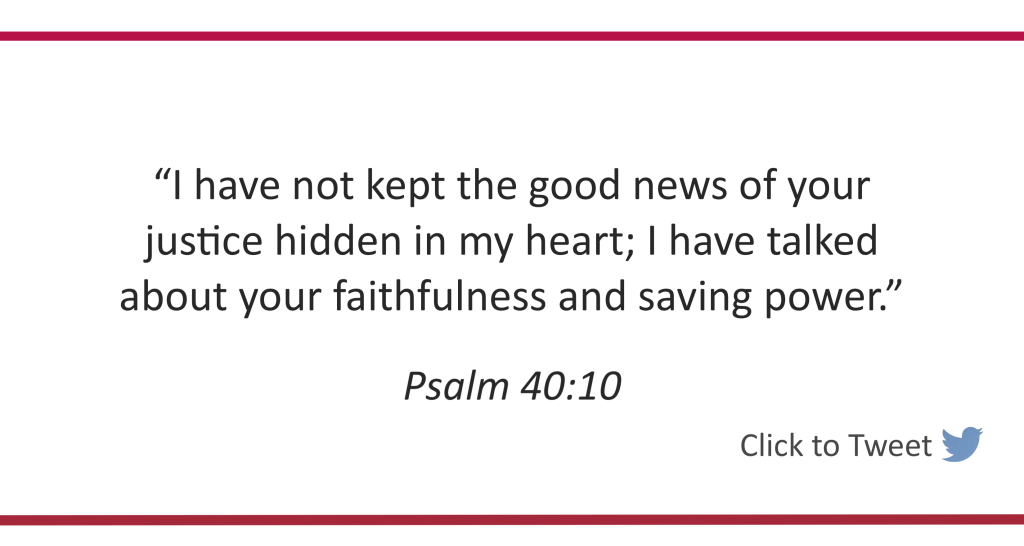 Your Testimony Encourages Other Believers
"The messengers were sent off and went to Antioch, where they gathered the whole group of believers and gave them the letter. When the people read it, they were filled with joy by the message of encouragement" (Acts 15:30-31, GNT).
When you and I hear what God has done for someone else, we are filled with joy for them; joy over how good, faithful, powerful, and loving our God is… and joy because He can and will do the same for us, too. We are encouraged and filled with faith to believe God to work in our lives as well. This is encouraging in a host of ways.
"If you abundantly talk of God's goodness, you are sure to benefit your neighbors. Many are comforted when they hear of God's goodness to your friends."
— C.H. Spurgeon
A Good Old Fashioned Testimony Service
When I was young and my dad was my pastor, our church would have testimony services in which people could spontaneously stand up and share what God had done in their lives and how He had answered prayer. Those were some of the sweetest services. I still remember some of them, even though they date back to when I was a young child. The way God was magnified and glorified left an impression on me. Unfortunately, this is hardly ever done anymore, for a host of reasons. Many churches are mega-churches, or mega-church wanna-be's with slick, programmed services that lend themselves to professionalism and polish, but little, if any, spontaneity. Besides, congregations are so large time wouldn't allow for many people to testify. Testimony time takes place in small group meetings now days. Which is fine. There's nothing wrong with it—I'm just glad I got to experience something different, and at such an impressionable age.
All that to say, let's have a good, old fashioned testimony service here. I will share some of my fasting experience. Then you can share yours—either using the form below, or in the comments.
What God Did On My Fast
At first, I was not that excited about fasting. I was mentally and physically drained to the core from my own health issues, years of caregiving, and the prior months at the hospital. There was nothing left in me with which to exert more effort—not more effort in being disciplined to abstain from food or more effort in prayer or Bible study. I just wanted a break, not to engage in something that required even more from me.
But something happened along the way. As you well know, fasting is body-talk expressing our heart hunger for Jesus. When we're hungry on a fast, it prompts us to cry out to God and express to Him why we're fasting. It causes us to say, "I'm more hungry for YOU, Lord, than food. I need You more!"
At first, it's more of a willful choice than a desire. But over time, as the flesh becomes subjected to the Spirit, and as you experience God's presence in prayer, it truly becomes your heart's desire.
So after days of doing that, I found myself with worship music on in the background, not the television. Found myself prioritizing prayer and time in the Word. Now mind you, it wasn't the kind of extensive study I used to would have engaged in prior to the physical and mental depletion of the past few years. But still, it was more than I was engaging in prior to the fast.
Once again, through fasting God exposed what bottom line desires have been controlling me. He exposed the things I turn to first thing in the morning before prayer. He exposed my dependence on food, instead of His Spirit. He exposed sin and areas of compromise. He exposed things I've been clinging to and refusing to surrender to Him.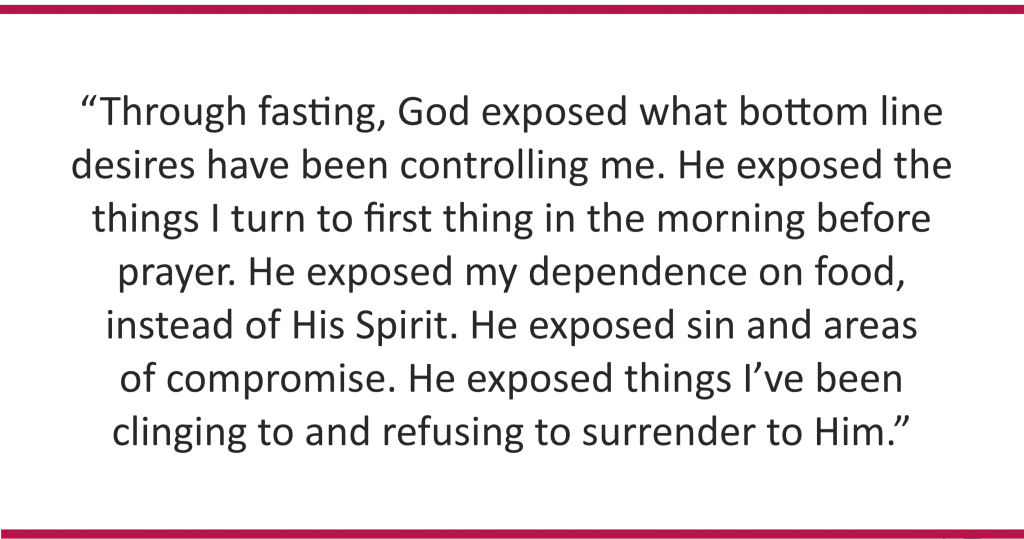 The last few days of the fast, I was blown away with how I longed to be on my knees on the floor in God's presence. Since my health setback in 2012 that affected me cognitively almost overnight (and reduced the passion I feel for anything, be it music … a walk on a sunny day… or prayer, due to having a brain illness), I have longed less and less to be on my knees in prayer. I just want to veg all the time. Anything beyond vegging feels like moving Mt. Everest. The slightest mental or physical effort drains me to the core. And life has been anything but vegging, with caregiving demands that have increased exponentially by the year. … Consequently, the person I used to be died. (This is why the God-given promises I mentioned here, here, and here about resurrection have been so important to me.) I want to return to being that woman, and daily mourn her loss… but it's been so long now, I can hardly remember what she was like.
However… during the fast, things changed. God increased my hunger for Him more and more. Fasting caused me to prioritize Him, shut out distractions, and remain in continual prayer every waking hour. After days of increased fellowship with Him and increased sensitivity to Him, I could not wait to get on my knees in prayer! I was no longer stuffing myself so full with small things that there was no room for the great!
During the days of fasting, God spoke to me and showed me things in my life that needed to be put to death. He spoke to me through a sermon and convicted me about holding on to something—something He had been quietly whispering to me about for months. Sadly, I had ignored him, even though it's something that has been cheating me out of His best.
In the initial days of the fast, I couldn't wait for it to end. Which was odd for me, because I usually continue fasting after Pursuit 21 is over. But not this year. I just wanted to go back to when things required less effort—less effort being disciplined with food and less spiritual effort seeking and praying. I was just too tired… I couldn't wait for the first day when I could eat normally!
Sunday morning after the fast, I walked to the pantry to eat whatever I wanted… and it felt strange. It felt strange to not stand there looking, fighting not to eat… crying out to God, "I want You more!" It felt strange for my hunger to not be motivating me to pray. It felt strange to be gratifying my flesh. … But after all, I had been waiting for this for three weeks, so why not eat? So I ate something I usually love… and thought, "Is this all? This doesn't come anywhere close to how good God's presence tastes—to how sweet it was to linger with Him in prayer. If the only way to keep experiencing that is through fasting, I'd rather keep fasting. Because food does NOT compare to experiencing You, Jesus."
I couldn't believe I felt that way. What a huge change from the first days of the fast. That illuminated to me what God had done. The change had been so gradual each day of the fast, that I hadn't realized how deeply God had changed me.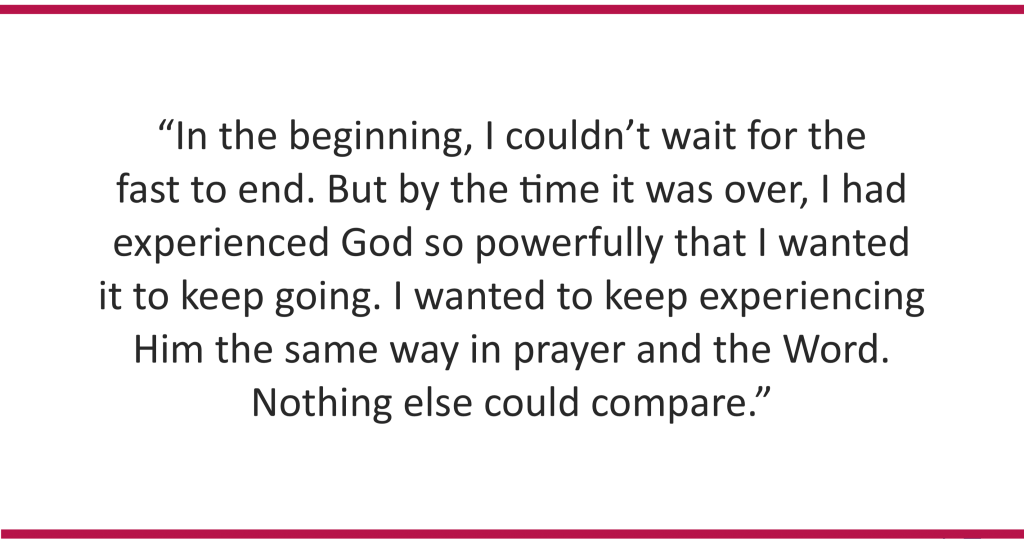 In addition to God renewing my desire for Him and His Word, He renewed my faith, my ability to actively believe Him and to wage war with His promises. Because this, too, requires effort, I had slacked off in recent months. In addition to believing Him for personal challenges, there are many challenges Shades of Grace faces for which I must wage war. As I face financial Red Sea's and crisis moments, I usually tend to resort to food. I bury my stress in a bite of food…then pray and believe. But God changed that during the fast, and it has continued afterward. God is also answering prayers prayed during the fast.
Most of all, God gave me a burning desire to have my entire life be about JESUS! My cry in prayer became, "God make my life be Jesus-centered, not me-centered!" I want to be captivated by the cross, by Christ's sacrifice. I want to be overcome with love, amazement, and adoration for Him. Saved at a young age, the cross sometimes becomes old news; I take it for granted. I look at scripture to hear God speak to my need, or to learn new truth, which is fine, but now, when I read the pages, more than anything I want to be overwhelmed by the sacrifice and love and mercy and grace of Christ. I want to be so overcome that I cannot keep it to myself. I want to be so awed and grateful for His redemption that I can't help but tell others about Jesus!
Compared to how I started the fast, this was miraculous. God drastically changed me! That's what fasting is—it's God changing us, not us twisting His arm and changing Him. He prepared my heart like a farmer prepares soil for a new crop. He prepared me for a new season. He gave me a new wineskin so that I can experience fresh anointing—so that He can work His will in my life this year.
. . . . . . . . . . . . . . . . . . . . . . . . . . . . . .
Your story may only be a sentence or two, or a paragraph or two. It does not have to be as detailed as mine. But know that it will encourage many people greatly, especially me!
Your Turn: What Did God Do On Your Fast?
Please take a moment to let us know what God has done in your life. Your comments will encourage us greatly—and they will put God's goodness and faithfulness on display to others!
Your testimony may also also encourage someone to enter a Christian fast and take their prayer to a higher level! The Pursuit 21 Fasting Testimonies page is one of the top five most visited pages on the website. People visit it throughout the year. And it encourages them to engage in fasting and prayer, even if it's not in January with Pursuit 21. We receive form submissions throughout the year from people who are embarking on a fast.
So if you were blessed by Pursuit 21 and feel someone else would benefit from a season of fasting and prayer, by all means, share your fasting testimony!
A Moment of Worship: My Story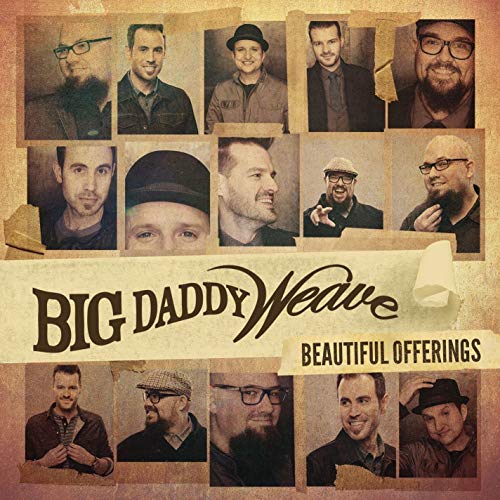 My Story by Big Daddy Weave
Written by: Michael Weaver / Jason Ingram
From the Album: Beautiful Offerings
Listen on Apple Music | Download form iTunes
Listen on Amazon Music Unlimited | Download from Amazon
Bible Reading: Psalm 22:25; 71:15-16; 73:28; 78:4-6; 105:1-5; 145:4-12; 118:17; 40:9-10; Acts 15:3-31
Question: What did God do in your life as a result of your fasting and prayer? Take a moment to share your story below:
–

space creation

–
(Note: By sending us your experience, you're giving us permission to publish it
to this website or print in one of our publications.)
_______________
Charles Spurgeon, The Practice of Praise (New Kensington, PA: Whitaker House, 1995), 31.

Follow @shadesofgrace_
Disclosure of Material Connection: Some of the links in the post above are "affiliate links." This means if you click on the link and purchase the item, Shades of Grace will receive an affiliate commission. Regardless, I only recommend products or services I use personally and believe will add value to my readers. I am disclosing this in accordance with the Federal Trade Commission's 16 CFR, Part 255 "Guides Concerning the Use of Endorsements and Testimonials in Advertising."