Jan 20th 12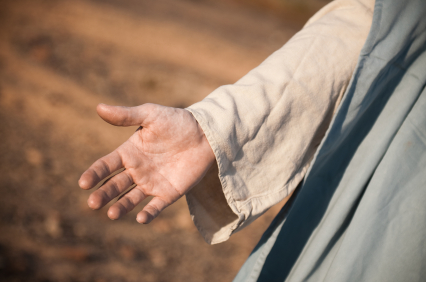 Fasting is, in essence, saying, "Just give me Jesus!"
Fasting is body language expressing our heart-hunger for God — how serious we are about wanting Him in our life.
Below are a few heart-hungry scriptures you can express to God in prayer today.
Psalm 27:4,8
"One thing I ask of the LORD, this is what I seek: that I may dwell in the house of the LORD all the days of my life, to gaze upon the beauty of the LORD and to seek him in his temple… My heart says of you, 'Seek his face!' Your face, Lord, I will seek."
Psalm 42:1-2
"As the deer pants for streams of water, so my soul pants for you, O God. My soul thirsts for God, for the living God. When can I go and meet with God?" ( Tweet)
Psalm 63:1-8
"O God, you are my God; earnestly I seek you;
    my soul thirsts for you;
my flesh faints for you,
    as in a dry and weary land where there is no water.
2 So I have looked upon you in the sanctuary,
    beholding your power and glory.
3 Because your steadfast love is better than life,
    my lips will praise you. 
4 So I will bless you as long as I live;
    in your name I will lift up my hands.

5 My soul will be satisfied as with fat and rich food,
    and my mouth will praise you with joyful lips,
6 when I remember you upon my bed,
    and meditate on you in the watches of the night;
7 for you have been my help,
    and in the shadow of your wings I will sing for joy.
8 My soul clings to you;
    your right hand upholds me." (ESV)
Psalm 73:25-26
"Whom have I in heaven but you? And earth has nothing I desire besides you. My flesh and my heart may fail, but God is the strength of my heart and my portion forever." ( Tweet)
Psalm 84:1-4, 10
"How lovely is your dwelling place,
    Lord Almighty!
2 My soul yearns, even faints,
    for the courts of the Lord;
my heart and my flesh cry out
    for the living God.
3 Even the sparrow has found a home,
    and the swallow a nest for herself,
    where she may have her young—
a place near your altar,
    Lord Almighty, my King and my God.
4 Blessed are those who dwell in your house;
    they are ever praising you. . . .

10 Better is one day in your courts
    than a thousand elsewhere; 
I would rather be a doorkeeper in the house of my God
    than dwell in the tents of the wicked."
Psalm 119:20, 81
"My soul is consumed with longing for your laws at all times… My soul faints with longing for your salvation."
Psalm 143:6
"I spread out my hands to you; my soul thirsts for you like a parched land." ( Tweet)
Matthew 4:4
"People need more than bread for their life; they must feed on every word of God." (NLT) ( Tweet)
Matthew 5:6
"You're blessed when you've worked up a good appetite for God. He's food and drink in the best meal you'll ever eat." (MSG)
John 6:33, 35a
"'For the bread of God is he who comes down from heaven and gives life to the world…' Jesus declared, 'I am the bread of life. He who comes to me will never go hungry.'"
Galatians 4:6
"Because you are sons, God sent the Spirit of his Son into our hearts, the Spirit who calls out, 'Abba, Father.'"
Philippians 3:8-10
"I consider everything a loss compared to the surpassing greatness of knowing Christ Jesus my Lord, for whose sake I have lost all things. I consider them rubbish, that I may gain Christ and be found in him, not having a righteousness of my own that comes from the law, but that which is through faith in Christ—the righteousness that comes from God and is by faith. I want to know Christ and the power of his resurrection and the fellowship of sharing in his sufferings, becoming like him in his death, and so, somehow, to attain to the resurrection from the dead."
When we fast, we are telling God through our body talk, "I will be satisfied with nothing less than you! You can have all this world, just give me Jesus!"
Worship: "Give Me Jesus"

Give Me Jesus feat. Fernando Ortega
From the Album: Hymns of Worship
Listen on Prime Music | Buy on iTunes
Listen on Prime Music | Buy on Amazon
Prayer Focus: Is there anything on earth you desire more than Jesus? All else pales in comparison to knowing Him and relying on Him.
–

More Tweetables

–
FROM THE FASTING ARCHIVES:
OTHER POSTS IN THIS SERIES:

Follow @shadesofgrace_
Disclosure of Material Connection: Some of the links in the post above are "affiliate links." This means if you click on the link and purchase the item, Shades of Grace will receive an affiliate commission. Regardless, I only recommend products or services I use personally and believe will add value to my readers. I am disclosing this in accordance with the Federal Trade Commission's 16 CFR, Part 255 "Guides Concerning the Use of Endorsements and Testimonials in Advertising."