Jan 25th 12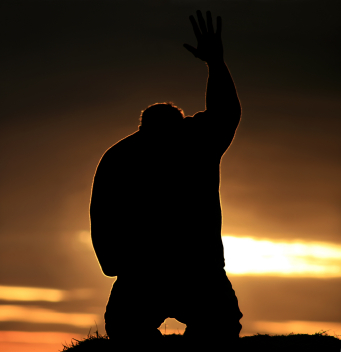 From Natalie: This is a guest post by Scott Brodie. Although Scott had ALS, he didn't let it stop him. He typed this post with his toes! Scott's faith and perseverance continue to challenge and inspire me daily. You can watch my interview with him here. You can also read his blog and follow his wife Glennis on Facebook.
When I think of healing and bravery in the midst of certain death, no other person stands out to me like Hezekiah. Hezekiah came to the throne of Judah nine years after the northern kingdom of Israel was carried away into captivity by the king of Assyria. Hezekiah was twenty-five years old when he began to reign as Judah's King (see 2 Kings 18:13).
Hezekiah's Heart
Hezekiah had such an amazing heart to serve God. During his early years as King of Judah, he undertook sweeping religious reforms that Jerusalem hadn't seen since the days of King Solomon. He removed idolatrous elements from worship, cleansed and sanctified the temple and restored the Levites back to their temple duties. And in every work that he began in the service of the house of God, in the law and in the commandment, to seek his God, he did it with all his heart. So he prospered. (See 2 Chron. 31:21.)
Untimely Assault
But after these deeds of faithfulness, Sennacherib, king of Assyria (who represents the devil), came against Hezekiah. Sennacherib, with his great Assyrian army (represents the demonic hordes of hell), destroyed and laid waste every city and nation in its path on its way to the ultimate goal of conquering Jerusalem. When the Assyrian force arrived outside the city walls, its field commander brought a message from Sennacherib himself.
In an attempt to demoralize the Jews, the field commander announced to the people on the city walls of Jerusalem that Hezekiah was deceiving them and that Yahweh could not deliver Jerusalem from the king of Assyria. He listed the gods of the people thus far swept away by Sennacherib then said:
"This is what the great king of Assyria says: What are you trusting in that makes you so confident? Let not Hezekiah deceive you. For he will not be able to deliver you out of my hand…Nor let Hezekiah make you trust in and rely on the Lord, saying, The Lord will surely deliver us, and this city will not be given into the hand of Assyria's king" (2 Kings 18:19, 30).
Sending Lies
Hezekiah was doing all these great things for God and serving Him with all his heart—then Sennacherib came to attack Jerusalem. The first thing Sennacherib did before any physical assault was attempt to send lies over the city walls of Jerusalem — to try and promote fear and doubt in the people's hearts and to question Gods power to deliver.
I can only imagine the lies the enemy directed at Hezekiah such as:
"Where is your God now?"
"Your God has failed you."
"You're going to die!"
"I've taken down greater men than you."
"You're next, Hezekiah, because God sent me to tell you…"
Dear friend, the devil will come after a believer with his biggest attacks when you display you are a threat to his kingdom and are showing others the way out of darkness. He sends lies over the walls of your mind attempting to shake your faith in Gods power to deliver again. Satan just wants you to believe one of his lies so that you will back down and surrender your faith in God.
Turning to God and His Word
Rather than surrender to the enemy, which appeared to be the only option for Hezekiah in this life or death scenario, he turned to God and His word for deliverance. Hezekiah understood the reality of the predicament in which he found himself. He did not deny it, but chose to believe God above it.
"Of a truth, Lord, the kings of Assyria have laid waste all the nations and their countries, and have cast their gods into the fire…..Now, therefore O Lord our God, save us from his hand, that all the kingdoms of the earth may know, that Thou art the Lord, even Thou only" (Isaiah 37:18-20).
God was pleased that Hezekiah came to Him asking for help and He answered in dramatic fashion.
"Because you have prayed to me against Sennacherib king of Assyria… Therefore thus says the Lord concerning the king of Assyria: He shall not come into this city or shoot an arrow here or come before it with shield or cast up a siege mound against it…For I will defend this city to save it, for my own sake and for the sake of my servant David. And the Angel of the Lord went forth, and slew 185,000 in the camp of the Assyrians; and when [the living] arose early in the morning, behold, all these were dead bodies." (Isaiah 37:21,33,35-36, AMP).
God Is Able
Hezekiah, when faced with death, turned to God in prayer and reminded God of his power, faithfulness, testimony and promises…and by the time he was done, God sent the prophet Isaiah with an answer.
God not only sent word of an answer, He was faithful to fulfill it! He put to death 185,000 men in the Assyrian camp. "When the people got up the next morning—there were all the dead bodies" (Isaiah 37:36, NIV).
Are you facing a crisis of almost certain defeat? Rather than surrender to the enemy, go to God in prayer. He is able to answer in dramatic fashion and deliver you!
Note from Natalie: In yesterday's post, we saw that Hezekiah's life was prolonged fifteen years by the Lord. It was fifteen years ago that Scott Brodie was given a death sentence. Like Scott, perhaps Hezekiah also didn't know each day if he would live to see another. Yes, God promised Hezekiah fifteen years…but what if his symptoms returned or progressed and he was tempted to believe the lies of the enemy? Hezekiah's life, like Scott's, demonstrates not only bravery but faith and confidence in the God who is able!
Worship: "God Is Able"

God Is Able by Smokie Norful
From the Album: Nothing Without You
Download from iTunes | Amazon

Bible Reading: 2 Kings 18:19, 30; Isaiah 37:18-36; 2 Corinthians 9:8; Ephesians 3:20
Prayer Focus: What lies are being lobbed over your city walls? What is the enemy trying to get you to believe? Though the devil is trying to convince you otherwise, God is able to deliver you!
FROM THE FASTING ARCHIVES:
RELATED ARTICLES

Follow @shadesofgrace_
Disclosure of Material Connection: Some of the links in the post above are "affiliate links." This means if you click on the link and purchase the item, Shades of Grace will receive an affiliate commission. Regardless, I only recommend products or services I use personally and believe will add value to my readers. I am disclosing this in accordance with the Federal Trade Commission's 16 CFR, Part 255 "Guides Concerning the Use of Endorsements and Testimonials in Advertising."