Jun 21st 10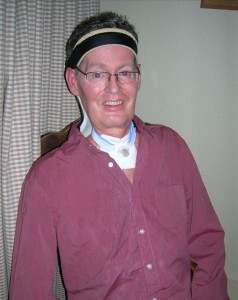 I am so excited! I just heard the news that Scott Brodie is indeed going to write a guest post. Last Friday I saw a brief segment of Larry King on which he interviewed Jack Kevorkian. It made me sick!
God immediately gave me the idea of calling Scott Brodie to ask him to watch the next airing of the Kevorkian interview and write a response to be posted here.
After a sweet visit with Scott and his wife Glennis, I settled in and braced myself to watch the entire Kevorkian interview on Larry King. In typical God-like fashion, He was working in the details. I was amazed when I was reminded that Thomas Youk — the man for whose murder Kevorkian was sentenced to prison — had ALS, just like Scott Brodie. (I suppose I was too sick when the conviction occurred to remember this key fact.) In sharing his thoughts in a post, I asked Scott to answer four questions:
What symptoms do you have that others might consider grounds for taking their life if they had the same symptoms?
What abilities have you lost (now or in the past) that if others experienced, might cause them to feel that their life has lost meaning? Do you feel your life has meaning? Explain.
If the possibility of Divine healing on earth were taken out of the equation, would you consider assisted suicide? Why not? Would you have considered it in the past? Why not?
How does your experience, the experience of Christ in you – His comfort, His provision, His strength – contradict the claim that illness and loss is too much to bear? How does it contradict a desire to leave this earth prematurely?
I look forward to Scott's answers!!
If you haven't seen Scott's story, click here to watch this moving interview.
RELATED ARTICLES

Follow @shadesofgrace_
Disclosure of Material Connection: Some of the links in the post above are "affiliate links." This means if you click on the link and purchase the item, Shades of Grace will receive an affiliate commission. Regardless, I only recommend products or services I use personally and believe will add value to my readers. I am disclosing this in accordance with the Federal Trade Commission's 16 CFR, Part 255 "Guides Concerning the Use of Endorsements and Testimonials in Advertising."
One Response to "Scott Brodie to Guest Post"