Jan 24th 12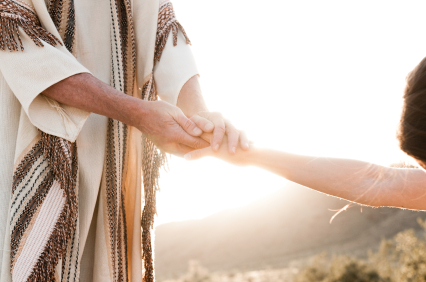 This is a guest post by Melinda Malloy. You can read more about Melinda below.
Have you felt overwhelmed, discouraged, or hopeless due to sickness or some other type of physical pain or suffering? Maybe doctors have given you a diagnosis that weighs heavily on your heart. Have you considered that fasting and praying for healing is God's will?
"Is not this the kind of fasting I have chosen: to break the chains of wickedness, to untie the cords of the yoke, to set the oppressed free, and to break every yoke? Then your light will appear like the dawn, and your healing will come quickly. Your righteousness will go before you, and the LORD's glory will be your rear guard…The LORD will always lead you, satisfy you in a parched land, and strengthen your bones. You will be like a watered garden and like a spring whose waters never run dry" (Isaiah 58:6, 8, 11).
Jehovah Rapha
We have the privilege of taking our pain and suffering to our Jehovah Rapha – "The Lord who heals." Don't resign yourself to sickness, and don't limit God's ability to change your situation! Seeking the Lord in prayer and fasting for healing should be a way of life. However, fasting is not to replace the aid of doctors, medicine, and technology.
In addition to praying and seeking Him about a situation, God sometimes instructed people in the Bible to use medicine or certain remedies for healing. In Isaiah 38, God said to Hezekiah through the prophet Isaiah, "Put your house in order for you are going to die; you will not recover." However, Hezekiah did not get his things in order and prepare for death. Instead, he turned his back on worldly thinking and understanding and wept and prayed before the Lord.
The word of the Lord came again to Hezekiah – "I have heard your prayer and seen your tears; I will add fifteen years to your life!" God then instructed that a poultice of figs was to be used to bring about Hezekiah's healing. Rather than resigning himself to death, Hezekiah had faith that the Lord could override the sickness in his body. He sought the Lord for healing, followed God's instructions for medicinal aid, and he was healed!
By contrast, in 2 Chronicles 16, Asa contracted a severe foot disease but refused to seek the Lord for healing. He only sought physicians, and Asa died as a result. Though we should be thankful for doctors and modern medical technology, we should also be thankful that there is One who is above all of man's knowledge and understanding! The Lord is the only One worthy of all our trust and confidence, for He alone has the ultimate power to heal and change our circumstances!
In the book of 3rd John, verse 2 says, "Beloved, I desire that in all things you should prosper and be in health, even as your soul prospers." God desires that we be in good health, but even more so He desires that our souls would prosper. God said that in this world we will suffer. Sometimes God heals in order to show His power and to make His name great. Other times God chooses to bring Himself glory through our suffering when no healing is in sight. God's sustenance, strength, comfort, peace, and joy in the midst of suffering gives us hope and increases our faith. This precious faith will help us get through trials in the future and will help us be a comfort to others.
My Own Experience
Several years ago, I participated in the 21 days of fasting with Pursuit 21. Due to some health issues, I did a partial fast. About three months later, I began experiencing such extreme intestinal pain that I was not able to eat anything. Since I had been through that fast earlier in the year, the Lord had strengthened my heart, my resolve, and my confidence in Him.
I did not know then what the coming days and weeks would hold, but I committed the time as a fast unto the Lord, spending great amounts of time praying, seeking, and worshiping Him. I was able to praise Him though sometimes I felt afraid and discouraged when time went by and my healing did not arrive.
I was not able to take in sustenance, but the Lord strengthened my body and kept me going. He encouraged me and blessed me with His peace and presence. I also sought the help of doctors and medical testing, but no help was found through those avenues. God, Jehovah Rapha, was my source and the only One that I could look to for hope.
After twenty-one days the Lord led me to 1 Samuel 1, and as I read through the chapter, His word to me was in verse 5:
"Those who were hungry hunger no more."
The next day I was able to eat a little without horrible pain, and little by little the Lord restored to me the ability to eat. I praise Him for His healing power, but I also praise Him for the invaluable lessons He taught me during those twenty-one days – both sets of them! He increased my faith, provided for me, amazed me with His works, and gave me comfort that I am now able to share with others.
I pray that the Lord will strengthen and encourage you today! If you need God's touch in your physical body right now, seek the Lord in prayer and fasting. If you know someone who is suffering, pray and fast for them. Persevere and do not lose heart!
"Keep on asking and it will be given you; keep on seeking and you will find; keep on knocking [reverently] and [the door] will be opened to you."
Matthew 7:7
Worship: "Healer"

Healer by Kari Jobe
From the Self-Titled Album: Kari Jobe
Download on iTunes | Amazon
Bible Reading: Isaiah 58:6, 8, 11; Matthew 7:7
Prayer Focus: Do you feel hopeless due to sickness or some other type of physical pain or suffering? Bring your need to Jehovah Rapha, your Healer, today.
More about Melinda Malloy:

In addition to being the owner and photographer at

Melinda Malloy Photography

, Melinda is an administrative associate here at Shades of Grace (she helps me a lot!). You can follow her on

Facebook

.
FROM THE FASTING ARCHIVES:

Follow @shadesofgrace_
Disclosure of Material Connection: Some of the links in the post above are "affiliate links." This means if you click on the link and purchase the item, Shades of Grace will receive an affiliate commission. Regardless, I only recommend products or services I use personally and believe will add value to my readers. I am disclosing this in accordance with the Federal Trade Commission's 16 CFR, Part 255 "Guides Concerning the Use of Endorsements and Testimonials in Advertising."
16 Responses to "Fasting Day 18: Fasting for Healing"