Sep 11th 11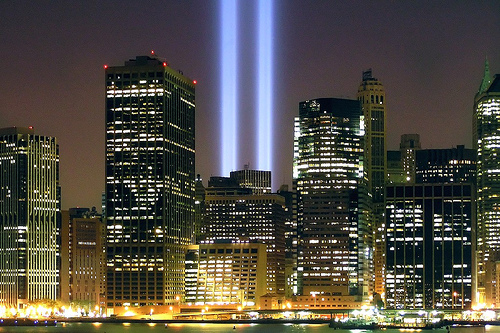 Today, on the anniversary of the September 11 terrorist attacks, America mourns the loss of 2,974 people who died in the attacks, as well those who died in the subsequent wars in Iraq and Afghanistan. As a nation, our hearts are heavy with grief.
Much of America, (myself included) did not personally know a victim of 9/11. But as we've read accounts or watched footage about that awful day and those who were killed, we've been gripped.  We've wept.  We've felt deep compassion and concern for all those who lost loved ones in the attacks. We've prayed for the families. We've prayed for our nation.
Perhaps the 9/11 anniversary has reminded you to pray for someone else you know who has lost a loved one. Perhaps you have lost a loved one.
What can we pray?  What can we believe God to do?  The Bible contains many promises to those who grieve:
Promises and Prayers for Those Who Grieve
Have mercy on me, Lord, for I am in distress. Tears blur my eyes.  My body and soul are withering away. I am dying from grief; my years are shortened by sadness…I am wasting away from within. But I am trusting you, O Lord, saying, "You are my God!"  My future is in your hands… Let your favor shine on your servant.  In your unfailing love, rescue me.  I will be glad and rejoice in your unfailing love, for you have seen my troubles, and you care about the anguish of my soul. You have not handed me over to my enemies but have set me in a safe place. – Psalm 31:7-8, 9-10, 14-16
The LORD is close to the brokenhearted; he rescues those who are crushed in spirit. – Psalm 34:18
He heals the broken heartened, binding up their wounds.- Psalms 147:3
Blessed are those that mourn, for they shall be comforted.- Matthew 5:4
For the Lord does not abandon anyone forever. Though he brings grief, he also shows compassion according to the greatness of his unfailing love. – Lamentations 3:22-26; 31-32
God is our refuge and strength, a very present help in times of trouble. – Psalm 46:1
Weeping may endure for the night, but joy comes in the morning. – Psalm 30:5b
Even though I walk through the valley of the shadow of death, I will fear no evil for you are with me; your rod and your staff they comfort me. – Psalm 23:4
For the Lord hath comforted His people, and will have mercy on His afflicted. – Isaiah 49:13b
I will turn their  mourning into gladness. I will give them comfort and joy instead of sorrow. – Jeremiah 31:13
I am leaving you with a gift-peace of mind and heart! And the peace I give is not fragile like the peace the world gives. So don't be troubled or afraid. – John 14:27
No, I will not abandon you or leave you as orphans in the storm – I will come to you. – John 14:18
I have told you these things so that you will have peace of heart and mind, Here on earth you will have many trials and sorrows, but cheer up, for I have overcome the world. – John 16:33
May our Lord Jesus Christ himself and God our Father, who has loved us and given us everlasting  comfort and hope which we don't deserve, comfort your hearts with all comfort, and help you in every good thing you say and do. – 2Thessalonians 2:16-17
What a wonderful God we have – He is the Father of our Lord Jesus Christ, the source of every mercy, and the one who so wonderfully comforts and strengthens us in our hardships and trials. And why does He do this? So that when others are troubled, needing our sympathy and encouragement, we can pass on to them this same help and comfort God has given us. – 2 Corinthians1:3-4
Turn to me and have mercy, for I am alone and in deep distress. My problems go from bad to worse.  Oh, save me from them all!…O Lord, I give my life to you.  I trust in you, my God! Do not let me be disgraced… Show me the right path, O Lord; point out the road for me to follow. Lead me by your truth and teach me, for you are the God who saves me. All day long I put my hope in you. Remember, O Lord, your compassion and unfailing love, which you have shown from long ages past. – Psalm 25:1-4, 5-6, 16-17
God's perspective of death is different than ours. Therefore, those who know God do not have to grieve as one who has no hope.
13 Brothers, we do not want you to be ignorant about those who fall asleep, or to grieve like the rest of men, who have no hope. 14 We believe that Jesus died and rose again and so we believe that God will bring with Jesus those who have fallen asleep in him. 15 According to the Lord's own word, we tell you that we who are still alive, who are left till the coming of the Lord, will certainly not precede those who have fallen asleep. 16 For the Lord himself will come down from heaven, with a loud command, with the voice of the archangel and with the trumpet call of God, and the dead in Christ will rise first. 17 After that, we who are still alive and are left will be caught up together with them in the clouds to meet the Lord in the air. And so we will be with the Lord forever. 18 Therefore encourage each other with these words. – 1 Thessalonians 4:13
Precious in the sight of the LORD is the death of his saints. – Psalms 116:15
Let not your heart be troubled; believe in God, believe also in Me. in My Father's house are many mansions. – John 14:1-3
And I heard a voice from heaven saying, "Write this down: Blessed are those who die in the Lord from now on. Yes, says the Spirit, they are blessed indeed, for they will rest from their hard work; for their good deeds follow them!" – Revelation 14:13
For I reckon that the sufferings of this present time are not worthy to be compared with the glory which shall be revealed in us.  – Romans 8:18
Because of Jesus Christ and what He has done for us, we can receive comfort and healing from God.
He himself bore our sins in his body on the tree, so that we might die to sins and live for righteousness; by his wounds you have been healed. – 1 Peter 2:24
"This is my comfort and consolation in my affliction: that Your word has revived me and given me life."
— Psalm 119:50 (AMPC)

Follow @shadesofgrace_
Disclosure of Material Connection: Some of the links in the post above are "affiliate links." This means if you click on the link and purchase the item, Shades of Grace will receive an affiliate commission. Regardless, I only recommend products or services I use personally and believe will add value to my readers. I am disclosing this in accordance with the Federal Trade Commission's 16 CFR, Part 255 "Guides Concerning the Use of Endorsements and Testimonials in Advertising."