Dec 23rd 18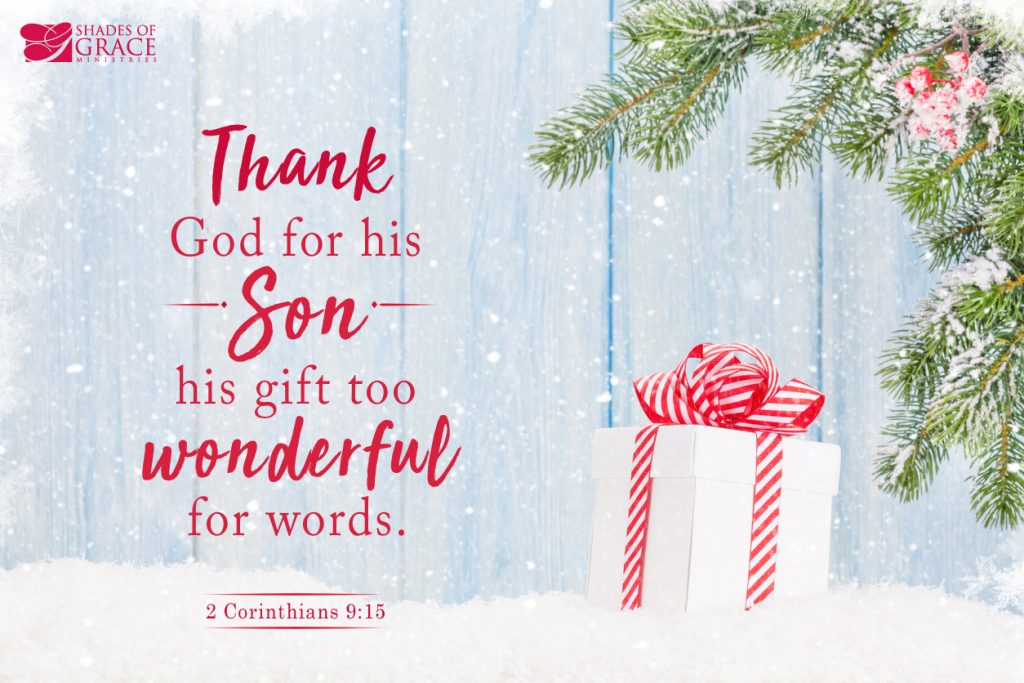 Did you prepare a list for a gift giver this Christmas—a list of items you need or would love to have? Imagine receiving every item on your list. Would you be ecstatic? Overjoyed? Speechless?
May you be that excited and more about the gift of God's Son, Jesus Christ!
"Thank God for his Son—his gift too wonderful for words."
2 Corinthians 9:15, TLB
You have received a gift this Christmas that makes the most extravagant gift on your list pale in comparison.
Jesus sacrificed more than we can possibly imagine … all because of His love for you and me. He willfully turned away from ecstasy in Heaven in order to take on flesh. He walked away from ultimate happiness that we might share in His holiness. His sacrifice began long before the suffering of the cross.
Oh that God would give us the grace to "grasp how wide and long and high and deep is the love of Christ, and to know this love that surpasses knowledge" (Eph. 3:18) — the love expressed in these scriptures:
–

"She will give birth to a son, and you are to give him the name Jesus, because he will save his people from their sins" (Matthew 1:21).
"For God so loved the world that he gave his one and only Son, that whoever believes in him shall not perish but have eternal life" (John 3:16).
"God demonstrates his own love for us in this: While we were still sinners, Christ died for us" (Romans 5:8).
"God made him who had no sin to be sin for us, so that we might become the righteousness of God" (1 Corinthians 5:21).
"Thanks be to God for his indescribably wonderful gift!" (2 Corinthians 9:15).

–
This Christmas, may you experience the Gift too wonderful for words! May you feel His presence and hear His voice. May you glimpse in a fresh way the riches you possess in His righteousness. May your heart overflow with thanks to God for His indescribably wonderful gift! 
On behalf of everyone at Shades of Grace, I want to wish you a Blessed and Merry Christmas. May the peace and joy of Christ rule in your heart this Christmas season and throughout the new year!
In His Grace,

RELATED ARTICLES

Disclosure of Material Connection: Some of the links in the post above are "affiliate links." This means if you click on the link and purchase the item, Shades of Grace will receive an affiliate commission. Regardless, I only recommend products or services I use personally and believe will add value to my readers. I am disclosing this in accordance with the Federal Trade Commission's 16 CFR, Part 255 "Guides Concerning the Use of Endorsements and Testimonials in Advertising."
One Response to "The Gift Too Wonderful for Words"