Dec 24th 17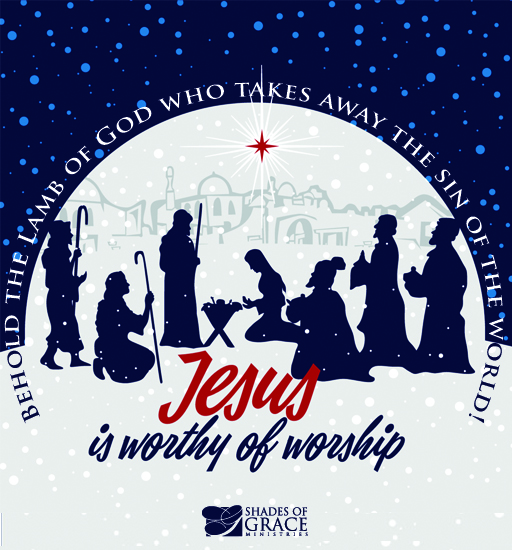 Jesus is worthy of our worship today! As we open Christmas presents, dine on delicious food, and enjoy the company of family and friends, may we remember what it's all about. The wonder and beauty of Christmas are not in the presents but in His presence.
In the midst of all the hustle and bustle and travel and celebration, may we pause and savor His presence. May we "behold the Lamb of God who takes away the sin of the world!" (John 1:29). May we see Him and be filled with worship!
A Prayer
Jesus, we worship you. Word of God made flesh, thank you for choosing to leave the ecstasy of Heaven, take the status of a slave, and be born in human form. Thank you for humbling yourself and being obedient to the point of death on the cross so that we might receive the forgiveness of our sins and live in a relationship with you.

Oh Jesus, may we behold you today! Give us an encounter with YOU! Meet with us, speak to us, surround us with your presence. May we not be so busy with the festivities surrounding your birthday that we take no time to be with You, to behold You, to worship You. King of Kings, You're worthy of our time, our honor, our praise! We worship you!

Immanuel, God with us, cause us to feel just how near you are to us today. Christmas has not magically removed our hurts and sorrows. Some of us are suffering immeasurable loss and pain; others are challenged by daily hardships. Wrap us in your arms and remind us that you see, you care, and you're working on our behalf.

Our real life is in you, Jesus. When you show up again on this earth, we'll show up, too—the real us, the glorious us. What a day that will be! The material possessions of this world will be gone in a flash. Only what is real and lasting will remain. So fix our eyes on your face and give us eternity's value system. May we dwell on earth as citizens of heaven.

Give us your burden for those who don't know you. Fill us with the boldness and courage to share the good news of the Gospel with others. Put your power on our feeble words and humble witness. Bring many to your kingdom in the coming year through our testimony.

Wonderful Counselor … Mighty God … Prince of Peace, we praise you! Now to you, oh King eternal, be honor and glory for ever and ever.

Amen.
A Few Scriptures to Help us Worship Him
The scriptures below remind us of the gift of Himself Jesus gave so that we might know eternal life. Meditating on these passages will foster praise and usher us in to His presence where we'll behold Him!
Matthew 1:21
She will give birth to a son, and you are to give him the name Jesus, because he will save his people from their sins. (Tweet this)
Isaiah 9:6-7
For to us a child is born, to us a son is given, and the government will be on his shoulders. And he will be called Wonderful Counselor, Mighty God, Everlasting Father, Prince of Peace. Of the greatness of his government and peace there will be no end. He will reign on David's throne and over his kingdom, establishing and upholding it with justice and righteousness from that time on and forever. The zeal of the LORD Almighty will accomplish this. (Tweet this)
John 1:14
The Word became flesh and made his dwelling among us. We have seen his glory, the glory of the one and only Son, who came from the Father, full of grace and truth. (Tweet this)
Romans 6:23
For the wages of sin is death, but the gift of God is eternal life in Christ Jesus our Lord.
John 3:16
For God so loved the world that he gave his one and only Son, that whoever believes in him shall not perish but have eternal life.
Galatians 4:4-5
But when the set time had fully come, God sent his Son, born of a woman, born under the law, to redeem those under the law, that we might receive adoption to sonship.
1 John 5:11
And this is the testimony: God has given us eternal life, and this life is in his Son.
John 17:3
"Now this is eternal life: that they may know you, the only true God, and Jesus Christ, whom you have sent."
Colossians 3:3-4 (MSG)
Your old life is dead. Your new life, which is your real life—even though invisible to spectators—is with Christ in God. He is your life. When Christ (your real life, remember) shows up again on this earth, you'll show up, too—the real you, the glorious you.
1 Timothy 1:15-17
Here is a trustworthy saying that deserves full acceptance: Christ Jesus came into the world to save sinners—of whom I am the worst. 16 But for that very reason I was shown mercy so that in me, the worst of sinners, Christ Jesus might display his immense patience as an example for those who would believe in him and receive eternal life. 17 Now to the King eternal, immortal, invisible, the only God, be honor and glory for ever and ever. Amen.
Philippians 2:6-10
Christ Jesus, 6 who, though he was in the form of God, did not count equality with God a thing to be grasped, 7 but emptied himself, by taking the form of a servant, being born in the likeness of men. 8 And being found in human form, he humbled himself by becoming obedient to the point of death, even death on a cross.9 Therefore God has highly exalted him and bestowed on him the name that is above every name, 10 so that at the name of Jesus every knee should bow, in heaven and on earth and under the earth, 11 and every tongue confess that Jesus Christ is Lord, to the glory of God the Father.
–

Tweetables

–
Questions:
Has the busyness and stress of Christmas stolen your worship?
Or perhaps all the gift-giving and gift-desiring has shifted your worship. Have you found yourself worshipping the gifts more than the giver? 
Have you taken time to pause and behold Jesus? 
Which of these scriptures most helped you focus on Jesus? Which passage sparked worship and praise? 
RELATED POSTS:
Disclosure of Material Connection: Some of the links in the post above are "affiliate links." This means if you click on the link and purchase the item, Shades of Grace will receive an affiliate commission. Regardless, I only recommend products or services I use personally and believe will add value to my readers. I am disclosing this in accordance with the Federal Trade Commission's 16 CFR, Part 255 "Guides Concerning the Use of Endorsements and Testimonials in Advertising."