Sep 26th 18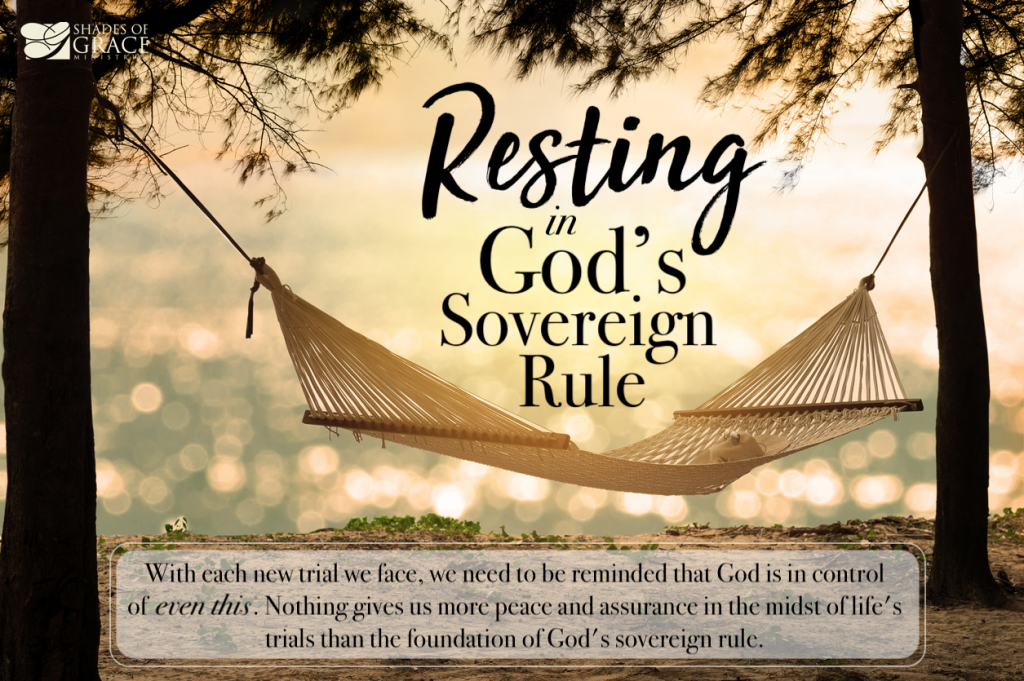 Over the past few months, I've been talking about a vital truth we must remember in seasons of hardship: God is in control.
When we grasp this truth, we not only survive, we thrive in seasons of suffering.
I want you to do more than barely survive in your adversity. I want you to thrive! That's why I wrote this series called "Resting in God's Sovereign Rule."
Suffering and hardship got the best of me until grasped the fact that God is sovereign. During the years in which I was confined to bed and to a wheelchair—years spent suffering immeasurable physical and mental torment—I was despondent, depressed, even suicidal…until this truth permeated my mind and my spirit, until I rested in God's sovereign rule.
That's why I'm sharing these vital truths with you. It's comfort that can transform life's trials.
Even if you know what the Bible says about God's sovereignty, it's good to be reminded. With each new trial I face, I need a refresher course on God's sovereign rule. I need to be reminded that He is in control of even this. Nothing gives me more peace and assurance in the midst of life's trials than the foundation of God's sovereign rule.
Join me in this series, rest confidently in God's loving, sovereign rule — and thrive in the midst of your trial.
Whatever you're going through, don't miss this vital truth. Whether you're facing life's daily challenges or enduring major suffering, understanding God's sovereign rule will revolutionize your life!
Links to the Entire Series
Since the articles in this series were posted gradually over such a long period of time, I wanted to put the links to them together in one place for you.
The articles in the series are:

Follow @shadesofgrace_
Disclosure of Material Connection: Some of the links in the post above are "affiliate links." This means if you click on the link and purchase the item, Shades of Grace will receive an affiliate commission. Regardless, I only recommend products or services I use personally and believe will add value to my readers. I am disclosing this in accordance with the Federal Trade Commission's 16 CFR, Part 255 "Guides Concerning the Use of Endorsements and Testimonials in Advertising."