Aug 27th 18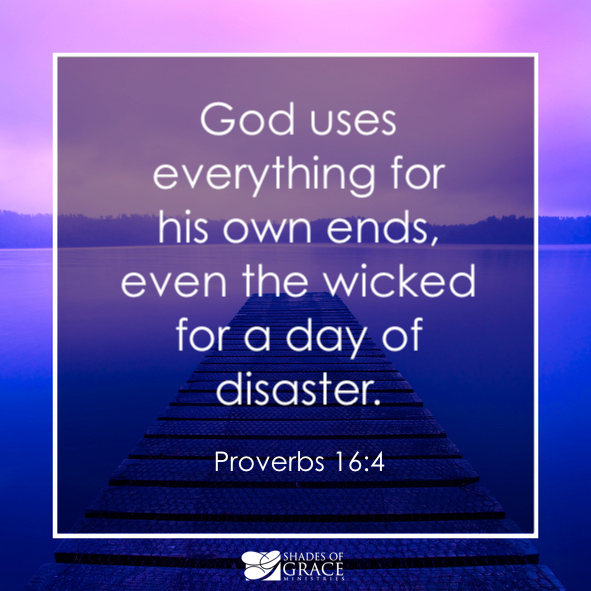 In the previous post, we saw that God oversees people's sinful actions while not being the source of them. He can allow events to take place, where evil plays a role — without being the source of the evil Himself.
God does not originate everything He permits. He does not put evil in anyone's heart. Such evil is the result of man's innate evil desires and Satan's fury. Even when suffering involves the work of the devil, Satan can only do what God allows.
But what about the case of evil people? Does God lift His hand of restraint and allow evil people to fulfill their desires? Occasionally, yes, He does — but only because it serves His higher purpose. 
This was true in the case of Pharaoh … Job … Joseph … and Jesus.
Proverbs 16:4 says, "God uses everything for his own ends, even the wicked for a day of disaster."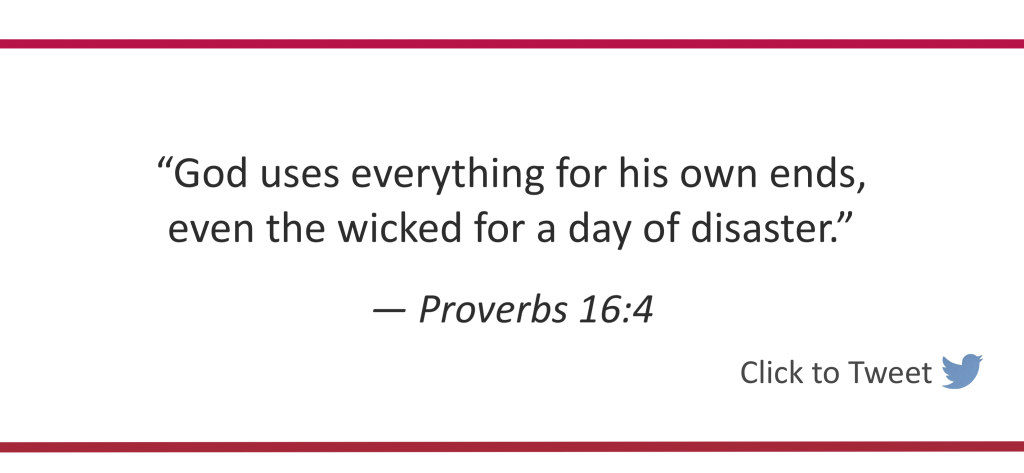 Example: Jesus and the Crucifixion
The New Testament is clear about Jesus' torture and murder. God clearly decreed it.
Preaching to a crowd in Jerusalem, Peter said:
"Jesus of Nazareth … was handed over to you by God's set purpose and foreknowledge, and you, with the help of wicked men, put him to death by nailing him to the cross… Repent…" (Acts 2:22-23, 38).
Notice the mention of:
"God's … foreknowledge" — God saw it coming
"Repent" — their guilt was real.
"God's' set purpose" — God had a purpose for allowing it, and thus decreed it to occur. The literal reading is "by God's having-been-decided counsel."
Two chapters later the point is made even clearer:
"Herod and Pontius Pilate met together with the Gentiles and the people of Israel in this city to conspire against your holy servant Jesus, whom you anointed. They did what your power and will had decided beforehand should happen" (Acts 4:27-28).
A decree by God doesn't make the parties involved mere marionettes on a string. Observe their actions. Pilate washed his hands nervously. The crowds declared, "Let his blood be on us and on our children!" The guilty people felt they were acting freely. [1]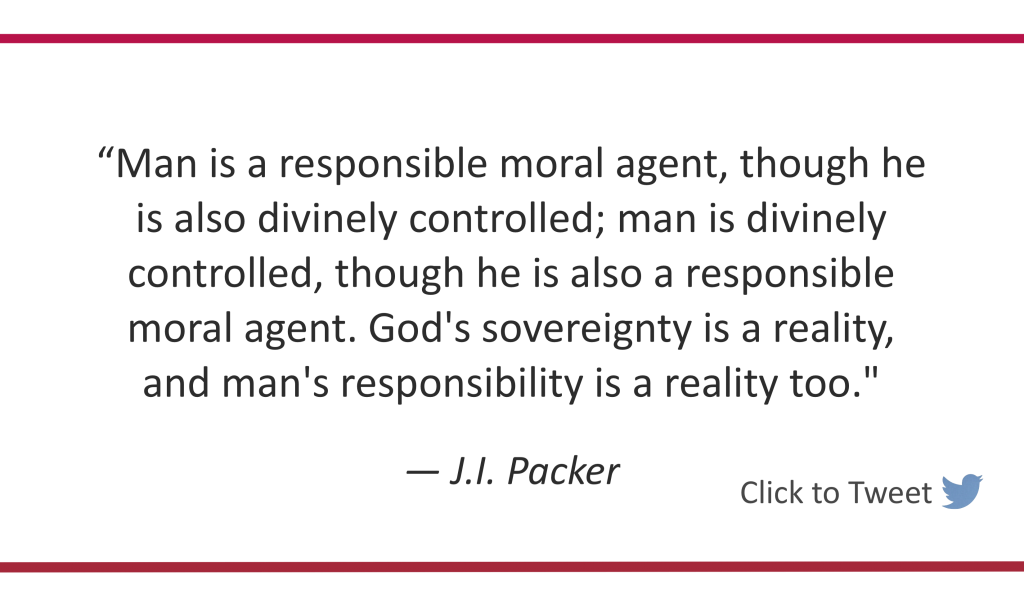 "Oh, but this is different," you assert. "This is an exception to the rule. It was history's great redeeming act. God's role in this heinous act was okay. He switched the world out of autopilot long enough to pay for our sins. On rare occasions like this, it's okay for God to run the world manually."
However, the Bible demonstrates that God governs the world hands-on. He manually oversees everything—the world's large and small, mundane and extraordinary, good and bad circumstances. And He uses everything—even the actions of evil people—for His own ends.
What Types of Circumstances Are the Result of Hands-On Governance by God?
Let's look at the Bible and see what kinds of circumstances God is behind. The following are a few examples Steve Estes lists in When God Weeps:
1. Mildew Growth
In Leviticus, God gave Israel instructions for dealing with mildew.
"When you enter the land of Canaan, which I am giving you as your possession, and I put a spreading mildew in a house in that land, the owner of the house must go and tell the priest" (Leviticus 14:34-35).
The Israelites are instructed when they saw mildew placed by God, they were to call for the priest. But how were they to know the difference between God-caused mildew and that which just grows naturally on the wall? They were never told… because no such distinguishing factor exists.
2. Physical Illness and Disabilities
In Exodus, Moses is reluctant to answer God's call, arguing he's not eloquent and articulate enough to be Israel's spokesperson before Pharoah.
"The LORD said to him, 'Who gave man his mouth? Who makes him deaf or mute? Who gives him sight or makes him blind? Is it not I, the LORD?'" (Exodus 4:11). 
God is sovereign over deafness, speech impediments and blindness. Regarding the man born blind, Jesus said, "…this happened so that the work of God might be displayed in his life" (John 9:3).
3. Life and Death
Moving on from matters of disability to those of life and death, let's look at Deuteronomy where God speaks about His control over such weighty matters.
"See now that I am He! There is no god besides me. I put to death and I bring to life, I have wounded and I will heal, and no one can deliver out of my hand" (Deuteronomy 32:39).  Tweet this
When a baseball slammed into my nephew's mouth and shattered his teeth, God was in control. When my good friend Stuart had a car accident that confined him to a wheelchair for life, God was behind it all. When three-year-old  Andy Leigh Allen was diagnosed with Leukemia and never lived beyond childhood, God was at the wheel. When Kristin Howard contracted meningitis at four years of age, and was deeply wounded with severe, life-long mental and physical handicaps, God was not off-duty. He was manually governing the world and the circumstances of her life.
4. Casting of Lots
Proverbs tells us,
"The lot is cast into the lap, but its every decision is from the LORD" (Proverbs 16:33).  
The Athenian democracy used drawing lots, or sortition, to fill nearly all government offices and juries. Special machines were used to ensure fair drawing of the lots. In 1954 in Rome, a 14-year-old-boy drew lots — or rather, a ball — to determine whether Turkey or Spain would go to the World Cup. Today, football teams flip quarters to determine who kicks first. Youth tournament baseball teams flip a coin to determine who bats first. Yet, every winner past and present was and is chosen by God.
5. Disaster That Strikes
In Amos we are asked,
"When disaster comes to a city, has not the LORD caused it? (Amos 3:6). 
Think of all the city disasters you've seen on 24-hour cable news. Earthquakes, floods, hurricanes, fires, bombs, terrorist attacks, widespread disease — none of it came about apart from God's decree. This includes disaster that strikes a nation, a city, a family, an individual.
6. Kings and Leaders' Actions
Regarding kings and leaders God said,
"The king's heart is in the hand of the LORD; he directs it like a watercourse wherever he pleases" (Proverbs 21:1).   Tweet this
Kings have ordered some gruesome tragedies throughout history: genocide; torture; stonings and murders of innocent people; tongues, fingers and limbs cut off; the use of chemical weapons against their own people. According to Proverbs 21:1, is the cross of Christ a mere exception to the rule?
7. Orders Given by People
"Who can speak and have it happen if the Lord has not decreed it?" (Lamentations 3:37).
This is all encompassing. It includes congressmen making promises, coaches calling plays, teachers having children form a line, daycare workers rocking and whispering "shhhh" in hushed tones to a homesick infant, a worship leader having all stand, a mother telling her kids to clean up their room, and the President ordering a troop surge.
The Bible clearly states that nothing happens outside of God's decree. Either the Bible is true or it isn't. If we believe it is true, then we must embrace the truth regarding God's sovereign rule over all the events of this life. [2]
"The Lord has established his throne in heaven, and his kingdom [his sovereignty] rules over all" (Psalm 103:19, emphasis added).
In Summary…
So, whatever you're going through today — no matter how senseless or unjust it may seem to be — God is going to use it for His loving, eternal purpose in your life. Even if Satan or evil people are the cause of your pain, there is hope! Why? Because God is in control. Not a second escapes His governance. He will bring good from your situation.
–

Tweetables

–
Questions:
What circumstances in your life is God governing manually? What large and small, good and bad circumstances?
Which ones is He using for His own ends?
What might a few of those ends—those eternal purposes—be?
_______________
Joni E. Tada and Steve Estes, When God Weeps: Why Our Sufferings Matter to the Almighty (Grand Rapids, MI: Zondervan, 1997), 73
Ibid., 74-76
* This post is based on a chapter in When God Weeps by Joni E. Tada and Steve Estes.
[expand title="Click here for more about When God Weeps:"]
When God Weeps is an invaluable resource — a Bible study within a book. As the subtitle states, this book not only answers tough questions about God's sovereignty over suffering, it explains why and how our sufferings matter to our loving God.
The opening and six closing chapters are written by Joni Eareckson Tada. The middle five chapters are written by Steve Estes. Estes's chapters contain near-exhaustive Biblical teaching about God's sovereign rule over suffering. The content is informative and comprehensive, yes — but it's also compelling, and easy to read and assimilate.
Joni's chapters are chock-full of encouraging, inspiring truths that cause you to view your circumstances through God's eternal lens. She incorporates examples from her decades as a quadriplegic and from others who have endured unimaginable sufferings. As you read, you find yourself valuing what is of eternal worth and treasuring your hardships because of the eternal good they accomplish.
The appendices contain a wealth of Biblical references. The first appendix is scripture on God's hand in our suffering. It includes scriptures about God's hand over other people's good deeds and wicked actions… His hand over Satan and demons … His hand over plants and animals … and over inanimate objects — even His hand over machinery, tools and technology. The second appendix is scripture on God's purpose in our sufferings. 
When God Weeps is an indispensable resource and one of my all-time favorite books — as you can tell from how many times I've cited it in this and other articles. My copy is highlighted and tagged with sticky notes throughout. I highly recommend it for anyone enduring hardship of any kind, great or small.
As the back cover says, "[Joni] and lifelong friend Steven Estes probe beyond glib answers that fail us in our time of deepest need. Instead, with firmness and compassion, they reveal a God big enough to understand our suffering, wise enough to allow it—and powerful enough to use it for a greater good than we can ever imagine.
The front flap of the book states:
It's easy to trust God when things are going our way and the world makes sense. But when suffering strikes–especially seemingly senseless suffering–we are filled with doubt and stunned by events spiraling beyond our control. In the midst of suffering, we often question the very foundation of our faith–our belief in the God who says he loves us.

Since our trust and obedience rest on God's character, the questions that life's tragedies force us to face are difficult, even frightening. Who is God? Can he really be trusted? What are his purposes in the face of suffering? If he can stop suffering, why doesn't he?

Joni Eareckson Tada, a woman who has lived in a wheelchair for more than thirty years, and Steve Estes, a pastor and one of Joni's closest friends, explore the answers. When God Weeps is not so much a book about suffering as it is about God. It tackles tough questions about heaven and hell, horrors and hardships, and why God allows suffering in this life.

Through a panoramic overview of what the Bible says about suffering, the authors make clear who God is, why he permits so much heartache and pain, and how it is we can trust him. With both a practical edge and heartfelt warmth, When God Weeps offers a message of deep reliance on God–and keys to a radical, life-transforming dependence on his love and mercy in spite of our doubts, fears, longings, and questions.

It's a message much needed. Despair and discouragement are rampant. At the same time, fewer people are able to balance God's purposes and his mercies. Instead, attempting to avoid tragedy and suffering, many Christians confuse simple formulas for faith. But where does that leave the family who loses a son on a military mission? Or the young mother who isn't healed of cancer?

When God Weeps is for people like these . . . and for thousands more who need more—much more—than answers.
[/expand]
OTHER ARTICLES IN THIS SERIES:
RELATED ARTICLES:

Follow @shadesofgrace_
Disclosure of Material Connection: Some of the links in the post above are "affiliate links." This means if you click on the link and purchase the item, Shades of Grace will receive an affiliate commission. Regardless, I only recommend products or services I use personally and believe will add value to my readers. I am disclosing this in accordance with the Federal Trade Commission's 16 CFR, Part 255 "Guides Concerning the Use of Endorsements and Testimonials in Advertising."