Dec 28th 10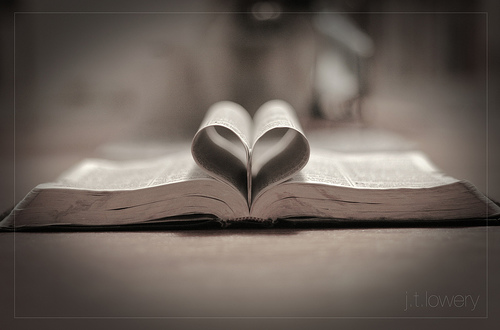 Until we reach Heaven, we won't know every single reason God allowed our specific adversities. However, being reminded of a few of the things God might be accomplishing through them changes our perspective of our current problems.
God has loving reasons for allowing our trials. He didn't let that pain touch you because He lacked love but because He does love you.
God allows difficulties to enter our lives so that we might:
1.  Find Him and Require Him.
God works through suffering to cause us to seek and find Him – and therefore know a greater, deeper, more satisfying joy than we could find in the things we've substituted for Him.
"3Let the hearts of those rejoice who seek and require the Lord as their indispensable necessity.  4Seek, inquire of and for the Lord, and crave Him and His strength (His might and inflexibility to temptation); seek and require His face and His presence continually evermore" (Psalm 105:3-4, AMP).
When life is comfortable and easy, often nothing nudges us to the point where God is an indispensable necessity—to the place where feeling, experiencing, seeing and hearing Him are not options, they're daily requirements
"No one calls on Your name and awakens and bestirs himself to take and keep hold of You" (Isaiah 64:7).
Suffering often moves us to this point—to the place where we awaken and bestir ourselves to take and keep hold of Jesus!
"My soul yearns, even faints, for the courts of the LORD; my heart and my flesh cry out for the living God…Better is one day in your courts than a thousand elsewhere; I would rather be a doorkeeper in the house of my God than dwell in the tents of the wicked" (Psalm 84:2,10)
Better is one day in His courts than a thousand elsewhere!  It is better to be in His presence—better to 'find' Him—no matter what suffering or adversity ushers us there.  It is better to know Him in adversity than to be without him in a life of ease.
Nothing compares to knowing Jesus! (See Philippians 3:8). Like Job, we are satisfied in our suffering by seeing God – by being made to experience and enjoy Him.
"My ears had heard of you but now my eyes have seen you" (Job 42:5).
2.  Find the Life of His Word
"For the word of God is alive and active" (Hebrews 4:12).
The word for "active" in the original language was a term used in secular society of the day to refer to a medicine that was effectively engaged in the work it was designed to do.  God's word is designed to do a work in our lives in the midst of our suffering.  Are we letting God administer the Word to us that we need each day?
"This is my comfort and consolation in my affliction; that your word has revived me and given me life… "It was good for me to be afflicted so that I might learn your decrees.  The law [word] from your mouth is more precious to me than thousands of pieces of silver and gold. You are my refuge and my shield; I have put my hope in your word" (Psalm 119:50, 71-72, 114).
3.  Live by the Spirit of Christ and the Life of God's Word
"As the living Father hath sent me, and I live by the Father: so he that eateth me, even he shall live by me" (John 6:57).
Our true life is in the life of Christ. To the degree that we feed on Him – feed on the Word of God – we will receive sustenance. We are infused with His strength and power in our difficulties, hardships and weaknesses (see Phil. 4:13).
"My grace is sufficient for you, for my power is made perfect in weakness." Therefore I will boast all the more gladly about my weaknesses, so that Christ's power may rest on me. 10 That is why, for Christ's sake, I delight in weaknesses, in insults, in hardships, in persecutions, in difficulties. For when I am weak, then I am strong" (2 Corinthians 12:9-10).
The word "made perfect" in the original language means "completed, accomplished, fulfilled".  God's power is accomplished in us during our trials when we choose to let Jesus live for us – to let Him be our endurance, our perspective, our peace. There is a big difference between having Jesus live in us and having him live for us.
"I have been crucified with Christ and I no longer live, but Christ lives in me" (Gal. 2:20).
Our "real" life is in Christ!
"For you died, and your life is now hidden with Christ in God. When Christ, who is your life, appears, then you also will appear with him in glory" (Col. 3:3-4, The Message).
Suffering bankrupts us and makes us totally dependent on God.  His life within us offers to us the same power that raised Jesus from the dead.
"And if the Spirit of him who raised Jesus from the dead is living in you, he who raised Christ from the dead will also give life to your mortal bodies through his Spirit, who lives in you" (Rom. 8:11).
We want the power that raised Christ from the dead – we want it working for us in our health, finances, families or careers – but we abhor the act that precedes it. By definition, resurrection means raising something from the dead. There can be no resurrection without first experiencing death.
"I want to know Christ and the power of his resurrection and the fellowship of sharing in his sufferings, becoming like him in his death…" (Phil 3:10).
Adversity renders our own resources and abilities dead and gives us the choice to live by the power and life that raised Christ from the dead. It presents a glorious opportunity for us to daily live out the great exchange of the cross!
4. Know God Intimately
"I want to know Christ," Paul wrote in Philippians 3:10. The Greek word for know is also used to describe the intimate encounter between husband and wife.
All three points above describe the most intimate of encounters — the life of Christ, the Word of God, living for us.
Often in the New Testament, within the context of suffering this intimate encounter with Christ is described. For example, 2 Corinthians 1:5 says,
"Just as the sufferings of Christ flow over into our lives, so also through Christ our comfort overflows."
Jesus becomes one with us in our sufferings. I love the way Joni E. Tada words it: "He becomes one with us in our sufferings. He takes on our flesh and we take on His holiness."
Hebrews 12:10-11 describes this as well:
" Our fathers disciplined us for a little while as they thought best; but God disciplines us for our good, that we may share in his holiness. No discipline seems pleasant at the time, but painful. Later on, however, it produces a harvest of righteousness and peace for those who have been trained by it."
He takes on our flesh; we take on his holiness. It's an intimate encounter. Our trials bring us to the cross, where we die and his resurrection power fills us. Resurrection power isn't needed if there isn't a death. But oh boy, when there is, it's glorious!!  Our frail flesh is exchanged for His eternal, powerful Spirit!  We're given a priceless gift – an intimate experience of Christ that nothing can rival.
5. Get Beneath the Exterior of Our Circumstances to the Package of Pure Gold Underneath

God works through life's circumstances – even the hardships – to show us who He is. This increased revelation and intimacy with Him can transform the way we view our adverse circumstances, causing us to realize that victories, triumphs and abundance aren't the only forms in which blessings arrive, but God uses all types of presentations – all types of paper – to wrap our blessings.
We shouldn't be quick to judge our circumstances solely by appearance and resent or possibly even discard the most invaluable gift we could ever receive – that of  knowing Jesus more intimately.
This is why I say that the most priceless treasure I've ever received is the gift of knowing Jesus more intimately—literally existing by His life—because of the trial I went through. This incredible gift came "wrapped" in the paper of tears, loss, pain and deep suffering. I was tempted to judge the gift by the wrapping paper and throw it away…or at the very least, resent it. But I finally came to understand that my trial wasn't a plague of severe loss – but a package of pure gold.
Although I had a personal relationship with Jesus since childhood, I never knew how much of Him I was missing until I experienced suffering beyond my ability to endure.  On my worst days, it felt like I was literally being crushed by the overwhelming trial I faced. I asked God to take me home, and considered taking my life myself because it seemed the torture was more than I could bear.
This forced me to turn to God's Word and the life of Christ like never before. They became so much more than head knowledge to me. They became my life! My existence!  My joy!  I had never clung to the truth and life of God's Word so tightly. I had never needed the Spirit of Jesus Christ so desperately.
When I put my trust in Christ as a young girl, His Spirit came to dwell in me.  Yet, the years of affliction brought me to a place of needing Him to live for me. There is a big difference between the two.  One is me doing my best for Christ and the other is Him living my life for me.
Stripped of my abilities and unable to survive apart from Jesus, I came to exist by His life and the life of God's Word. This is what I mean when I say that my illness has been a package of pure gold. It was the best experience of my life. Because of my affliction, I relied upon God's Word and the life of Christ. I was infused with His comfort, His peace, His strength, His joy and His eternal perspective. I was infused with grace beyond measure – God's comfort for life's trials.
When we put our faith in Jesus Christ as our Savior and Lord, He comes and lives in us (see Ga. 4: 6 and 2 Cor. 1:22). As born again Christians, we dwell on two plains: a temporal, earthly plain – in our 'natural' man – and a spiritual, eternal plain through the Spirit of Christ.
Suffering impairs our ability to live autonomous of God – to survive by the abilities of our natural man. Suffering pushes us to the end of ourselves…to the place where  the life of Christ and God's Word become indispensable necessities. There is no sweeter place to be.
Questions: Why is it sometimes hard to value knowing Jesus intimately above living comfortably?
RELATED ARTICLES:
RELATED SERIES: "RESTING IN GOD'S SOVEREIGN RULE"

Follow @shadesofgrace_
Disclosure of Material Connection: Some of the links in the post above are "affiliate links." This means if you click on the link and purchase the item, Shades of Grace will receive an affiliate commission. Regardless, I only recommend products or services I use personally and believe will add value to my readers. I am disclosing this in accordance with the Federal Trade Commission's 16 CFR, Part 255 "Guides Concerning the Use of Endorsements and Testimonials in Advertising."