Mar 11th 14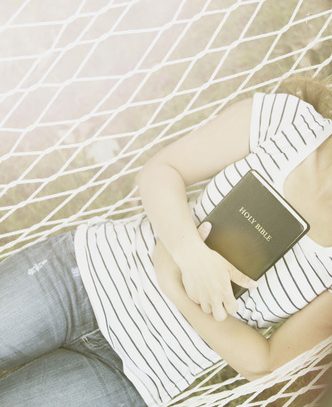 In yesterday's post, I mentioned that I'm in a season of great uncertainty and compacted suffering. The latest shoes to drop, so to speak, involve the loss of my health insurance and the illness of a family member and consequent financial, physical, and logistical demands.
Together with the trials of the last few years this has felt like an avalanche of overwhelming, suffocating, destructive proportions, especially as I look to the future and what seem to be financial, logistical, and physical impossibilities.
But, as I said in part one, God still clothes the lilies and feeds the birds, and He will provide for my every need. He will provide for your every need, too, in your season of uncertainty.
Ten Steps for Seasons of Uncertainty
Times like this elicit memories of lessons God taught me in the crucible of suffering years ago—lessons I'm revisiting and employing in my current season of uncertainty and trial. In this post series, I'm sharing ten of these lessons and actions steps. 

In times of uncertainty we should:
Lesson #1: Rest in God's Sovereign Rule
God rules supremely over all of the circumstances of our lives.
"The Lord has established his throne in heaven, and his kingdom [his sovereignty] rules over all" (Psalm 103:19).
The Biblical definition of God's sovereignty simply means that His kingdom rules over everything. Sometimes the broad, sweeping concepts are the hardest for my finite mind to comprehend. A dictionary definition sheds helpful light on this deep subject.
"Sovereign" means:
1. The supreme ruler; king or queen…monarch
2. Having supreme control
3. Greatest in rank, authority, power
4. Independent of the control of another; freedom from outside control [i]
God is the supreme ruler of the universe. He has ultimate control over all details. No one outranks Him . . . ever. He rules independent of the control of any other being, even Satan.
Absolutely no one has more control over the events of this world—over the events in your life—than God. In other words, the buck stops with Him.
Twenty-first century American Christians take an approach to God's sovereignty that is similar to a piece of playground equipment—the seesaw. We believe that one day God is in control of our lives and the next day Satan or an evil person has gained control over Him.
This causes bondage and robs us of peace, contentment, fellowship with God, perseverance, proven character, growth, maturity, and transformation to the image and character of Christ. It fosters anger, bitterness, depression, despair, impatience, discontentment….
The Benefits
It is only after we truly view our circumstance through the lens of God's sovereign rule that we're able to worship Him, give thanks in all things, and receive His peace, His joy, His forgiveness, His perspective, His endurance, and His character. It is then that we realize we can be more than conquerors in all things—even in the midst of suffering. (See Romans 8:37 )
Adversity got the best of me until I grasped this scriptural reality, this foundational truth. Understanding that God rules supremely is a prerequisite to experiencing peace and victory in seasons of uncertainty. We must come to grips with the fact God is sovereign and govern our lives—our thoughts, our reactions, our attitudes, our beliefs—accordingly.
If we're to know any measure of peace amid a deluge of disappointment and uncertainty, we must view our lives in the light of God's sovereign rule.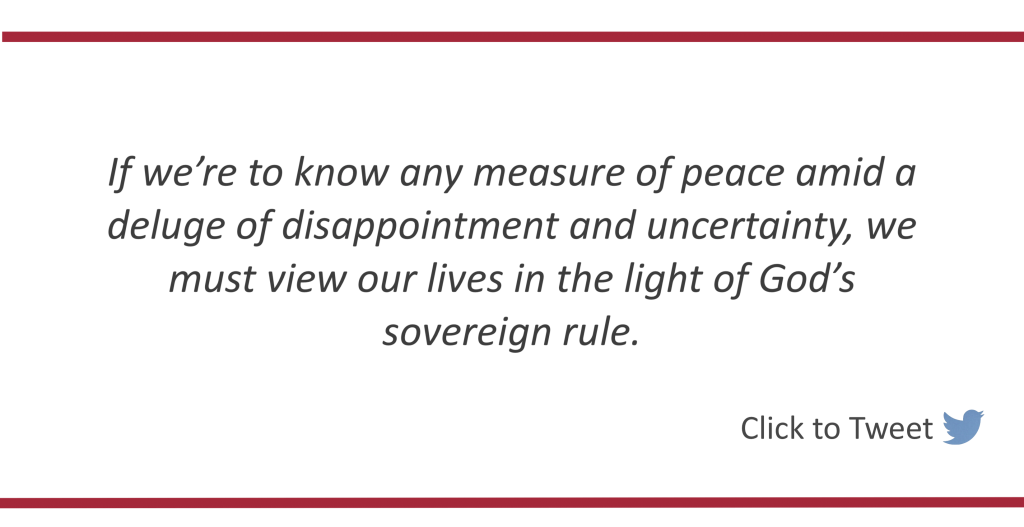 God's sovereignty is so foundational to overcoming adversity that I wrote about it extensively in this series.
Nothing has given me more peace in seasons of suffering and uncertainty than the realization that God is sovereign over every detail of my past, present, and future. In His infinite wisdom and love, He allows only the difficulties that will work for my good and His glory to enter my life.
Beloved, God is in control of every detail of your life today. Whatever happened in the past to create your present difficulties—God was in control of those details, too. He loves you immeasurably, and He holds your life in the palm of His hand. Nothing has been allowed to touch you without first being filtered through His fingers of love. Only the circumstances that will benefit you and reveal God's character through you have been allowed to seep through His protective fingers.
In His omniscience, God knows what difficulties will work for our good and His glory. God sees the potential for our lives and allows the experiences necessary for us to reach it. One day, looking back from Heaven, through the lens of a Holy God, we will see all the good that came from our afflictions and we will thank Him for every discomfort we endured.
We do not have to fear tomorrow and the circumstances tomorrow may hold because God is already there … and He is governing every detail. We can rest in His sovereign rule.
–

More Tweetables

–
A Moment of Worship: Sovereign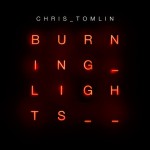 Sovereign by Chris Tomlin
From the Album Burning Lights
Listen on Apple Music | Download on iTunes
Listen on Prime Music | Download from Amazon
Questions:
Is there a situation in your life that you don't understand?
Are you dealing with something painful, stressful, or perplexing? 

Do you harbor anger and bitterness over something that happened in your past? 

Do you mentally rehearse your "if only's"?

"If only I hadn't lost my job…" 

"If only I hadn't gotten sick…"

"If only my loved one hadn't died…"?

Are you fearful of what might occur in your future?

Beloved, God reigns in supreme, ceaseless control over every detail of your past, present, and future. He "works out everything in conformity with the purpose of his will" (Eph. 1:11) — and His will for your life is glorious! His plan is "for your welfare, not for disaster, to give you a future and a hope." (Jer. 29:11, HCSB) Rest in His sovereign rule.
OTHER POSTS IN THIS SERIES
RELATED POSTS
____________
[i] Barnhart, R. K., ed. World Book Dictionary. 2 vols. (Chicago: Doubleday & Co., 1994)

Follow @shadesofgrace_
Disclosure of Material Connection: Some of the links in the post above are "affiliate links." This means if you click on the link and purchase the item, Shades of Grace will receive an affiliate commission. Regardless, I only recommend products or services I use personally and believe will add value to my readers. I am disclosing this in accordance with the Federal Trade Commission's 16 CFR, Part 255 "Guides Concerning the Use of Endorsements and Testimonials in Advertising."