Jan 9th 14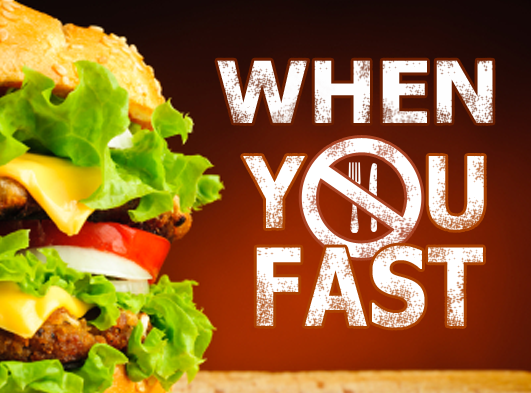 When was the last time you entered into a Biblical fast? Do you believe a Christian should fast only on rare occasions  … if ever at all? 
When … Not If
After Jesus called his disciples, He gave them their first public teaching in the Sermon on the Mount. In it He explained to them the kingdom of God — its laws and life. He provided the pattern by which each of us is to live as a child of God. This pattern mentions three specific responsibilities: giving, praying and fasting. Every disciple (even we modern day disciples) is entrusted with these responsibilities.
Jesus combined the mention of each responsibility with the word "when" – "when you give," "when you pray," and "when you fast."
2 "when you give to the needy, sound no trumpet before you, as the hypocrites do … 3 But when you give to the needy, do not let your left hand know what your right hand is doing, 4 so that your giving may be in secret. And your Father who sees in secret will reward you.

5 "And when you pray, you must not be like the hypocrites…. 6 But when you pray, go into your room and shut the door and pray to your Father who is in secret. And your Father who sees in secret will reward you.

16 "And when you fast, do not look gloomy like the hypocrites… 17 But when you fast, anoint your head and wash your face, 18 that your fasting may not be seen by others but by your Father who is in secret. And your Father who sees in secret will reward you."

Matthew 6:2, 3, 5, 6, 16, 17
Jesus did not say "if you fast," but "when you fast." He made it obvious that fasting is to be a regular part of the Christian life. We are to engage in it like we do giving and praying.
Deliberate Decision
We do not wait and decide to tithe after we've received a paycheck, paid all our bills, and spent money on frivolous things. No, we determine in advance that we are going to tithe.  Tithing is practically on our calendar. We know that when we receive a paycheck, we will give the first ten percent to God.
We do not wait until tomorrow morning to decide, depending on how we feel, whether or not we will have a time of personal devotion and prayer. We know that scripture exhorts us to seek God first. Therefore, we set our alarm so that we wake early for prayer—so that we have time to spend with God before beginning the day's activities. Prayer is on our agenda for the next morning.
If we are going to treat fasting the same as we do giving and praying, we will determine in advance that we are going to fast. We will plan toward it.
Jesus Counted on Us Fasting
Jesus planned on you and me fasting as part of the lifestyle of a disciple—just as giving and praying are to be a regular part of our lifestyle.
When Jesus was questioned as to why His disciples did not fast, as John the Baptist's disciples fasted and the Pharisees fasted, Jesus replied,
"Can you make the guests of the bridegroom fast while he is with them? But the time will come when the bridegroom will be taken from them; in those days they will fast" (Luke 5:34-35).
"In those days they will fast," Jesus said. He did not say:
"In those days they might fast," or
"In those days they will fast when it suits their schedule", or
"In those days they will fast when it is comfortable," or
"In those days they will fast when they feel spiritually significant enough," or
"In those days, the super spiritual will fast—the pastors, church leaders, Sunday School teachers and ministry heads."
No, Jesus was speaking of all who would claim to be followers of Christ. He made no exclusions. After He ascended to Heaven, we would fast.
If you are a Christian, a modern day disciple and follower of Christ, God expects you to fast. Not just some of us. Not just the spiritual leaders—but all of us. God expects you to fast.
Following Jesus' Pattern
Jesus began his earthly ministry with a 40-day fast. (See Luke 4:1-14; Matthew 4:1-11.)
Jesus doesn't expect us, His modern day disciples, to do something He didn't do. If the Word of God—the One who spoke this world into being—found fasting necessary in God's economy, then who are we to try to live by any other standard? Who are we to think that we can attempt to live without it? In his book Fasting, Jentezen Franklin asks a poignant question:
"If Jesus could have accomplished all He came to do without fasting, why would He fast? The Son of God fasted because He knew there were supernatural things that could only be released that way. How much more should fasting be a common practice in our lives." [i]
Jesus expected his disciples to do as He had done.
"You address me as 'Teacher' and 'Master,' and rightly so," Jesus said in John 13. "That is what I am…I've laid down a pattern for you. What I've done, you do. I'm only pointing out the obvious. A servant is not ranked above his master; an employee doesn't give orders to the employer. If you understand what I'm telling you, act like it – and live a blessed life."
If we want to live a blessed life, an anointed life, we will give, we will pray…and we will fast.
Part of Your Lifestyle
A pastor once shared with me his frustration over the lack of spiritual and physical growth of his church. "I led them in a twenty-one day fast a couple of years ago," he said, "and was really expecting it to make a huge difference. I thought God was really going to use it to change the church, but nothing came of it."
On a human level, I sympathize with his plight; but at the same time, can you imagine the identical attitude applied to our personal finances and tithing? It would sound something like this:
"I'm so frustrated with barely getting by. I am behind on all of my bills — I just never have enough! I tithed out of one weekly paycheck a few years ago and was expecting it to really turn my finances around. God says give and He will open the windows of Heaven. I just don't understand why it didn't work."
It sounds a little ridiculous, doesn't it? And very unscriptural. Yet this is our approach to fasting. We rarely, if ever, engage in a Biblical fast. Yet God intends for fasting to be a part of our lifestyle.
Questions:
What is your approach to fasting? 
Do you fast and pray as a regular part of your spiritual walk with Christ?

If not, how can you incorporate fasting?

  
If you'd like to incorporate fasting with the encouragement and support of friends, Pursuit 21 begins soon. You're invited to join us!
__________________
[i] Jentezen Franklin, Fasting (Lake Mary, FL: Charisma House, 2008), 4

Follow @shadesofgrace_
Disclosure of Material Connection: Some of the links in the post above are "affiliate links." This means if you click on the link and purchase the item, Shades of Grace will receive an affiliate commission. Regardless, I only recommend products or services I use personally and believe will add value to my readers. I am disclosing this in accordance with the Federal Trade Commission's 16 CFR, Part 255 "Guides Concerning the Use of Endorsements and Testimonials in Advertising."