May 22nd 13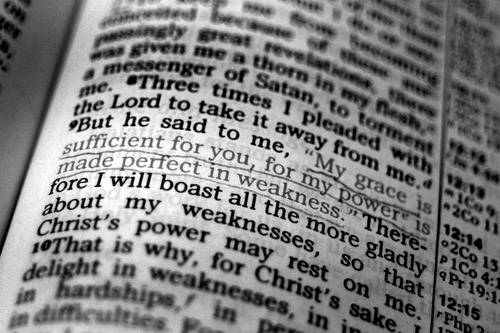 What better way to end this series about God's strength in our weakness than by looking to the source of our strength, the Word of God—the Living Word, Jesus Christ, and the written word, the Bible.
It's vital that our minds be renewed through scripture, giving us an understanding of God's perspective of our weakness. But victory through weakness doesn't occur by mere head knowledge. Scripture is alive! It possesses power! (Hebrews 4:12) This power comes through the Spirit of Christ—the Holy Spirit.
"This is my comfort and consolation in my affliction: that Your word has revived me and given me life" (Psalm 119:50, AMPC).
God designed His Word to do a work in our lives. He allowed our weakness to occur in order to draw us to Him—that we might look to HIM and receive His strength. He becomes our strength when we remain in Him and His Word remains in us.
These scriptures about weakness and God's strength are a great place to begin. Meditate on them and let the Holy Spirit renew your mind and fill you with His power and perspective. But don't stop with these verses—expand from them into the rest of scripture.
This is our comfort and consolation in our affliction and weaknesses—that His word has revived us and given us life and strength and power!
Scriptures About Weakness and Strength
Exodus 15:2 (ESV)
The Lord is my strength and my song,
and he has become my salvation;
this is my God, and I will praise him,
my father's God, and I will exalt him.
Joshua 1:9 (ESV)
Have I not commanded you? Be strong and courageous. Do not be frightened, and do not be dismayed, for the Lord your God is with you wherever you go.
1 Samuel 2:9 (NKJ)
He will guard the feet of His saints,
But the wicked shall be silent in darkness.
For by strength no man shall prevail.
2 Samuel 22:33 (NKJ)
God is my strength and power,
And He makes my way perfect. (Tweet This)
1 Chronicles 16:11 (ESV)
Seek the Lord and his strength;
seek his presence continually! (Tweet This)
Nehemiah 8:10 (ESV)
…the joy of the Lord is your strength.
Psalm 18:1-3 (ESV)
I love you, O Lord, my strength.
2 The Lord is my rock and my fortress and my deliverer,
my God, my rock, in whom I take refuge,
my shield, and the horn of my salvation, my stronghold.
3 I call upon the Lord, who is worthy to be praised,
and I am saved from my enemies. (Tweet This)
Psalm 33:16 (ESV)
The king is not saved by his great army;
a warrior is not delivered by his great strength.
Psalm 27:1 (NKJ)
The Lord is my light and my salvation; Whom shall I fear?
The Lord is the strength of my life; Of whom shall I be afraid? (Tweet This)
Psalm 31:24 (NKJ)
Be of good courage,
And He shall strengthen your heart,
All you who hope in the Lord.
Psalm 61:1-4 (HCSB)
God, hear my cry;
pay attention to my prayer.
I call to You from the ends of the earth
when my heart is without strength.
Lead me to a rock that is high above me,
for You have been a refuge for me,
a strong tower in the face of the enemy.
I will live in Your tent forever
and take refuge under the shelter of Your wings. Selah

Psalm 73:26 (ESV)
My flesh and my heart may fail,
but God is the strength of my heart and my portion forever. (Tweet This)
Psalm 84:5-7 (AMPC)
5 Blessed (happy, fortunate, to be envied) is the man whose strength is in You, in whose heart are the highways to Zion.

6 Passing through the Valley of Weeping (Baca), they make it a place of springs; the early rain also fills [the pools] with blessings.

7 They go from strength to strength [increasing in victorious power]; each of them appears before God in Zion.
Psalm 105:3-4 (AMPC)

3 Glory in His holy name; let the hearts of those rejoice who seek and require the Lord [as their indispensable necessity].

4 Seek, inquire of and for the Lord, and crave Him and His strength…seek and require His face and His presence [continually] evermore.
Psalm 147 (NASB)
5 Great is our Lord and abundant in strength; His understanding is infinite.

10 He does not delight in the strength of the horse;
He does not take pleasure in the legs of a man.

12 Praise the Lord, O Jerusalem!
Praise your God, O Zion!
13 For He has strengthened the bars of your gates;
He has blessed your sons within you.
Isaiah 40:28-31 (ESV)
28 Have you not known? Have you not heard?
The Lord is the everlasting God,
the Creator of the ends of the earth.
He does not faint or grow weary;
his understanding is unsearchable.
29 He gives power to the faint,
and to him who has no might he increases strength.
30 Even youths shall faint and be weary,
and young men shall fall exhausted;
31 but they who wait for the Lord shall renew their strength;
they shall mount up with wings like eagles;
they shall run and not be weary;
they shall walk and not faint.
Isaiah 41:10 (ESV)
Fear not, for I am with you;
be not dismayed, for I am your God;
I will strengthen you, I will help you,
I will uphold you with my righteous right hand.
Isaiah 30:15 (ESV)
…in quietness and in trust shall be your strength.
Joel 3:10 (ESV)
…Let the weak say, 'I am strong.'
Hab 3:17-19 (AMPC)
17 Though the fig tree does not blossom and there is no fruit on the vines, [though] the product of the olive fails and the fields yield no food, though the flock is cut off from the fold and there are no cattle in the stalls,

18 Yet I will rejoice in the Lord; I will exult in the [victorious] God of my salvation!

19 The Lord God is my Strength, my personal bravery, and my invincible army; He makes my feet like hinds' feet and will make me to walk [not to stand still in terror, but to walk] and make [spiritual] progress upon my high places [of trouble, suffering, or responsibility]!
Romans 8:26 (NKJ)

Likewise the Spirit also helps in our weaknesses.
1 Corinthians 1:26-29 (ESV)
26 For consider your calling, brothers: not many of you were wise according to worldly standards, not many were powerful, not many were of noble birth. 27 But God chose what is foolish in the world to shame the wise; God chose what is weak in the world to shame the strong; 28 God chose what is low and despised in the world, even things that are not, to bring to nothing things that are, 29 so that no human being might boast in the presence of God.
1 Corinthians 2:1-5 (ESV)
And I, when I came to you, brothers, did not come proclaiming to you the testimony of God with lofty speech or wisdom. 2 For I decided to know nothing among you except Jesus Christ and him crucified. 3 And I was with you in weakness and in fear and much trembling, 4 and my speech and my message were not in plausible words of wisdom, but in demonstration of the Spirit and of power, 5 so that your faith might not rest in the wisdom of men but in the power of God.
2 Corinthians 4:7-11 (ESV)
7 But we have this treasure in jars of clay, to show that the surpassing power belongs to God and not to us. 8 We are afflicted in every way, but not crushed; perplexed, but not driven to despair; 9 persecuted, but not forsaken; struck down, but not destroyed; 10 always carrying in the body the death of Jesus, so that the life of Jesus may also be manifested in our bodies. 11 For we who live are always being given over to death for Jesus' sake, so that the life of Jesus also may be manifested in our mortal flesh.
2 Corinthians 12:5 (NASB)
On behalf of such a man I will boast; but on my own behalf I will not boast, except in regard to my weaknesses.
2 Cornithians 12:9-10 (HCSB)
9 But He said to me, "My grace is sufficient for you, for power is perfected in weakness." Therefore, I will most gladly boast all the more about my weaknesses, so that Christ's power may reside in me. 10 So I take pleasure in weaknesses, insults, catastrophes, persecutions, and in pressures, because of Christ. For when I am weak, then I am strong.
Ephesians 6:10 (ESV)
Finally, be strong in the Lord and in the strength of his might.
Philippians 4:13 (AMPC)
I have strength for all things in Christ Who empowers me [I am ready for anything and equal to anything through Him Who infuses inner strength into me; I am self-sufficient in Christ's sufficiency]. (Tweet This)
Hebrews 4:15-16 (ESV)
15 For we do not have a high priest who is unable to sympathize with our weaknesses, but one who in every respect has been tempted as we are, yet without sin. 16 Let us then with confidence draw near to the throne of grace, that we may receive mercy and find grace to help in time of need.
Revelation 3:8 (HCSB)
8 I know your works. Because you have limited strength, have kept My word, and have not denied My name, look, I have placed before you an open door that no one is able to close.
–

More Tweetables
 Question: Which scripture spoke the most to you today?

OTHER POSTS IN THIS SERIES:

Follow @shadesofgrace_
Disclosure of Material Connection: Some of the links in the post above are "affiliate links." This means if you click on the link and purchase the item, Shades of Grace will receive an affiliate commission. Regardless, I only recommend products or services I use personally and believe will add value to my readers. I am disclosing this in accordance with the Federal Trade Commission's 16 CFR, Part 255 "Guides Concerning the Use of Endorsements and Testimonials in Advertising."
12 Responses to "God's Power in Weakness (5): Scriptures About Weakness and Strength"