May 15th 13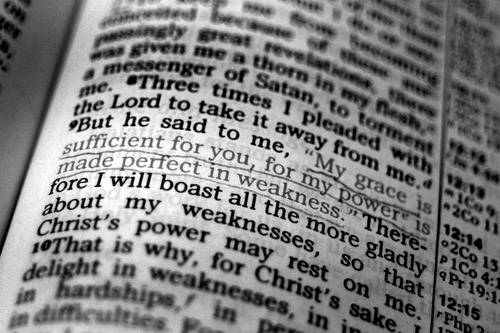 Great men of God throughout history have had at least one common experience—weakness in the face of God's call. Below are excerpts from C.H. Spurgeon, Andrew Murray, and David Wilkerson regarding weakness.
These excerpts helped me view my weakness through God's eyes. I can easily become so preoccupied with the temporal realm, so accustomed to judging life from a human standpoint, that I start viewing my weakness as a liability, not the spiritual asset that it is. In fact, weakness is not just an asset, it's a prerequisite to being used by God.
Andrew Murray
There is no truth more generally admitted among earnest Christians than that of their utter weakness. There is no truth more generally misunderstood and abused. Here, as elsewhere, God's thoughts are heaven-high above man's thoughts.

The Christian often tries to forget his weakness: God wants us to remember it, to feel it deeply. The Christian wants to conquer his weakness and to be freed from it: God wants us to rest and even rejoice in it. The Christian mourns over his weakness: Christ teaches His servant to say, "I take pleasure in infirmities; most gladly will I glory in my infirmities." The Christian thinks his weakness his greatest hindrance in the life and service of God: God tells us that it is the secret of strength and success. It is our weakness, heartily accepted and continually realized, that gives us our claim and access to the strength of Him who has said, "My strength is made perfect in weakness." ….

The lessons these thoughts teach us for practical life are simple, but very precious. The first is, that all our strength is in Christ, laid up and waiting for use. It is there as an almighty life, which is in Him for us, ready to flow in according to the measure in which it finds the channels open.

This power flows into us as we abide in close union with Him. When the union is feeble, little valued or cultivated, the inflow of strength will be feeble. When the union with Christ is rejoiced in as our highest good, and everything sacrificed for the sake of maintaining it, the power will work: "His strength will be made perfect in our weakness."

Our one care must therefore be to abide in Christ as our strength…. Let our faith daily go out of self and its life into the life of Christ, placing our whole being at His disposal for Him to work in us. Let our faith, above all, confidently rejoice in the assurance that He will in very deed, with His almighty power, perfect His work in us. As we thus abide in Christ, the Holy Spirit, the Spirit of His power, will work mightily in us, and we too shall sing, "JEHOVAH is my strength and song…. "I can do all things through Christ, which strengtheneth me."
From Abide in Christ.1
C.H. Spurgeon
If Samson had the choice of weapons with which to rout his enemies—if he wished to do it in such a way as to make the feat illustrious, if there were before him a cannon, a fifty-pounder and the jawbone of an ass—which would he take? Why, any fool can kill the enemy with a cannon, but it takes a Samson to smite them with the jawbone of an ass!

And so, when God has the choice of weapons, and He always has, He chooses the weaker weapon, that He may get for Himself the greater renown.

My brother, glory in your infirmities—thank God for your weaknesses! There is room for God when you are empty! But when you are so full, and so strong, and have such excellent machinery, and can do the work so well, why then you will attempt to do without your God, and a failure will be the result. But, O Beloved—

"When I am weak, then am I strong,
Grace is my shield, and Christ my song."
From A Discourse for a Revival Season, Sermon #6082
God does not need your strength; He has more than enough of power of His own. He asks for your weakness; He has none of that, Himself, and He is longing, therefore, to take your weakness, and use it as the instrument in His own mighty hand. Will you not yield your weakness to Him, and receive His strength?
From The Best Strengthening Medicine, Sermon #22093
David Wilkerson
Have you ever grieved over weakness? Have you felt insignificant, frail and useless to God? Have you looked upon others who seem so strong, so perfect, and thought of yourself in comparison as too sinful, too dull to be used of God? God is not looking for spiritual giants, but rather for ordinary saints with childlike faith who have lost all confidence in the flesh.

God will confound the strong and wise by anointing as His instruments those who are considered weak and foolish. The Lord will bypass those who lean on the arm of flesh, who trust in their talents, their knowledge, their background, their family reputation. Instead, He will raise up the brokenhearted, the weak and the weary. He will pour on them a spirit of praise and a baptism of love. He will show them His greatness, His faithfulness, His covenants, and they will become strong in the Lord and in the power of His might.
From God Still Chooses the Weak4
–

Tweetables
Questions: Do you have a favorite quote from these excerpts? How did it affect your perspective of your weakness?
OTHER POSTS IN THIS SERIES
_________________________
Murray, Andrew. The Greatest Works of Andrew Murray: Abide In Christ – Humility – The Ministry of Intercession – Absolute Surrender (pp. 200-205). Kindle Edition.
Spurgeon, Charles. "A Discourse for a Revival Season, Sermon #608." http://www.spurgeongems.org/sermon/chs608.pdf. Accessed May 15, 2013.
Spurgeon, Charles. " The Best Strengthening Medicine, Sermon #2209." http://www.spurgeongems.org/sermon/chs2209.pdf. Accessed May 15, 2013.
Wilkerson, David. "God Still Chooses the Weak." http://www.worldchallenge.org/en/node/22629. Accessed May 15, 2013.

Follow @shadesofgrace_
Disclosure of Material Connection: Some of the links in the post above are "affiliate links." This means if you click on the link and purchase the item, Shades of Grace will receive an affiliate commission. Regardless, I only recommend products or services I use personally and believe will add value to my readers. I am disclosing this in accordance with the Federal Trade Commission's 16 CFR, Part 255 "Guides Concerning the Use of Endorsements and Testimonials in Advertising."