May 17th 13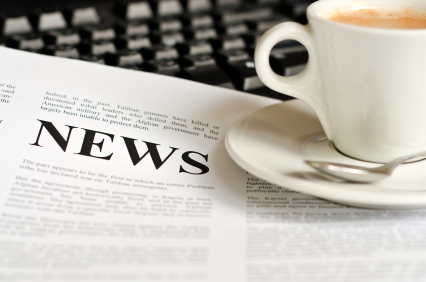 For your weekend reading, here are few links to: News You Can Use, Encouraging Devotionals, Inspiring Quotes, and Kindle Deals.
Noteworthy News
Thabiti Anyabwile: Why You Should Not Listen to Me [An excellent post about influence! A poetic sentence in the first paragraph is dead on: "We live in a world where influence is traded, debated, manipulated, and fabricated…." Well said.] > Tweet This
Why this post? It's not a direct response to anyone or any controversy. I even chose a random date for it to post. No, it's because I need the reminder of this post. I'm vulnerable to the tempting siren of "influence," to trying to cultivate a persuasive power that inheres not so much in the truth of ideas but in the power of personality or "appearance." What a horrible insatiable monster that kind of pride and self-seeking is. How vain to monitor twitter followers, web statistics, and anything else that suggests "influence." And what ruthless task masters are the expectations of others who think you have influence and want to borrow some or sway your use of it. It's a trap, I'm telling you!
Joe Carter: 9 Things You Should Know About Pornography and the Brain > Tweet This
"Because the human brain is the biological anchor of our psychological experience, it is helpful to understand how it operates." says William M. Struthers, associate professor of psychology at Wheaton College. "Knowing how it is wired together and where it is sensitive can help us understand why pornography affects people the way it does." Here are 9 things you should know about pornography affects the brain.
Jeremy Wiles: Science Proves Premarital Sex Rewires the Brain > Tweet This
According to neuropsychologist Dr. Tim Jennings, "When you have premarital sex, your reward circuitry is bonded to them now, and it will be much deeper and hurtful. Oftentimes, in breakups of people who've been sexually active, they can't tolerate the sense of emptiness, so they rush into another relationship. The neuro circuits did not have time to reset, and so they're impaired in their ability to bond with the next person, and they may become sexually active with them. This is just a repetitive cycle, and there are real impairments in bonding going on."
Os Hillman: How We've Been Set Up for a Gay-Friendly Culture [This article is packed with statistics—including stats on how SAT scores, suicides, and violent crime have changed since prayer was ruled unconstitutional in 1963. It's definitely worth a look.] > Tweet This
The Washington Times describes the impact of divorce on children: "More than half of American teens have grown up with parents who 'rejected each other,' which bodes ill for the nation's future leadership, productivity, wealth, and well-being, says a new national report on American families. Only 45 percent of teens, aged 15–17, have grown up from birth with their married, biological parents, says the new US Index of Belonging and Rejection."… (Tweet This)
Divorce is the entry point of dysfunctional and wounded lives that often lead to aberrant behaviors in human beings in each new generation. Unless there is a stopgap somewhere in the cycle, more and more expressions of aberrant behavior will be the result until we end up like the Roman Empire and disintegrate from within.
Sermon Central: Startling Survey Results on Christians and Marijuana > Tweet This
Seventy percent of Americans said that recreational use of marijuana is not a sin, compared to 23 percent who said they believe using the drug is sinning. While most religious groups follow this trend, according to the poll, white evangelical Protestants are the most divided group, with 40 percent indicating using marijuana is a sin and 48 percent saying it is not.
Christianity Today: Blasphemy Charges Becoming New Weapon Against Egyptian Christians > Tweet This
A study to be released at the end of this month by the Egyptian Initiative for Personal Rights (EIPR) found that 41 percent of blasphemy cases taken to court from Jan. 25, 2011, to Dec. 31, 2012, were filed against Christians, who make up only about 10 percent of Egypt's population of 83 million people.
Gosnell / Prolife
LifeSiteNews: Pro-choice reporter covering Gosnell trial changes mind on abortion > Tweet This
"There is one journalist sitting in that courtroom who writes for a local publication who has told me that he is very liberal, very pro-choice," Mullane told Huckabee, "but after sitting through the testimony in the Gosnell trial, he's reconsidered. He's changed his mind."
Justin Taylor: Meet Douglas Karpen: The New Kermit Gosnell > Tweet This
Evidence is emerging of another abortion mill where illegal abortions are performed and where full-term babies are regularly born alive and brutally murdered. This one is run by Dr. Douglas Karpen, who appears to be a doctor in good standing with the state of Texas.
Kirsten Powers: Abortion Rights Community Has Become the NRA of the Left > Tweet This
We live in a country where if a six-months-pregnant woman started downing shots of vodka in a bar or lit up a cigarette, people might want her arrested. But that same woman could walk into an abortion clinic, no questions asked, and be injected with a drug that would stop her baby's heart….

Speaking as a liberal who endorses more government regulation of practically everything—banks, water, air, food, oil drilling, animal safety—I am eternally perplexed by the fury the abortion rights contingent displays at the suggestion that the government might have a serious role to play in the issue of abortion, especially later-term abortion. More and more, the abortion rights community has become the NRA of the left….
Matt Lockett: God Is Weighing America's Response to Abortion > Tweet This
Lockett writes about Gosnell and atrocious acts and statements of other abortionists and Planned Parenthood representatives that have recently been exposed, then asks the following (supporting his position with quotes from Finney):
What does this have to do with revival? I believe these events are tied directly to whether or not revival will be hindered in the United States. Our response to them is key….

Are our pulpits and fellowships discussing this and our need to act? I believe God is using infanticide right now to weigh our response. Will we ignore even this?
An Encouraging Word
Tullian Tchividjian: A Father's Love [An unforgettable story about his father, beautifully illustrating law and grace.] > Tweet This
When I was 16, my parents kicked me out of the house. They had tried everything. Nothing worked. And it got to the point where my lifestyle had become so disruptive to the rest of the household, that they were left with no choice but to painfully say, "We love you but you can't continue to live this way and live under our roof."
Rick Warren on Joy:
Part 1: In All Things, Be Joyful [See also Part 2: Joy is a Choice. Both are intriguing and instructive devotionals with three easy-to-remember steps to joy.] > Tweet This
In the short book of Philippians — only four chapters long — Paul uses the word "joy" 16 times. The amazing thing is, Paul didn't write this book when he was on vacation in the Caribbean. He was in prison in Rome, waiting to be executed. In the darkest days of his life, he wrote the most positive book in the Bible.

In Philippians, Paul gives us six joy-builders that will help diffuse our discouragement and lift our depression.
David Wilkerson: Heal My Unbelief [Although this was posted last week, I first read it yesterday…and was greatly convicted.] > Tweet This

The world is full of Christians who will not hold on to God's Word. They think it is an innocent thing to sit at the table in the house of God and murmur and complain, as if God doesn't hear. God does hear our murmurings! They are accusations that He does not care, insinuations that He has let us down.

God has warned me not to give voice to nagging doubts and fears—not to my wife, not to friends, not to loved ones, not to colleagues. God says to take those doubts to the cross and say, "Jesus, heal my unbelief. Take it out."

Israel spent forty years in turmoil—backbiting, complaining, full of bitterness and jealousy. What a miserable existence they led while claiming to be the children of God…
Adrian Rogers: You Can Control Your Speech > Tweet This
You say, "Well, I can't control it." You're a liar! You can control it, and I can prove it. For example, sometimes in a home a husband and wife are just snarling, fighting, snapping down one another's throat. Their voices are full of hostility. Then right in the middle of that kind of an argument, the phone rings. They answer the phone and say so sweet and nicely, "H-e-l-l-o…"
Christy Fitzwater (Spiritled Woman): Why Is Life So Much Harder for Some People Than Others? > Tweet This
Why does one woman suffer with diabetes her entire life while another is healthy? Why does one woman lose her house in a fire while another woman's house stands? Why does one woman wait longingly to see one positive pregnancy strip while another woman drives a van full of kids?

I made a discovery in the Bible recently that helped to answer this question for me.
Carey Casey: How You Can Influence Your Daughter's Self-Esteem [This post contains a video by Dove about the negative self-image women have—good for husbands and women of all ages to see.] > Tweet This
[The video] also reminds me that our wives and daughters are probably less secure than what they may show. If they seem confident and cheerful, that doesn't mean they don't need plenty of affirmation from us! As husbands and fathers, we have a lot of influence on how the women in our lives view themselves, and we need to be all about affirming them—many times, every day.
Eric Geiger: Five Questions to Discern Ministry Idolatry > Tweet This
There is a temptation to love ministry more than God, a tendency to rejoice more in the ministry God has given us than in God Himself. I know. I know because I have been the idolatrous church leader. I have been the leader who craves ministry influence more than God, the leader who rejoices more loudly for ministry impact than the simple truth that I am His.
Kindle Deals
The Holy Bible, English Standard Version (with Cross-References) ~ FREE
Heaven: Biblical Answers to Common Questions (booklet) by Randy Alcorn ~ $.99
Letters on Revival or Revival Fire by Charles G. Finney ~ $.99
Inspiring Quotes
Question: Which item did you find the most interesting, encouraging, or inspiring?

Follow @shadesofgrace_
Disclosure of Material Connection: Some of the links in the post above are "affiliate links." This means if you click on the link and purchase the item, Shades of Grace will receive an affiliate commission. Regardless, I only recommend products or services I use personally and believe will add value to my readers. I am disclosing this in accordance with the Federal Trade Commission's 16 CFR, Part 255 "Guides Concerning the Use of Endorsements and Testimonials in Advertising."