Feb 12th 12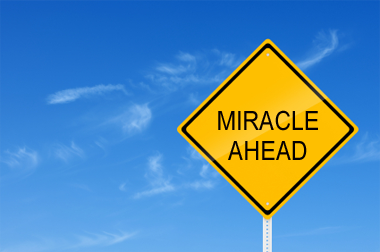 Are you in a crisis with no foreseeable way of escape? Believe it or not, you're in the birthplace of a miracle! When we have a backup plan — a way of escape — we miss God's miraculous deliverance.
Watchman Nee's thoughts on this subject, shared in A Table in the Wilderness, are instructive and encouraging:
When God works His miracle, we have to laugh at our own foolishness. If we still persist in worrying and planning, then we are no disciples of His. Many, I fear, never see God work for them because they always have a way out–some friend perhaps, who might help a little if God does not! Most to be pitied are those who, brought to a supreme crisis, still find an avenue of escape. For necessity is the foundation for miracles. To escape the one is to miss the other. Great difficulties are meant only to force us out of ourselves into reliance on Him. When there is no way forward or back, then God is able. He has a plan. So do not fear impossibilities. They are of no account to Him. Fall at His feet, and wait for Him to act. A miracle is ahead.[i]
What then should you do in a crisis? The following three things:
1. Stop worrying and trying to plan your way out. Instead, look confidently to God.
25 "Therefore I tell you,

do not worry

about your life, what you will eat or drink; or about your body, what you will wear. Is not life more important than food, and the body more important than clothes? 26 Look at the birds of the air; they do not sow or reap or store away in barns, and yet your heavenly Father feeds them. Are you not much more valuable than they? 27 Who of you by worrying can add a single hour to his life?…31 So do not worry…33But seek first his kingdom and his righteousness, and all these things will be given to you as well" (Matthew 6:25-27, 31, 33, emphasis added).

"Peace I leave with you; my peace I give to you. Not as the world gives do I give to you.

Let not your hearts be troubled

, neither let them be afraid" (John 14:27, emphasis added).

"I lift up my eyes to the hills. From where does my help come?

My help comes from the LORD

, who made heaven and earth" (Psalm 121:1-2, emphasis added).

 "1God is our refuge and strength, an ever-present help in trouble. 2

Therefore we will not fear

, though the earth give way and the mountains fall into the heart of the sea

, 3 though its waters roar and foam and the mountains quake with their surging. 4 There is a river whose streams make glad the city of God,the holy place where the Most High dwells. 5 God is within her, she will not fall;

God will help her at break of day

" (Psalm 46:1-5, emphasis added).
It is helpful to note what others have said about worry:
"Worry does not empty tomorrow of its sorrow; it empties today of its strength."~ Corrie Ten Boom

"Whenever you face all of your problems and you trust only your plans to get you out — it is a sign that your faith is deteriorating." ~ T.D. Jakes

"No one can pray and worry at the same time." ~ Max Lucado

"Worry is the sin of distrusting the promise and providence of God, and yet it is a sin that Christians commit perhaps more frequently than any other." ~ John MacArthur

"The more extreme your circumstances, the more likely you are to see My Power and Glory at work in the situation. Instead of letting difficulties draw you into worrying, try to view them as setting the scene for My glorious intervention." ~ Sarah Young, Jesus Calling

"Sadly, many who truly love Jesus often panic in times of crisis, and they worry and fret. They spend time trying to figure out ways to escape or endure their trial. They do not heed His call to 'come and dine' with Him. I am not talking about spending one hour or so each day in prayer, I am talking about focusing on Him all through the day, 'Praying without ceasing.' This is simple, quiet conversation—just talking to Him, becoming more acquainted with Him, so that in crisis times we need not rush in consternation to a prayer closet and wail out for help like a stranger." ~ David Wilkerson
2. Know that God allowed your difficulty for a purpose — to force you to rely on Him, the God who is able!
9 Indeed, in our hearts we felt the sentence of death. But this happened that we might not rely on ourselves but on God, who raises the dead. 10 He has delivered us from such a deadly peril, and he will deliver us. On him we have set our hope that he will continue to deliver us (2 Cor. 1:9-11).

"Now to him who is able to do immeasurably more than all we ask or imagine, according to his power that is at work within us" (Eph. 3:20).
3. Fall at God's feet in worship. Thank Him in advance. Wait expectantly for Him to act. He will deliver you in due time! A miracle is ahead!
"Why are you cast down, O my inner self? And why should you moan over me and be disquieted within me?

Hope in God and wait expectantly for Him, for I shall yet praise Him

, Who is the help of my countenance, and my God" (Psalm 42:11, AMP)

1THE LORD is my Light and my Salvation–whom shall I fear or dread? The Lord is the Refuge and Stronghold of my life–of whom shall I be afraid?…13[What, what would have become of me] had I not believed that I would see the Lord's goodness in the land of the living! 14Wait and hope for and expect the Lord; be brave and of good courage and let your heart be stout and enduring. Yes, wait for and hope for and expect the Lord" (Psalm 27:1, 13, 14, AMP).

 "17 The righteous cry out, and the LORD hears them;

he delivers them from all their troubles

. 18 The LORD is close to the brokenhearted and saves those who are crushed in spirit. 19 A righteous man may have many troubles, but the LORD delivers him from them all" (Psalm 34:17-19).
When we worry, fret and try to finagle a way out of our crisis, we are no different than an Old Testament king looking to the size of his army rather than to the size and capability of God. In your crisis today, put your hope in God and His unfailing love. Wait in hope for Him. He will deliver you!
16 No king is saved by the size of his army;
no warrior escapes by his great strength.
17 A horse is a vain hope for deliverance;
despite all its great strength it cannot save.
18 But the eyes of the LORD are on those who fear him,
on those whose hope is in his unfailing love,
19 to deliver them from death
and keep them alive in famine.
 20 We wait in hope for the LORD;
he is our help and our shield.
21 In him our hearts rejoice,
for we trust in his holy name.
22 May your unfailing love rest upon us, O LORD,
   even as we put our hope in you.
~ Psalm 33:16-22
Question: What crisis are you facing today? How will you respond — in fear, or in faith and reliance on the God who is able?
_______________________
[i] Watchman Nee, A Table in the Wilderness, (Fort Washington, PA: CLC Publications, 2011), 16

Follow @shadesofgrace_
Disclosure of Material Connection: Some of the links in the post above are "affiliate links." This means if you click on the link and purchase the item, Shades of Grace will receive an affiliate commission. Regardless, I only recommend products or services I use personally and believe will add value to my readers. I am disclosing this in accordance with the Federal Trade Commission's 16 CFR, Part 255 "Guides Concerning the Use of Endorsements and Testimonials in Advertising."
2 Responses to "Miracle Ahead: 3 Things to Remember in Times of Crisis"