Jan 15th 11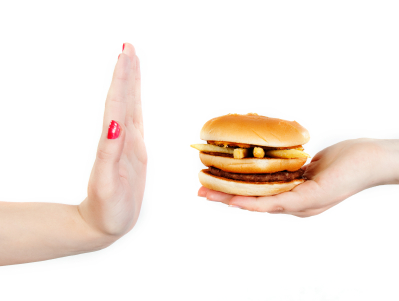 If you're like me, you wrestled with your appetite on day one of your fast. We've just come out of the holidays, used to splurging and eating without discipline. But we must not let our stomach be the ruler and king of our lives. We must dethrone it! [i]
Just take a look at what has happened under the rule of "King Stomach," as Jentezen Franklin accurately terms it in his book Fasting. Examine what yielding to their stomach has cost a few people.
Adam and Eve
" 8 Now the LORD God had planted a garden in the east, in Eden; and there he put the man he had formed. 9 The LORD God made all kinds of trees grow out of the ground—trees that were pleasing to the eye and good for food. In the middle of the garden were the tree of life and the tree of the knowledge of good and evil…. 16 And the LORD God commanded the man, 'You are free to eat from any tree in the garden; 17 but you must not eat from the tree of the knowledge of good and evil, for when you eat from it you will certainly die'" (Genesis 2:8-9, 16-17).
The consequence of eating from the tree of the knowledge of good and evil was unmistakable. Yet, the serpent was deceptive and persuasive.
The cost of Adam and Eve's appetites is inestimable. In Fasting, Jentezen Franklin writes,
"They literally ate themselves out of house and home. They ate themselves out of the will of God for their lives. They ate themselves out of God's provision and plan for their lives and out of His magnificent presence. But their stomachs were temporarily satisfied, and we still suffer the consequences of their appetites today." [ii]
Our appetite—and what we let rule our lives—will impact generations!
Sodom and Gomorrah
When we think of the fatal sin of Sodom and Gomorrah, we think of homosexuality. However, scripture reveals more.
"'Now this was the sin of your sister Sodom: She and her daughters were arrogant, overfed and unconcerned; they did not help the poor and needy. 50 They were haughty and did detestable things before me. Therefore I did away with them as you have seen" (Ezekiel 16:49-50).
Observe that there was no:
giving (did not help the poor & needy)
praying (arrogant, unconcerned)
fasting (overfed)
Not only does the passage directly indicate a lack of fasting, but their "pride" betrays a lack of fasting too, as fasting is a way of humbling ourselves before God.
The people of Sodom and Gomorrah not only committed homosexuality, but gluttony as well. Their sin carried them right into judgment and destruction.
Esau
As the firstborn male, Esau had a special birthright. With it came the father's blessing, privileges and a double portion of his father's estate.
Esau was a hunter. One day he came in from the field famished. His brother Jacob was eating bread & lentil stew. Esau asked Jacob to hurry and quickly give him some. Jacob asked Esau to first sell him his birthright.
Esau swore, saying, "Look, I am about to die… What good is the birthright to me?" (Genesis 25:32).
"Then Jacob gave Esau some bread & some lentil stew. He ate and drank, and then got up and left. So Esau despised his birthright" (Genesis 25:34).
Esau ate himself out of God's plan and destiny for his life because of his lust for food. He later hated what he had done and sought to reverse it.
"16 See that no one is… godless like Esau, who for a single meal sold his inheritance rights as the oldest son. 17 Afterward, as you know, when he wanted to inherit this blessing, he was rejected. Even though he sought the blessing with tears, he could not change what he had done" (Hebrews 12:16-17).
The Amplified Bible words it this way: "he could find no…chance to recall the choice he had made, although he sought for it carefully with bitter tears."
He sought is with bitter tears! King stomach ruled and it cost Esau dearly!!
Isaac
Isaac wasn't sensitive enough to know that God had chosen Jacob over Esau. Why were his eyes blinded?
"And Isaac loved Esau, because he did eat of his venison" (Gen 25:28).
Isaac listened to his stomach. His flesh deceived spirit because of his craving for food. Fasting puts us in place where our spirit is more alert to hear God's voice.
Israelites
God gave the Israelites manna, which supernaturally met their needs. Yet they grew tired of it, complained and lusted for more.
4"If only we had meat to eat! 5 We remember the fish we ate in Egypt at no cost—the cucumbers, melons, leeks, onions and garlic. 6 But now we have lost our appetite; we never see anything but this manna!" (Numbers 11:4-7).
This angered God.
 "18Now the LORD will give you meat, and you will eat it. 19 You will not eat it for just one day, or two days, or five, ten or twenty days, 20 but for a whole month—until it comes out of your nostrils and you loathe it—because you have rejected the LORD" (Numbers 11: 18-20, 33-34).
God drove quail in from the sea – so much that it was stacked two and a half feet deep. But while the Israelites were eating, God struck them with a plague.
"33 But while the meat was still between their teeth and before it could be consumed, the anger of the LORD burned against the people, and he struck them with a severe plague. 34 Therefore the place was named Kibroth Hattaavah, because there they buried the people who had craved other food" (Numbers 11:33-34).
The name of the place—Kibroth Hattaavah—means "graves of craving" or "graves of lusters."
They literally ate themselves out of the promised land! God had blessings to pour out on the Israelites, but they preferred their fleshly appetites. It is the same for you and me.
You and I?
You and I must understand that God has 'promised lands' for us too. The Bible is full of promises specifically for you and me. But some will never be realized as long as King Stomach rules our appetite and controls our life. God wants to pour supernatural blessings into our lives, but they will never be received if we aren't willing to seek God in fasting and prayer.
Daniel read the promise specifically for His nation, and still he fasted and prayed! (see Daniel 9:2-3).
The blessings you and I stand to receive far outweigh the momentary satisfaction of food in our mouths. We must refuse the temptation to keep our priorities misarranged, with food ranking higher than knowing God more fully. This is idolatry!
7 Do not be idolaters, as some of them were; as it is written: "The people sat down to eat and drink and got up to indulge in revelry" (1 Corinthians. 10:7).
"Their destiny is destruction, their god is their stomach, and their glory is in their shame. Their mind is on earthly things" (Philippians 3:19).
Like Paul, we must discipline our body and bring it into subjection (see 1 Corinthians 9:27).  We must continue to choose to put our flesh – our natural appetites – under the authority and rule of the Spirit. The cost is too high if we don't.
Living Sacrifice
"I urge you, brothers, in view of God's mercy, to offer your bodies as living sacrifices, holy and pleasing to God—this is your spiritual act of worship" (Romans 12:1).
A sacrifice was killed and given to God forever. When we fast, our meals are given forever to God as a memorial. Just as Esau couldn't take back the meal he'd eaten, no one will ever be able to take away the meals we've fasted. They become a living sacrifice, a living memorial always before God's throne.
Refusing King Stomach isn't easy. It may even be quite painful. But that steak, that doughnut, that candy bar can in no way compare to the blessing God promises to pour out on those who seek him through fasting and prayer. [iii]
"Your Father, who sees what is done in secret, will reward you" (Matthew 6:18).
FROM THE FASTING ARCHIVES:
---
[i] Jentezen Franklin, Fasting, (Lake Mary, FL: Charisma House, 2008), 19
[ii] Ibid., 22
[iii] Idea for this post from Franklin, Fasting, 19-26

Follow @shadesofgrace_
Disclosure of Material Connection: Some of the links in the post above are "affiliate links." This means if you click on the link and purchase the item, Shades of Grace will receive an affiliate commission. Regardless, I only recommend products or services I use personally and believe will add value to my readers. I am disclosing this in accordance with the Federal Trade Commission's 16 CFR, Part 255 "Guides Concerning the Use of Endorsements and Testimonials in Advertising."
4 Responses to "Fasting Day 2: Dethroning King Stomach"