Dec 22nd 22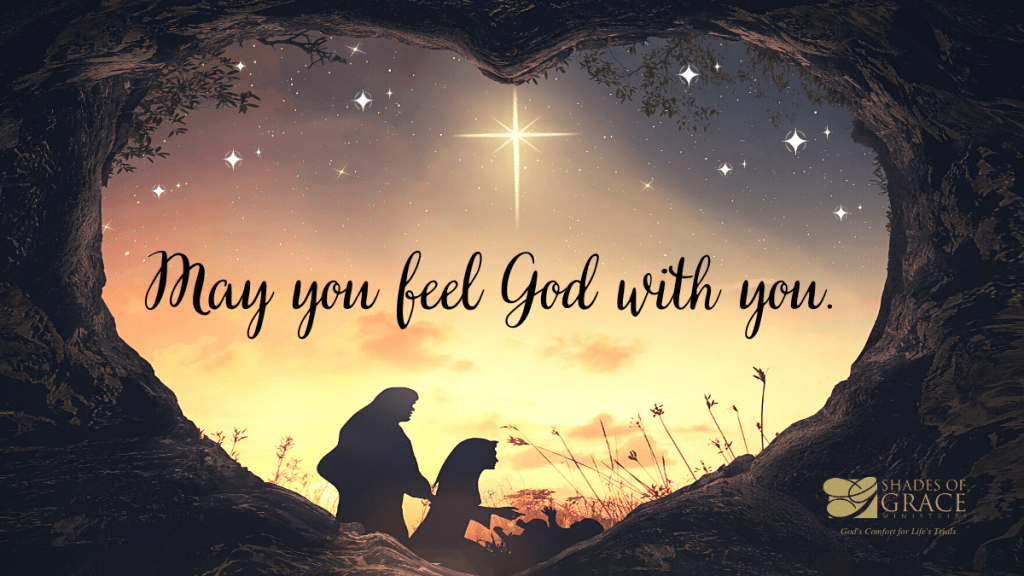 M
erry Christmas! Our prayer for you this Christmas season is that you know Jesus — Emmanuel, God with you.
May you know Jesus as Savior, Redeemer…
"For God so loved the world that He gave His one and only Son, that whoever believes in Him shall not perish but have eternal life" (John 3:16, TLV).
God loves you. He wants to be with you.
"She will give birth to a son, and they will call him Immanuel, which means 'God is with us'" (Matthew 1:23, NLT).
The sinless Son of God paid the penalty for your sins. Because of Christ's death and resurrection, you can receive the gift of 'God with you' as your Savior, your Redeemer.
Everyone who believes in Him and follows Him has forgiveness of sins, eternal life, and a relationship with God.
May you know Jesus as Friend…
Jesus is your friend, your "Wonderful Counselor."
"For to us a child is born, to us a son is given; and the government shall be upon his shoulder, and his name shall be called Wonderful Counselor, Mighty God, Everlasting Father, Prince of Peace" (Isaiah 9:6, ESV)
Isaiah speaks again about the Messiah as our counselor:
"This also comes from the LORD of hosts; he is wonderful in counsel and excellent in wisdom" (Isaiah 28:29, ESV).
Jesus is a wise counselor. "He did not need any testimony about mankind, for he knew what was in each person" (John 2:25).
He understands what we're going through and how we're feeling. He sympathizes with our weaknesses.
"For we do not have a high priest who is unable to sympathize with our weaknesses, but one who in every respect has been tempted as we are, yet without sin. Let us then with confidence draw near to the throne of grace, that we may receive mercy and find grace to help in time of need" (Hebrews 4:15-16, ESV).
The Spirit of Christ, the Holy Spirit (the third person of the Trinity) is also referred to as our Counselor:
"But the Counselor, the Holy Spirit—the Father will send Him in My name—will teach you all things and remind you of everything I have told you" (John 14:26, CSB).
Through the Holy Spirit, Jesus walks beside us and talks with us. He listens to us and guides us (Proverbs 3:5-6),
Because He is with us, right beside us, we will not be shaken!
"I know the Lord is always with me. I will not be shaken, for he is right beside me" (Psalm 16:8, NLT).
Another translation says, "I always let the Lord guide me. Because he is at my right hand, I will not be shaken."
When we let Jesus be our guide, our leader, our wonderful (incomprehensible) counselor, and friend, we have no reason to be shaken… no matter what we're facing.
May you know Jesus as Bread of Life…
May God be with you as your Bread of Life — your sustenance, your nourishment, your life, your strength, your hope, your expectation, your peace, your joy, your wisdom, your courage — your everything!
The challenges we face are opportunities. When we cease trying to live by our own strength and abilities, we get to experience the privilege of having the Creator of the universe—Who who raised the dead and walked on the water—living not just in us, but for us!
Merry Christmas!
Merry Christmas from your friends at Shades of Grace! May you feel God with you. May Jesus' love and presence fill your heart and your home this Christmas season and throughout the new year!
A Moment of Worship: Emmanuel (Hallowed Manger Ground)
Glory In the Highest: Christmas Songs of Worship
Listen on: Amazon | Apple Music

Follow @shadesofgrace_
Disclosure of Material Connection: Some of the links in the post above are "affiliate links." This means if you click on the link and purchase the item, Shades of Grace will receive an affiliate commission. Regardless, I only recommend products or services I use personally and believe will add value to my readers. I am disclosing this in accordance with the Federal Trade Commission's 16 CFR, Part 255 "Guides Concerning the Use of Endorsements and Testimonials in Advertising."