Dec 6th 22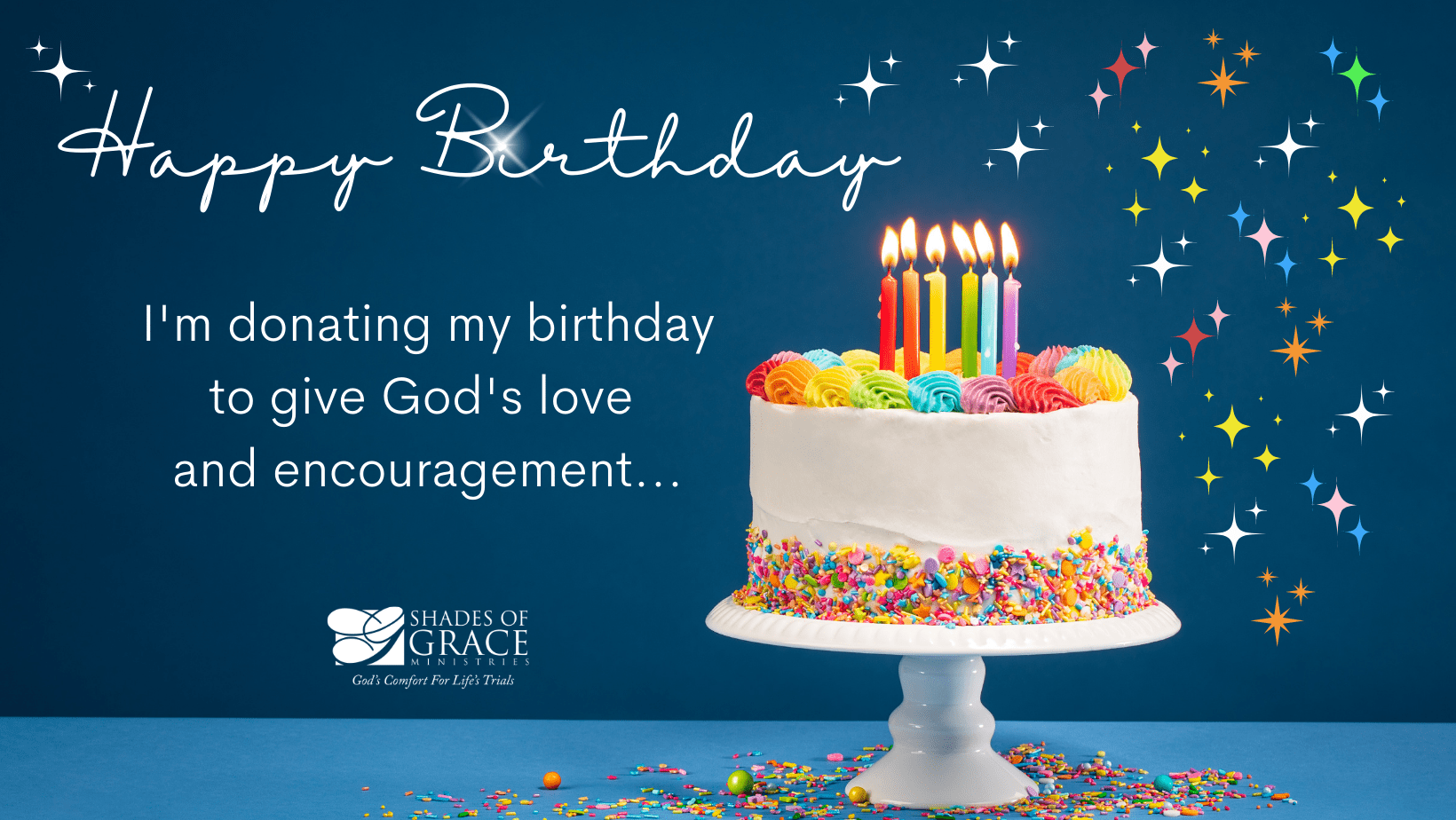 I'm going to turn 52 this week. (It doesn't seem possible! Where did the time go?)
From the start of the pandemic to now, I feel and look like I've aged far beyond the three intervening years. Long Covid, reactivated Lyme, and the consequences of years of caregiving have taken a toll on my body… and my face. When I look in the mirror, I do not recognize the woman looking back.
Although the past few years have ushered in compounded trials and visible aging, they've done something else — they've proven to me once again that we cannot make it through life's afflictions apart from the grace and enabling of Jesus Christ. Human strength and willpower are helpless against life's disappointments and afflictions.
I would never have made it. . .
I would never have made it to 52 without the grace of God and the power of His word.
Goodness, I would never have even made it to 30 — through years of confinement to bed and a wheelchair, with torturous brain infection and inflammation. There were literally hundreds of days in which I did not want to breathe another breath, did not want to suffer a second longer. I pleaded with God to take me home — and threatened to do the job myself if He wouldn't.
But God had a plan, a reason for allowing those trials to linger. He wanted me to grow up in Him, to learn where real life and joy reside — in His Word and His presence.
Psalm 16:11 says, "In your presence there is fullness of joy." There's no sweeter place to be than with Jesus — being made one with Him on the cross, Jesus taking on our flesh and us taking on His resurrection power.
Hebrews 4:12 says, "The word of God is living and active." God's word, the Bible, is alive and powerful! Scripture is not just an historical account. And it's certainly not words that have no bearing on our lives today. The Bible contains the power, the peace, the strength—the infusion of the life of Christ—that we need to thrive today, tomorrow and the rest of our lives on this earth!
My illness became disabling and torturous when I was in my early 20's. Even though I loved God and had served Him in ministry, I had not experienced the difference between Jesus living in me and Jesus living for me. Discovering this changed my world… to this very day.
This is what Paul was referring to when he said:
"'My grace is sufficient for you, for my power is made perfect in weakness.' Therefore I will boast all the more gladly about my weaknesses, so that Christ's power may rest on me. That is why, for Christ's sake, I delight in weaknesses, in insults, in hardships, in persecutions, in difficulties. For when I am weak, then I am strong" (2 Corinthians 12:9-10, NIV). …
"I am ready for anything and equal to anything through Him Who infuses inner strength into me" (Philippians 4:13, AMPC).
I would never have made it through decades of chronic illness and recent years of challenges if God had not shown me this indispensable key to life. Living by an infusion of Christ's life is not just how you survive, or even how you just thrive in hardship — it's how you experience the greatest joy, the deepest peace, and the most contentment this side of heaven.
There are men and women who right now feel they can't endure another moment of their physical illness … of their heartache and loss … of their overwhelming challenges. They're begging God not to make them take another breath. Celebrating the gift of life? That's inconceivable to them.
But you and I can change this! We can reach them in the midst of their trials and point them to Christ.
We can help them know what it is to be filled with Christ's life — with His hope, His strength, His Truth, His peace. We can help them see that trials are an invitation to know God more fully and experience the life-giving power of His Word!
We can help them experience Jesus living for them — the greatest joy, the deepest peace, and the most contentment this side of heaven.
Help me throw the lid off my special day!
With this in mind, I want you to help me throw the lid off my special day by donating to my birthday.
Instead of giving presents, I'm asking all my friends to give God's love and life-changing word to people who desperately need a touch from God. 
I'm asking 52 friends to donate to the work of Shades of Grace. Will you help me reach my goal? 
As I wrote in a recent post, now more than ever hurting men and women need to be encouraged with God's Word and His promise to carry them through any affliction. They need someone to share God's comfort with them.
God's comfort for life's trials boils down to His grace…
We're named Shades of Grace Ministries, not Natalie Nichols Ministries, for a reason.
Did you know that I deliberately chose not to name Shades of Grace Ministries "Natalie Nichols Ministries"? In the age of media and branding, naming the ministry after myself carried quite a few benefits (for starters, people remember a person's name more easily).
When Shades of Grace was founded, I was still in a wheelchair, fresh out of the fire of suffering. If fact, if you had inhaled deeply enough, I'll bet you could still have smelled the aroma of smoke on me.
I was well aware that only God's grace had brought me through the consuming years of illness. Had it been up to me, I'd have taken my life in the initial stages. I had no strength, no wherewithal, no hope, no faith, no endurance on my own. I was 100% dependent on God's grace.
Often I would be hopeless, despondent and could only see my circumstance through an angry, impatient, temporal lens. … BUT then the presence of Christ would fill me, speak through His word, show me His perspective, and give me fresh strength and hope to persevere!
This happened thousands of times throughout those years.
How dare I then name any ministry borne out of that season after my own name?! Natalie Nichols did not bring herself through that season. Only God's grace—only a constant infusion of the life of Christ—brought me through.
I did nothing to earn the joy, the peace, the strength, the endurance, the perspective, or the experience of Himself that Jesus gave me during those years. They were gifts of God's grace.
And it's this same grace—this same comfort for life's trials—that God has called me to share with others.
God has me on this earth, for 52 years now, to help other people know that there's hope in their affliction! That no matter how angry at God they are… no matter how clouded and temporal their current vision may seem to be… no matter how little faith they seem to have at the moment, they can receive the blessings awaiting them in their trial. Their endurance does not depend on their own strength. Their faith is not derived from self-effort. God will still speak to them and correct their clouded vision no matter how angry or disillusioned they are.
As I've stated before, there is precious treasure awaiting us in our afflictions—the circumstances are merely the wrapping paper concealing it. This treasure, this experience of Christ Jesus, is a gift. It's not something we must or ever could produce.
The coming year…
Part of being over 50 is realizing you will not be on this earth forever. You face the fact you have limited time to accomplish what God put you on this earth to do.
God put me here to teach the Biblical perspective of suffering and how to exercise unwavering faith so that people will be liberated to enjoy the riches of Christ in hard times. God called me to help them discover how to move beyond powerless substitutes — and walk in effective, Biblical faith.
I'm here to show people the life that God's word possesses and teach them how to walk by faith, how to apply God's word in every circumstance—and let God's grace, His enabling, bless them through their trials.
And at 52, I'm ready to roll up my sleeves for this next season of life and ministry! I want God to transform the lives of people around the world—and as a result, impact their families for generations to come!
I'm very excited about God's plans for Shades of Grace in the coming year! He has shown us new ways of reaching hurting people and bringing them His comfort and grace! New ways of inspiring them to seek Him in prayer and to walk by faith — and even new ways to connect with others around the world to provide support and encouragement. It's going to be absolutely life-changing for so many people around the world!
But doing so means we must begin now… and to begin now, we must have a firm financial foundation. You can help build that foundation today with your birthday donation!
With your donation, you are lifting depression, chasing away doubts, and imparting help and hope in Christ to hurting men and women.
Thank you for showing that Jesus cares — that He intervenes. He sustains. He loves.
Thank you for celebrating my birthday and giving others the greatest gift they could ever receive — knowing Jesus more intimately and living by the life of His word!
–
–

Follow @shadesofgrace_
Disclosure of Material Connection: Some of the links in the post above are "affiliate links." This means if you click on the link and purchase the item, Shades of Grace will receive an affiliate commission. Regardless, I only recommend products or services I use personally and believe will add value to my readers. I am disclosing this in accordance with the Federal Trade Commission's 16 CFR, Part 255 "Guides Concerning the Use of Endorsements and Testimonials in Advertising."