Feb 20th 11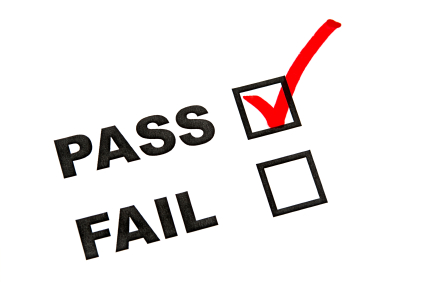 God lovingly allows us to go through tests in life in order to build our faith – to test and prove us to see what is in our heart.  We tend to crack under the pressure and respond in unbelief. We look at the scenario through human eyes rather than the word of God.
How are you responding to your current test of faith? Are you trembling in fear or marching ahead in confidence in the revealed word of God?
Unbelief isn't an absence of faith; it is insufficient faith. We have been fooled by mental assent. If we have head knowledge of Biblical truth, we put ourselves in the category of those who exercise faith. After all, we do "believe."
But faith means actively believing God. When we believe God, there is an action, a response to God's word.  Faith goes far beyond an intellectual awareness of scripture. There is an intellectual element to faith, yes. We must know God's word in order to believe Him. But there is a volitional element as well. We must make a choice of our will to obey and believe God.
David Wilkerson's Message
Last week, I listened to David Wilkerson's message, "The Ultimate Test of Faith." Although I had read this message in the Pulpit Series Newsletter, there is even more content in the audio message and the power of God is palpable!
I have kept the printed message for years. My copy is underlined, highlighted and color coded! I already felt this was a must-hear message! But after hearing the audio, I feel even more strongly that you should hear this message. So I have made it available here, by permission of Times Square Church.
"The Ultimate Test of Faith"
Audio Message by David Wilkerson
The Red Sea
The children of Israel walked through dry ground in the midst of the sea. Afterward, they began to dance and sing, shouting:
2 The LORD is my strength and my song; he has become my salvation…6 "Your right hand, O LORD, was majestic in power…8 By the blast of your nostrils the waters piled up. The surging waters stood firm like a wall; the deep waters congealed in the heart of the sea…11 "Who among the gods is like you, O LORD?  Who is like you—majestic in holiness, awesome in glory, working wonders? …13 "In your unfailing love you will lead the people you have redeemed. In your strength you will guide them to your holy dwelling. 14 The nations will hear and tremble; By the power of your arm they will be as still as a stone—until your people pass by, O LORD…18 The LORD will reign forever and ever" (Exodus 15:1,6,8,11,13,14,18).
The Israelites praised God for His deliverance. They voiced a seeming unwavering confidence in His keeping ability. Yet a mere three days later, when they were thirsty, they began to complain. They did not trust God to provide. Their unbelief during this test of faith provoked God.
"Our fathers understood not thy wonders in Egypt; they remembered not the multitude of thy mercies; but provoked him at the sea, even at the Red sea" (Psalm 106:7).
At the sea, they praised God. And three days later they began to question His very presence among them. Israel accused God saying, "Is God among us or not?" (Ex 17:7). They questioned God at the very site of their deliverance:
"Was it because there were no graves in Egypt that you brought us to the desert to die?" (Exodus 14:11).
Repeated Pattern
In spite of their continual murmuring, God gave the Israelites manna and quail. Yet they persisted in their pattern of unbelief.
19 They spoke against God, saying, "Can God spread a table in the desert? 20 When he struck the rock, water gushed out, and streams flowed abundantly. But can he also give us food? Can he supply meat for his people?" …22 for they did not believe in God or trust in his deliverance.
God tested the Israelites ten times in the wilderness (see Numbers 14:22). Each time they failed the test. Their unbelief angered God.
"Again and again they put God to the test; they vexed the Holy One of Israel" (Psalm 78:41).
God was looking for faith in His people because He was going to take them into a land where they would need absolute confidence in His word. He allowed them to hunger in order to teach them that they were to live on every word that came from His mouth. This was going to be the means by which they would enter into God's promised rest in Canaan.
Our Tests
I want to walk in God's promises, don't you? I want to live in continual rest, peace and celebration of God's keeping power.
However, reaching such a confident, faith-filled walk does not come without a series of tests. The only way God can produce faith in us is through testings. That is how faith is birthed. That is how it grows. God is looking in today's generation, just as He did thousands of years ago, to see if His people will live by faith.
All of our praying and worshiping and teaching is worthless if we do not have faith in our time of testing.
Kadesh
At Kadesh, twelve spies spent forty days in the promised land. Ten of the spies brought back an evil report of unbelief. The spies in essence said, "Yes, the land is as God said it would be. It's wonderful. But we can't take it. There are giants in the land and cities with walls to the heavens. We're not strong enough. We're not able.  We're like grasshoppers."
The Israelites wept all night out of fear, panic and unbelief.  They had experienced test after test and miracle after miracle, yet there they were wringing their hands and accusing God of bringing them out there only to deceive them.
Joshua and Caleb told them to do as God instructed. They said, "God is among us. He is with us. We can take the land!"
What did the Israelites do in response? They threatened to stone Joshua and Caleb.
To Please God
"Without faith it is impossible to please God" (Hebrews 11:6).
God had had enough. He was looking for a faith that could not be shaken. The faith of His people was the only testimony to the heathen people around them.  God chose the Israelites for one purpose – that they might be a testimony to the world.
God has done the same for you and me. He has chosen us that we might be a testimony to those around us. God has delivered us time and time again. We can say, "God has never once failed me." And yet, we provoke God by our unbelief in our current test of faith.
"22 not one of the men who saw my glory and the miraculous signs I performed in Egypt and in the desert but who disobeyed me and tested me ten times— 23 not one of them will ever see the land I promised on oath to their forefathers. No one who has treated me with contempt will ever see it.

"29 In this desert your bodies will fall—every one of you twenty years old or more who…has grumbled against me. 30 Not one of you will enter the land I swore with uplifted hand to make your home, except Caleb… and Joshua… 32 But you—your bodies will fall in this desert. 33 Your children will be shepherds here for forty years, suffering for your unfaithfulness, until the last of your bodies lies in the desert. 34 For forty years—one year for each of the forty days you explored the land—you will suffer for your sins and know what it is like to have me against you' " (Numbers 14:22-23, 29-33).
God had to suspend His plan for thirty-eight years because of the Israelites' unbelief.
Unbelief is an indescribable tragedy! Every man twenty years of age and older was doomed to a hopeless life. They lived only to die.
God still defines unbelief as "wicked."
"[Therefore beware] brethren, take care, lest there be in any one of you a wicked, unbelieving heart [which refuses to cleave to, trust in, and rely on Him]…" (Hebrews 3:12, Amplified).
Unbelief is the mother of all sins.
"Whatever is not of faith is sin" (Romans 14:23).
God knew He could not use these people who had refused to believe Him. He knew that even if He tested them a hundred times more, they still would not believe Him. So God let their lives waste away.
As God has been testing you recently, how have you been responding? Have you looked to your spouse, your bank account or to slick maneuvers and manipulations?
God is going to take a people into His rest.  But it cannot be those whose hearts are consumed with unbelief. It has to be a people of faith. It has to be a people who see things as God does. It must be a people who take God at His word!
A Death Camp
God had to wait thirty-eight years more while the unbelieving generation died. Hundreds of people would have had to have died daily for the entire generation to die out in thirty-eight years.  The Israelite's camp would have been a death camp. The people were living only to die.
Much of the Christian camp today is a death camp. We don't want to grow. We don't want to take God at His word. We want to simply "do the best we can." We want to stroll into church Sunday morning and stroll out to our own plan for the rest of the week. We don't want to walk by faith in God's word moment by moment.
Look around you at many church congregations today and you will see death. The Spirit of God is not stirring. The church is content to continue absent God's presence.
But God is preparing a new generation! Just as Joshua trained a new generation of people who would enter the promised land, God is preparing a generation of people who will live by faith and inherit His promises.
Today, God has a hidden group of people He is testing and trying. They don't want death. They don't want to be guilty of unbelief. They know how unbelief angers and vexes God. They want to please Him. They want to be used by Him.
The time has come for you to make a decision. Are you going to choose doubt or faith?
Are you ready to cross the Jordan and walk in faith? Do you want your life to be a testimony to the world? When people look at you, do you want them to say, "There is a man, a woman, who truly trusts in God!" Do you want them to question how it is that you are so calm when troubles come?
Faith
Faith is obedience to the revealed word of God. It's not something you feel; it's something you do. It's a decision to trust every word God says. You leave the manna behind and cross the Jordan line. You determine you are going to live by every word God has spoken!
If you want to walk with God, you have got to get into God's word.
"Faith comes by hearing, and hearing by the word of God" (Romans 10:17).
Assigning Blame
At Kadesh, when the Israelites were guilty of unbelief, they didn't blame God at first. They blamed themselves saying, "we're inadequate."
Instead of focusing on the promise of God and boldly confessing their faith in God's promise and power, they focused on the negative – on themselves and the obstacles.  They didn't accuse God.  They never said, "God isn't able; He isn't strong enough".  They dared not voice such unbelief.
Instead, they focused on themselves saying, 'We're not able.  We're like little bugs in our enemies sight."
Yet that isn't humility. It isn't innocent, harmless talk. It is an affront to our Lord, the One who commands us to believe. When you complain of your inabilities – or the overwhelming nature of your obstacles – you're not putting yourself down, or merely assessing reality – you are putting down your Lord.  You're refusing to believe or walk in His Word.
The Israelite spies were so focused on their inabilities, they were ready to quit. They even talked about going back to Egypt. God responded:
"And the Lord said to Moses, How long will this people provoke (spurn, despise) Me?  And how long will it be before they believe Me [trusting, relying on, clinging to Me], for all the signs which I have performed among them?" (Nu 14:11).
God charged them with one sin: unbelief
Questions: Do you want to be rid of unbelief today? How did this message by David Wilkerson inspire and motivate you to live by faith?
MORE BY DAVID WILKERSON:

Follow @shadesofgrace_
Disclosure of Material Connection: Some of the links in the post above are "affiliate links." This means if you click on the link and purchase the item, Shades of Grace will receive an affiliate commission. Regardless, I only recommend products or services I use personally and believe will add value to my readers. I am disclosing this in accordance with the Federal Trade Commission's 16 CFR, Part 255 "Guides Concerning the Use of Endorsements and Testimonials in Advertising."
One Response to "The Ultimate Test of Faith: David Wilkerson Sermon"