Nov 8th 09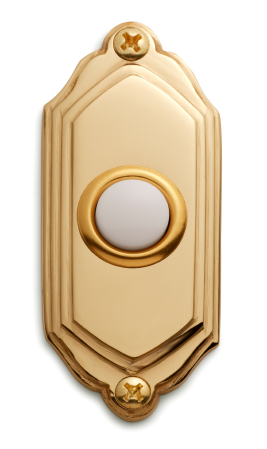 I was pleasantly surprised today when a young lady came by my house.   We met two years ago, September 5, 2007, under grim circumstances.  The first thing I heard was her voice, screaming in the night…  The following story recounts that life-changing evening:
As the flames crept closer and closer
all she could do was scream …
It was a Wednesday night I will never forget – because it changed my life.
Just before 10 p.m. that night, my parents and I were talking in our living room before bed – then something like an explosion outside literally shook our house.
Dad and I quickly stepped out onto the front porch. And then we heard the screams of a woman – piercing, blood-curdling screams of absolute and utter fear.
"Someone must have crashed!" I said to my dad.
In a panic, Dad ran in to change out of his pajamas while I grabbed some flashlights. So that we could use the headlights to see what was going on, Dad and I ran to the truck while Mom called 911. Before we even reached the highway, I caught sight of something to my right …
"Dad, there's fire in the trees!" I said. "That's the accident! That means someone's trapped inside the vehicle!"
In a ditch on the edge of our property, a car was engulfed in flames. Dad turned the truck toward the blaze. A white car came into view. As Dad jumped out and ran to the car, I called my Mom, asking her to call our neighbor for help.
Based on the screams we heard from the porch, we expected to find one able-bodied person screaming about another who was badly wounded. But we soon discovered that the woman screaming was the driver. The car was on fire and she was trapped inside– meaning she was screaming loud enough for us to hear from inside a closed car with no windows down.
I was a few seconds behind Dad, kicking the prayer in high gear – and high volume – by this time. When I got to the car, Dad had the back door open. He was talking to the driver and trying to help her get her seatbelt undone. The smoke was so thick in the car that we couldbarely see the outline of the back of her head.
I cried out to Jesus, "Hold the flames back, Jesus, until we get her out. Just hold them back."
The engine block had been thrust inward by the impact of the car with a tree, so the fire was literally a few inches from her. My attempts to get the front door open ended with it moving only a few inches. Then, miraculously, the door came open – or perhaps I should say Jesus got the door opened. Some smoke escaped, and I could look through the windshield and see the fire right on the other side.
The girl was so terrified about the fire and being trapped that she just kept screaming. I kept praying as my dad reached in and freed her from her seatbelt. As he pulled her from the wreckage, she shrieked in pain – both her arms were broken. On top of that, her right leg had been mutilated, giving us little hold onto as we pulled her away from the burning car.
A second later, her right foot got caught on something, and we had to wrestle her through a tangle of branches and vines. Dad struggled to get a grip on her upper body because of her broken arms, while I couldn't firmly hold her lower body because of her wounded leg. Finally, God showed my Dad that I could grab the woman's waistband to help carry her along.
All of this took place so quickly that there was little time for thought. Just as we managed to get her clear of the car, we looked back and saw the fire surge forward – completely consuming the driver's seat where the woman had been trapped. The blaze itself erupted upward, rocketing several stories into the sky.
The Lord had saved the woman – with not a second to waste. Within minutes, sirens cut through the night air, then fire trucks appeared. We waited anxiously for the ambulance at the sound of every siren, only to have it be yet another fire truck. Finally, though, the ambulance arrived about 30 minutes later – and the woman was on her way to the hospital.
After the last of the police and emergency workers departed – I could not shake the intense feeling that God was asking me how I would have responded if this scene had been a spiritual one instead of a real-life, flesh-and-blood situation – if the woman's soul was being consumed by the flames of hell.
The next morning, as I went back to the scene to see the wreck, the Lord kept whispering the same question to me. As I looked at the twisted and charred metal of the car, I noticed that only the metal frame of the driver's seat remained. The rest of it was gone – burned up. Clearly, if God had not been working on this young lady's behalf, she would have been consumed too.
And yet again, I sensed the Holy Spirit asking me what I would have done had the fire that night been the flames of hell – with a precious soul hanging in the balance between eternal salvation in Christ and unending agony and death.
What if I had stood outside that burning car and listened to the woman screaming for help – and then had done absolutely nothing? What if I just stood there and watched the flames engulf her and end her life?
Sounds cruel and heartless, doesn't it? And yet, God showed me that too many of us do that very same thing every day … when we speak to a friend who isn't saved and we say nothing about Christ … when He brings someone who is hurting across our path and we neglect to share His love … when we talk with someone who just "happens" to be shopping at the same store and don't bother letting our faith shine through.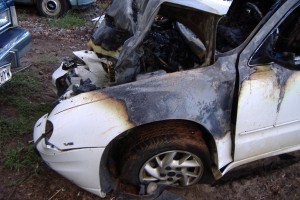 The flames that destroyed this car led
me to consider just how much God wants us
to rescue others from the flames of hell.
God, in his sovereignty, has positioned a non-Christian in your life and my life at this specific season of life.  I believe God has already made you aware of the need and put a burden in your heart.  You have "heard" the screams, in the spiritual realm at least. In fact, you may be the only one who has.
Most of us leave salvation of the lost up to the pastor, the leader, the "experts".  But you may be the only person who has stepped out on the porch, so to speak, and become aware of the need.  If you wait, or don't respond, it may be too late by the time the "experts" arrive.
You are there – or that lost person is there, in your space and time – for you to make yourself available to God on their behalf —  To pray for them and to exercise your spiritual authority in their life;  to share with them the Bread of Life.  I have a simple question:  Are you?  Are you rushing to their side, or are you standing, watching and waiting…for someone else to address the spiritual emergency?
Consider this verse from God's Word, which He led me to read after the car accident …
"When I say to a wicked man, 'You will surely die,' and you do not
warn him or speak out to dissuade him from his evil ways in order to
save his life, that wicked man will die for his sin, and I will hold you accountable for his blood."

Ezekiel 3:18
God changed my heart in such a profound way that night – and He has been working on me ever since. Now – I remind myself that God wants me to be His instrument – His vessel – for others to discover His love.
We need to have courage and boldness to share the Gospel with everyone God brings across our paths – because God has called each and every one of us as His followers to share His love with those who do not believe. He has commanded that we "speak out" to save the lives of these precious people – these men, women, and children for whom Christ died on a cross.
Remember – every day – we're standing beside people who are literally perishing in the spirit and we can rescue them through God's truth and His Word. September 5, 2007, after the accident, God gave me a directive – a challenge that I extend to you. Will you make personal evangelism a priority? Will you make it a priority in your time, your Scripture memorization, your prayer, and your Bible study? Will you be sensitive to the Holy Spirit's leading in this area?
No matter how uncomfortable you are – no matter how embarrassing it might be – no matter how much boldness, patience, or self-discipline it requires – be obedient to his voice and the burden he has placed within you. When you understand the eternal consequences, you can overcome all fear. The Spirit compels you to cry out lest those around you perish.
We're often too concerned about ourselves – about how we appear, about preserving our image, our reputation or status – so we won't risk anything to share Christ. Fear controls us. The Bible says perfect love casts out fear. When you understand that those around you are on the brink of disaster, the love of Christ compels us to cry out and make a difference.
The person in your life may be in an office, at the bank, behind the pharmacy counter, or on the golf green.  We don't see the literal flames encroaching on their life.  It all seems so benign.  But there this screaming girl was.  With a car so full of smoke she was losing consciousness, with flames just inches from her body.  Of course I would lay my life down—my plans, my desires, my self-preservation—in order to save hers.
Why don't we do that with the people in our lives every day? They could very well be just inches of time away from the flames of hell and eternal separation from God.  And most likely, they're in our front yard.  Most likely God has allowed them to come crashing into our lives and our space for a reason.  They could be in someone else's grocery store, someone else's golf green, someone else's gas station…but they're in ours.  Why?  So we can rescue them with the Gospel of Jesus Christ.  In the other grocery store, the other pharmacy, the other golf green—perhaps no one would hear the crash, sense the screams, see the encroaching flames of hell.  Perhaps they would die never knowing Christ.
Remember, God creates divine appointments – just like he did with this accident victim.
God, in His Sovereignty, allowed her to crash in a location where someone could help her. In the same way, God has allowed a lost person to cross your path so that He, through you, can rescue them. "Greater love has no one than this, that he lay down his life for his friends."  Will you lay down a few moments each day to become spiritually prepared to lead someone to Christ?
I encourage you to take the time each day to pray for lost friends and loved ones, to learn salvation scriptures and become spiritually prepared to lead someone to Christ … (In this Thursday's blog, I will share scriptures to pray over the lost.)
I will be praying for you as you minister to those around you. I know you care about the lost and want to share in winning them to Christ! Also, I pray God will give you the courage, boldness, and sensitivity to always be a faithful witness for Him!
In case you are wondering about the young lady in the car, she is improving daily.  Today is her 23rd birthday – what a marker of the miracles God performed for her that night.  When I saw her this summer, she was walking with a cane, although doctors said her near amputated foot would never allow her to walk normally.  Today she was walking – and even jumping – without her cane.  She has improved so much since the night they life-flighted her to Houston.  She has regained the use of her right hand; mere scars mark the damage to her arms and legs.  Please remember to pray for her physical and spiritual condition.

Questions:
What lost person has God allowed to cross your path so that He, through you, can rescue them?
Are you leaving his or her rescue to the "experts"—the pastors, teachers, or spiritual leaders?  If you wait, or don't respond, it may be too late by the time the "experts" arrive.
Are you making yourself available to God on their behalf? Are you praying for them and exercising your spiritual authority in their life? Are you sharing with them the Bread of Life?
Are you rushing to their side, or are you standing, watching and waiting…for someone else to address the spiritual emergency?

Follow @shadesofgrace_
Disclosure of Material Connection: Some of the links in the post above are "affiliate links." This means if you click on the link and purchase the item, Shades of Grace will receive an affiliate commission. Regardless, I only recommend products or services I use personally and believe will add value to my readers. I am disclosing this in accordance with the Federal Trade Commission's 16 CFR, Part 255 "Guides Concerning the Use of Endorsements and Testimonials in Advertising."