Nov 25th 22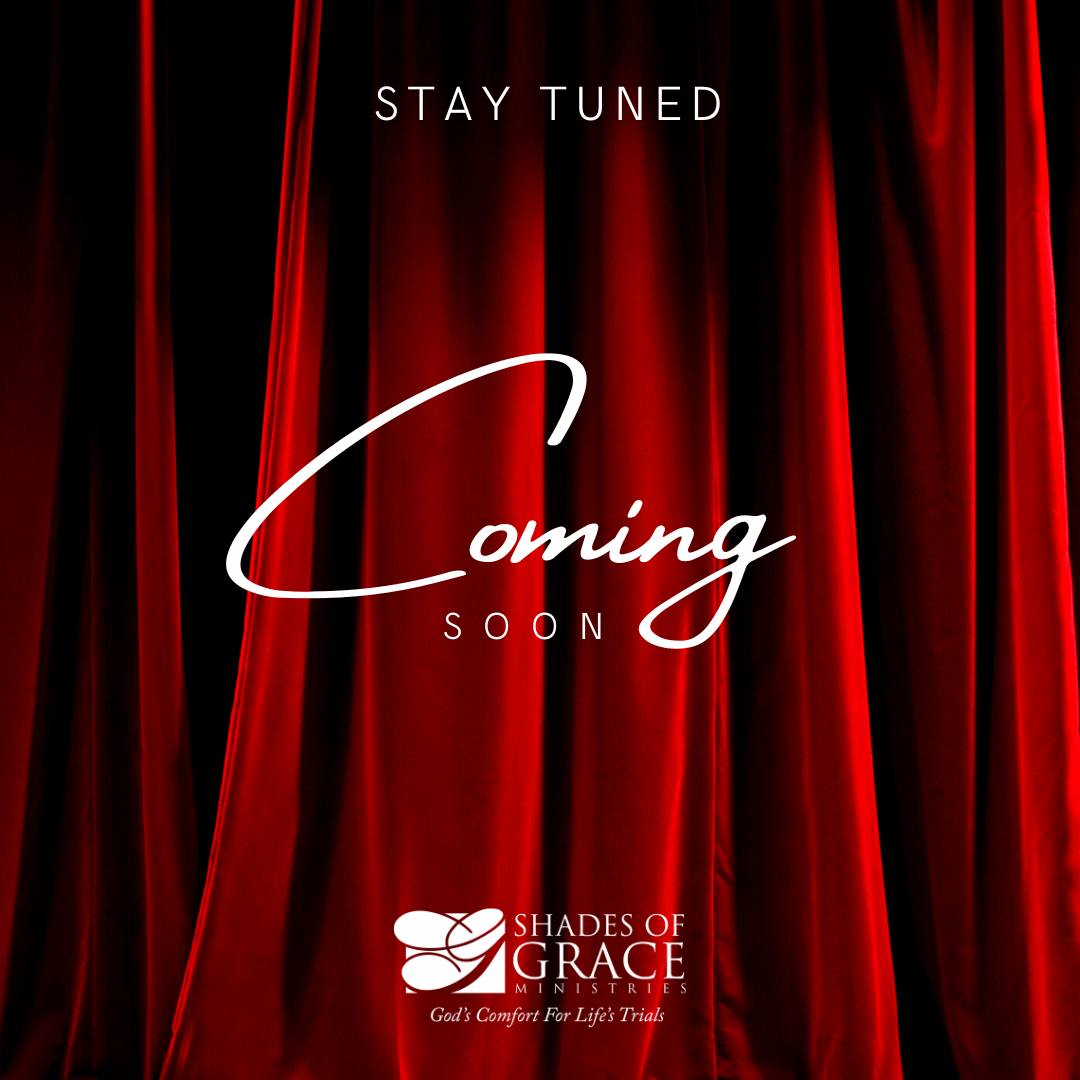 Stay tuned! Something exciting is coming to Shades of Grace!
God is leading us to a new means of reaching women. It will provide teaching, worship, and prayer to women around the world, yet also incorporate small group portions where women can encourage, pray for and support each other.
I am working diligently behind the scenes to get everything ready in order to launch after the first of the year.
The more God reveals about this new event, the more excited I become! He's going to work through it to radically transform women's lives! They'll emerge exercising unwavering faith and be liberated to enjoy the riches of Christ in hard times!
God has plans for the lives of the women who will join — plans for the women, their family, their children, their relationships, their job, their ministry, and their influence on the world. There is a breakthrough He wants to give them, a miracle He wants to work. Ladies who have been living in unbelief and doubt, missing God's best, will discover how actively believing God moves Him from heaven to earth to fulfill His promises in their lives.
This virtual conference experience will be for you if you're a woman who is:
Depressed
Despondent
Discontented
Discouraged
Depleted
Weary
Angry at God
Worried
Bitter
Impatient
Faithless
Prayerless
Devoid of hope
Spiritually passionless
Miserable in life and incapable of receiving the benefit your trial has to offer….
…God will use this 24/7 virtual conference experience to change your life! 
If you desperately want to live closer to God and receive answers to prayer — answers to your heart's cry for spiritual, health, relationship and financial breakthroughs … STAY TUNED!
From what I sense in the Spirit, I know without a doubt you will emerge from this conference having encountered God and been forever changed! 
You will emerge:
Living by the life of Christ as your indispensable necessity
Understanding the whole counsel of God's word regarding suffering
Recognizing God's hand in every circumstance of your life
Resting in God's sovereign rule
Encountering God in prayer each day
Ignited with passion for the Word of God — for Jesus, the Living Word, and for the written word, the Bible
Experiencing the incomparable privilege of living by the life of Jesus Christ and His word
Empowered by Jesus to face every challenge through His strength
Liberated from bondage
Having exchanged depression, despondence, discontentment, discouragement, impatience, anger and weariness for joy, hope, contentment, encouragement, patience, endurance, and renewed strength!
Inspired, challenged, and motivated to see what God is going to do in response to your faith. Even the faithless and doubting will be excited to take God at His word, appropriate His personal and universal promises … and watch God move from heaven to earth to act on your behalf.
Transformed by the teaching, worship, prayer, testimonies and new relationships with sisters in Christ from around the world.
Supported in love and faithful prayer by new, close friends from the body of Christ
Comforted in your trial by the God of all comfort, Who is mighty to save, Who raises the dead and delivers us from deadly perils. (2 Corinthians 1:4-11; Zephaniah 3:17)
I weep at the thought… and I've only seen a tiny glimpse of the things God is going to do. The Holy Spirit brings me to tears when He shows me the HELL-SHAKING, CHAIN-BREAKING difference He is going to make in women's lives!!
The women who join will experience God through prayer, through His word, and through the relationships made. It's going to be AWESOME!!
Please Pray
I appreciate your prayers for this new endeavor!
Please pray that God will:
Continue to reveal His plan for it
Give me the health to follow His leading
Go before me and provide for every detail
Provide the equipment required
Provide the perfect space (to film, stream, and also incorporate worship for some of the sessions)
Bring the right staff to help me catch up at Shades of Grace (some groundwork has to be laid prior to launching, extensive tasks that the pandemic delayed — several years' worth to catch up on by next Spring)
Bring the right team members to help prepare for the launch, facilitate the conference, and see it through
Move on people's hearts to give financially to Shades of Grace so that preparations can be made and this life-changing event can be launched.
Thank you!



Follow @shadesofgrace_
Disclosure of Material Connection: Some of the links in the post above are "affiliate links." This means if you click on the link and purchase the item, Shades of Grace will receive an affiliate commission. Regardless, I only recommend products or services I use personally and believe will add value to my readers. I am disclosing this in accordance with the Federal Trade Commission's 16 CFR, Part 255 "Guides Concerning the Use of Endorsements and Testimonials in Advertising."