Nov 23rd 12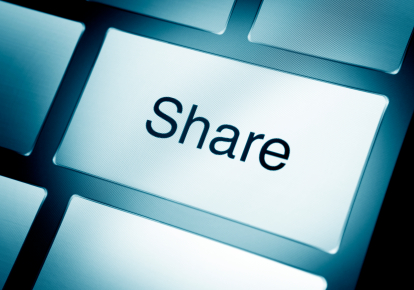 Are you taking advantage of Black Friday deals online this weekend? Or perhaps planning to purchase Christmas gifts on Cyber Monday? Did you know that with your purchases you could be sharing God's comfort for life's trials — without spending a penny more?
With a simple click, each purchase you make can result in a donation to Shades of Grace Ministries! It's easy and free. PLUS, it's a great way to exercise the real meaning of Christmas!
What if a percentage of every purchase you made online — not just during the holidays, but all year long — went to bring God's love and truth to lost and hurting people who need Christ?
And there's more! What if Shades of Grace received a contribution every time you searched the internet for Christmas gift ideas?
GoodSearch and GoodShop have made this possible!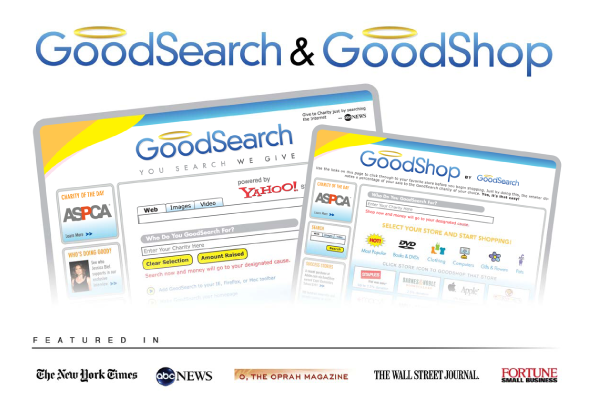 How Does it Work
[tentblogger-youtube Rijmf7-kmi4]
GoodSearch.com is a Yahoo-powered search engine that donates about a penny per search to the charities its users designate. Use it just as you would any search engine, get quality search results from Yahoo, and watch the donations add up!
GoodShop.com is an online shopping mall which donates up to 30% of each purchase to your favorite cause! Hundreds of great stores including Amazon, Target, Gap, Best Buy, ebay, Macy's and Barnes & Noble have teamed up with GoodShop so every time you place an order, you'll be supporting Shades of Grace.
And it won't cost you a penny more! The experience of shopping through GoodShop is exactly the same as going to the retailer directly – you receive the same prices and level of service. The retailers are responsible for collecting payment, shipping and returns.
GoodDining.com is a program that allows you to earn donations for Shades of Grace every time you dine out. You love to dine out. You may even do it several times a week. So, why not earn donations for us every time? As a member of GoodDining, you can earn donations by going to your choice of thousands of participating restaurants.
How Much Could It Help?
So how much could this help Shades of Grace share the love of Christ? Here's an example:
Web Searches

Online Purchases

As you can see, your online searches and purchases could quickly add up! And we want them to benefit others who desperately need a touch from God. Use GoodSearch.com and give men and women a new chance at hope and life — as they receive God's powerful Word!
How Can You Participate?
Simply go to GoodSearch.com — enter "Shades of Grace Ministries" as the organization you Goodsearch for…and watch your donations increase!
And if you download the GoodSearch – Shades of Grace Ministries toolbar (called GoodApp), you can contribute to Shades of Grace every time you shop and search online – even if you forget to go to GoodShop or GoodSearch first!
Apps and Add-on's – Automatically Make a Difference
Shades of Grace GoodApp Toolbar:
The toolbar has many benefits, especially if you are an Amazon.com user! Once you download the toolbar and select Shades of Grace as your cause, the toolbar features a direct link to ShadesofGrace.org as well as links to your favorite shopping sites like Amazon.com — and a button with available coupons for the store you're visiting. The toolbar also features a GoodSearch search engine box.
Plus, if you are a registered user with a GoodSearch account, you will be able to see the amount you have personally raised for Shades of Grace – right there in the toolbar! If you are not a registered user, you can register now.
The GoodApp Toolbar is available for Internet Explorer and Firefox browsers.
Click here to learn more about the GoodSearch Shades of Grace Toolbar.

Click the button below to visit the toolbar download page!

Goodto-go Add-on
If you use browsers other than Firefox and Internet Explorer, you'll be glad to know about Goodto-go, the new add-on for all browsers.
After downloading the add-on, click "preferences," select Shades of Grace as the charity you're supporting, and you're good-to-go!
As you visit merchants online, you will see a brief pop-down alerting you to the percentage of your purchase that will go to Shades of Grace. (These alert notifications can be disabled.) You can also click the GoodSearch logo/add-on to see coupons, change preferences and find out how much of your purchase will go to benefit Shades of Grace.
Click below to visit the Goodto-go Add-on download page: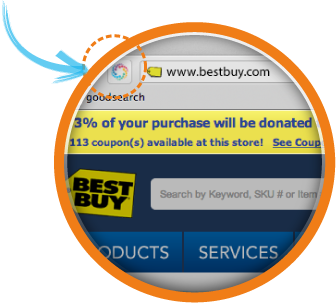 For more toolbar/add-on information and FAQ's, click here.
Thank you again for taking this extra step to reach out with the love of God and the truth of His Word to change lives and transform hearts!
It warms my heart, especially at this time of year, to see friends like you bringing the life-changing Word of God to those who desperately need a touch from Him. Thanks to you, men and women who had given up all hope will experience God's comfort in the midst of their trials.
With your faithful prayers and giving — and participation in programs such as GoodSearch — you are a part of the Shades of Grace team. Just like 1 Corinthians 3:9 says, "For we are God's fellow workers." You are advancing the Kingdom of Christ! May God bless you in return!

P.S. GoodShop also has lots of coupons for each store — stores such as Macy's, Target, WalMart, Apple, Best Buy, Toys R Us, Gap, Old Navy, Nordstrom, Amazon, Crate and Barrel, Lowe's, Home Depot, Under Armour, L.L. Bean, Land's End, Bass Pro Shops, Cabela's, 24 Hour Fitness, Staples, Petsmart, J. Crew, Brookstone, Travelocity, Expedia, Southwest Airlines, Sephora, Godiva, Guitar Center…and hundreds more! GoodShop is a great place to find good deals and bless others this holiday season — and all through the year!
_________________________________________________________________
_________________________________________________________________
A FEW BLACK FRIDAY SPECIALS ON GOODSHOP:
1800Flowers
Black Friday & Cyber Monday Specials! Send Smiles and get FREE SHIPPING on Flowers & Gifts at 1800flowers.com! Use Code: SHIPFREE2012 at checkout
10% Donation to Shades of Grace
Expiration – 11/26/12
SHOP NOW
Kohl's
Black Friday – Extra 15% off w/ code: BLACKFRI + Free Shipping on $50
2% Donation to Shades of Grace.
Expiration – 11/23/12
SHOP NOW
Dell
Dell Black Friday Sale! Lowest Price Ever!  New doorbusters every 3 hours!
2% Donation to Shades of Grace.
Expiration – 11/23/12
SHOP NOW
Guitar Center
24 Hour Black Friday Exclusive Offer! 15% Off Single Item Coupon Code-BLACK15
4% Donation to Shades of Grace.
Expiration – 11/23/12
SHOP NOW
Origins
Origins Best Offer of the year! Get $10 Off + Free Shipping on orders of $25 or more. Use Code TENOFF
6% Donation to Shades of Grace.
Expiration – 11/27/12
SHOP NOW
Clinique
Black Friday is here! Get 3 FREE Minis with any $25 purchase. Plus, all orders ship FREE
6% Donation to Shades of Grace.
Expiration – 11/26/12
SHOP NOW
Bobbi Brown
Black Friday Exclusive! Enjoy a beauty trio of your choice and a free specially-sized Lip Gloss with every order. Plus receive free standard shipping.
7.5% Donation to Shades of Grace.
Expiration – 11/26/12
SHOP NOW
FragranceNet
Shop Early for the Holidays and Save 15% at FragranceNet.com!
4% Donation to Shades of Grace.
Expiration – 11/27/12
SHOP NOW
Life is Good
Spend $100, get $20 off your next purchase.
4% Donation to Shades of Grace.
Expiration – 11/23/12
SHOP NOW
Smashbox
For a limited time, take 25% off everything at SMASHBOX.COM! Just spend $50 or more. Plus, FREE shipping and samples! Enter FRIENDS2012 at checkout. Ends 11/26/12.
6% Donation to Shades of Grace.
Expiration – 11/26/12
Walgreens
Black Friday Deal + $10 off orders of $50!
4% Donation to Shades of Grace.
Expiration:  11/24/12.
SHOP NOW
LL Bean
Get 10% off your entire Purchase
Expires:11/27/2012
2% Donation to Shades of Grace.
SHOP NOW
Lowe's
Shop Black Friday Deals with Free Shipping on orders over $19 or more
Expires:11/26/2012
2% donation on all goods
1% donation on gift cards
SHOP NOW
Visit GoodShop.com where there are lots more stores, coupons, sales and deals available!

Follow @shadesofgrace_
Disclosure of Material Connection: Some of the links in the post above are "affiliate links." This means if you click on the link and purchase the item, Shades of Grace will receive an affiliate commission. Regardless, I only recommend products or services I use personally and believe will add value to my readers. I am disclosing this in accordance with the Federal Trade Commission's 16 CFR, Part 255 "Guides Concerning the Use of Endorsements and Testimonials in Advertising."