Nov 1st 10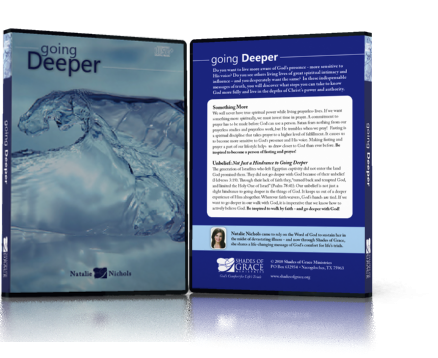 Do you long for something more in your walk with Christ? Do you crave more of His presence, His power and authority? Do you see others living lives of great spiritual intimacy and influence – and you desperately want the same?
There is a place where more of Heaven's glories can be experienced here on earth — a place where the views are eternally expansive, where miracles happen and God's presence is indescribable!
But sadly, most Christians are content to gaze upon this glorious existence from a distance, never daring to set foot upon its path. What beauty, what majesty, what glory they are missing!  Content to live the status quo, they waste precious time and potential fruit going through spiritual motions absent spiritual power.
Many of us are unaware of the magnificent, eternally significant existence we're forfeiting. We're wearing the T-shirt, clueless to the fact we've never visited this desirable destination.
Let's be daring! Let's be different! Let's make a difference in our families, our churches, our city and our nation! Let's Go Deeper…and receive Something More!!
The "more" you crave may be:
…more of God's voice in your ear…
…more of His word on your lips…
…more of His passion, His fire, His fruit, His provision…
…more of His revelation and intervention regarding your specific challenges in life…
Whatever the "Something More" is that you crave, there is a path to receiving it from God. At a recent conference, I shared about this path – three specific steps God says we must take if we want to Go Deeper in Him. Below are the audio messages from this conference.
Message #1:
Something More
Message #2:
Unbelief: Not Just a Hindrance to Going Deeper
Question: What will you part with – what will you invest – in order to receive a spiritual return? How is unbelief keeping you from going deeper in Christ?

Disclosure of Material Connection: Some of the links in the post above are "affiliate links." This means if you click on the link and purchase the item, Shades of Grace will receive an affiliate commission. Regardless, I only recommend products or services I use personally and believe will add value to my readers. I am disclosing this in accordance with the Federal Trade Commission's 16 CFR, Part 255 "Guides Concerning the Use of Endorsements and Testimonials in Advertising."